Work created in China was first in focus on Day three, with TBWA Greater China President Nils Andersson reminding us that in amongst all the talk of digital and technology, the simplest ideas beginning with a mere pencil are often the most compelling, illustrating his point with case studies of some of the company's best campaigns.
创造性工作是第三天所聚焦的首席议题,来自李岱艾的大中华区总裁尼尔斯·安德森提醒我们,尽管如今大家都在讨论的是数码和科技,那些起源于笔端的朴素灵感往往更吸引人。为了证明他的观点,他向我们展示并分析了公司最好的一些案例。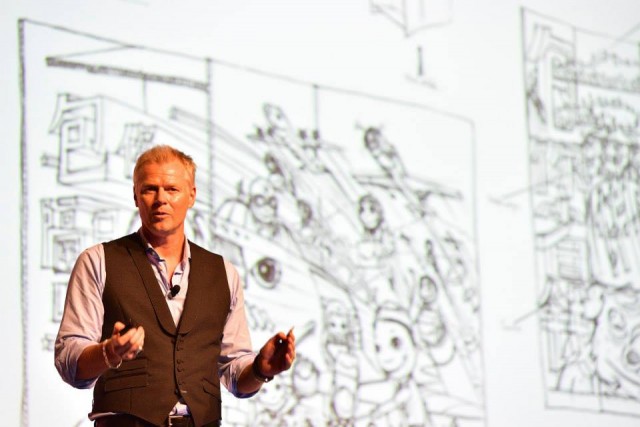 Nils Andersson, President & Chief Creative Officer, TBWA\ Greater China
CG and retouching company Happy Finish, with an office in Shanghai, are one of the only post houses worldwide to openly declare their intentions in Virtual Reality.  CEO Simon Gosling's lively presentation demonstrated that, while there is an enormously long way to go before VR is widely accepted as viable and valuable, having already completed VR projects for clients like Lamborghini, Mercedes and Subway, it's so far so good for the bold new direction of his company.
CG与修图公司Happy Finish,它在上海的办事处是世界范围内唯一一家公开声称自己意图进入虚拟现实技术领域的后期制作公司,CEO西蒙·高斯令的现场演示证明了这一点,尽管离虚拟现实技术(VR)实现广泛应用并开发出更多价值还有相当长的路要走,但他们已经完成了一些VR项目,其客户包括兰博基尼、梅赛德斯奔驰和赛百味,目前来看这个新颖而大胆的方向对公司来说运行良好。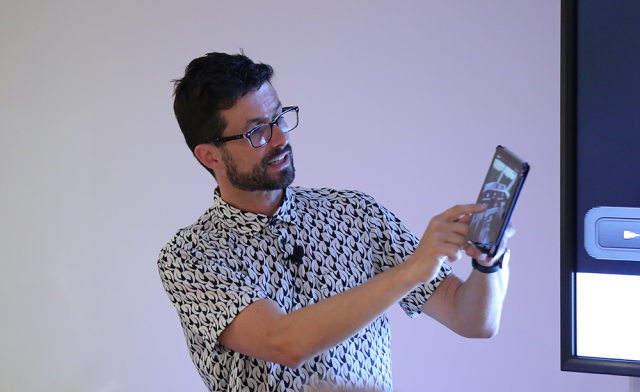 Simon Gosling, CEO, Happy Finish

Back on the exhibition hall floor, SHP+ caught up with some of the key China-based delegates to get their thoughts on Spikes Asia 2015.
On Spikes:
"It has been and still is the leading advertising convention in Asia Pacific.  They have representation from everywhere in the region and tend to have really good speakers." – Diederik van Middelkoop, Producer, Massive Music, based in Shanghai for seven years and attending Spikes every year since it began in 2007.
"I went to Adstars in Korea which was good, but Spikes takes it to the next level." – Billy Beckett, EP, Fin Design + Effects Shanghai.  The Australian post house established their Shanghai studio in 2014.
回到展厅时,SHP+得以和一些来自中国的代表谈一谈他们对于Spikes Asia2015的感想。
关于Spikes:
"这曾经,也依然是亚太地区的顶级广告盛会。这里有来自各地的精彩展示,而且总能涌现出一些优秀的演讲者。"——戴德里克·范米多库普,Massive Music,已驻扎上海7年,从2007年开始参加过每一届Spikes活动。
"我去韩国参加过广告之星活动,举办得很不错,但Spikes则将之提高到了另一个层次。"——比利·巴基特,执行制作人,Fin设计与特效上海公司,这家澳大利亚后期制作公司与2014年在上海设立了工作室。
On gaining perspective and inspiration:
"It's easy to get stuck in the grind of our own markets so it's good to take a step back, see more than just what's happening in China and hopefully take away some fresh ideas and inspiration." – Steven Marolho, GM, MPC Shanghai.  The world-renowned postproduction company established their Shanghai studio at the start of 2015.
"I like to see the creativity and production quality of the work from the region, to get a feel and inspiration for the best of what is out there and an idea of which of our own productions would be further developed to the award level." –  Xintai Feng, EP/GM, P.I.G China .   P.I.G is one of the leading production companies in China.
"Spikes is an eye-opener.  It makes me think about things I don't necessarily think about day-to-day.  It's interesting to hear the insights of people with very strong track records about how to get your message across and how to motivate them with great ideas." – Jonathan Porath, Vice President, Technicolor China.  The worldwide postproduction powerhouse have had a presence in China since 2004
关于在全亚洲范围内获取新的灵感和观点:
"在自家的市场中我们很容易疲于突破瓶颈,因此回头看看,观察中国之外在发生些什么,希望这样能带来新的创意和灵感。"——史蒂芬·马洛霍,MPC上海工作室总经理。这家世界知名的后期制作公司在2015年于上海成立了工作室。
"我期待看到广告节作品里的精彩创意和制作工艺,能够感受业界的最强音,激发我们自己的制作灵感,向国际获奖作品的标准更好发展。"——冯心台,皮艾吉中国监制、总经理,皮艾吉是中国广告行业的顶尖制作公司之一。
"Spikes让人大开眼界。它日复一日地开阔了我的思路,能听到那么多功勋彪炳的人们的意见,如何提高信息传播效率以及如何激励员工想出更好的创意。"——乔纳森·波拉斯,特艺中国副总裁。这家世界级后期制作业界巨头从2004年开始就在中国扎根。

Steve Marolho, MPC & Jonathan Porath, Technicolor
On networking:
It's about hanging out with people in the same industry, sharing information and ideas.  We're very busy in our day-to-day lives and we usually don't have time to just hang out together.  That's the objective here – it's not about business."  – Desmond Loh, EP, Stink Shanghai.  Stink are an award winning international production house.
"It's a great opportunity to network, especially get chance to get together with agency friends who we collaborate closely for production, to make new connections and reinforce old friendships." – Xintai Feng
"Spikes is more of a networking opportunity than anything else, especially for agencies, because Singapore is a regional hub for clients. Nights tend to be the polar opposite of what you see in the daytime.  Lots of big agency parties and packed bars in Chinatown." – Diederik van Middelkoop
"In the venue you might have a chat about a seminar you've just seen, but it's at the parties where you dig deeper with people." – Billy Beckett
关于行业交流:
"就是和同行们交际咯,分享信息和创意。日复一日的生活中,我们都十分忙碌,我们通常不会有时间去联络感情。而这就是这里的主题:无关生意。"——戴斯蒙德·洛,执行制作人,Stink上海工作室。Stink公司在国际制作公司中正在赢得广泛赞誉。
"这是交流的绝好机会,尤其和我们经常发展合作的广告公司的同仁有机会相聚,结识新朋友,不忘老朋友。"——冯心台
"Spikes是交流的最佳平台,尤其是和广告公司,因为新加坡地区是客户核心地带。在这里,黑夜的世界在每个人眼中都和白天截然相反,在中国城你能找到很多广告公司的派对和酒吧聚会。"——戴德里克·范米多库普
"在这个地带你也许能聊聊刚刚开过的研讨会,然而只有派对能让你对这些人了解更深。"——比利·巴基特
On event value:
"It always unravels over time – you meet you people and things happen, but it's not always instant.  If you're not here, if I just stayed back in Shanghai, I'd just be doing what I normally do 99% of the time and you won't gain anything new." – Steven Marolho
"It's important to be present with communication, to buildup well connections with global resource and bring it into the china market."  – Xintai Feng
"I'm here to get some exposure for Fin in Asia.  We've only been in Shanghai for a year so it's important to spread the gospel." – Billy Beckett
关于交流的价值:
"其实就是时间问题——你遇见某人,然后自然而然地进展,但又不是一蹴而就。如果我不来,只是待在上海,我就只是做我平时99%的时间在做的事情,你不会得到任何新的体验。"——史蒂芬·马洛霍
"参与和交流是很重要的,与国际化的资源进行链接,引入到中国市场发展更好的合作 "——冯心台
"我是为Fin在亚洲的亮相而来,我们只在上海成立了一年,因此扩大影响很重要。"——比利·巴基特
Diederik van Middelkoop, Georg Warga (Goodstein, China – a creative agency. Warga was on the jury for the Branded Content award), Desmond Loh, Maureen Sherrard (Goodstein), Katherine Lee (Producer, Stink).
Whilst Spikes may be Asia's leading advertising conference, the Chinese industry is glaringly underrepresented. Steven Marolho explained why:
"For many, China is the world and as interesting as Spikes might be, it doesn't seem relevant to them.  I don't know if more Chinese content would even change that.  Chinese creatives could easily come to Spikes but it's not in their nature to be here."
Spikes也许是亚洲的顶级广告盛会,而同时中国的广告业却也有显而易见的力度缺乏。史蒂芬·马洛霍是这样解释的:
"很多方面来说,中国和世界之间的关系就像Spikes所展现的那样,两者联系并不紧密。我不知道中国的影响力是否能改变这一点,中国人的创造力本应能很好地进入Spikes进行融合,然而这似乎与他们的天性相左。"
By 7pm the exhibition hall had already been dismantled and the action moved across to the Ritz Carlton Grand Ballroom for the final awards ceremony. China-based agencies picked up a number of bronze and silver awards but it was slim pickings for the big prizes. The most notable Greater China success came for Saatchi & Saatchi Hong Kong who won the Grand Prix for their 'Mother' film for Changyou Online Game Developer. BBDO China picked up a Gold in the Branded Content & Entertainment category for Original Use of Music in their 'Endless Love Song – The Reunion of Soup and Noodles' campaign as well as a Spike award for Creative Effectiveness for their Gillette – Scandal Shave campaign. Shanghai's Fred & Farid took home third place in Independent Agency of the Year along with a clutch of bronze and silvers.
下午7点,展台已撤掉,活动移至丽思卡尔顿宴会厅,举行最终的颁奖典礼。来自中国的广告公司拿下了数量不菲的铜奖和银奖,然而重量级奖项则欠奉。其中最引人注目的大奖则是盛世长城香港工作室为畅游在线打造的短片《母亲》。BBDO中国拿下一枚"品牌化内容与娱乐"分类金奖,获奖作品是他们为Original Use of Music的Endless Love Song打造的The Reunion of Soup and Noodle广告;同样为他们赢得Spikes"最佳创意效果"奖项的还有他们为吉列而做的广告Scandal Shave。上海的佛海佛瑞在"年度最佳独立广告公司"评选中位列第三,而此项银奖和铜奖难分上下。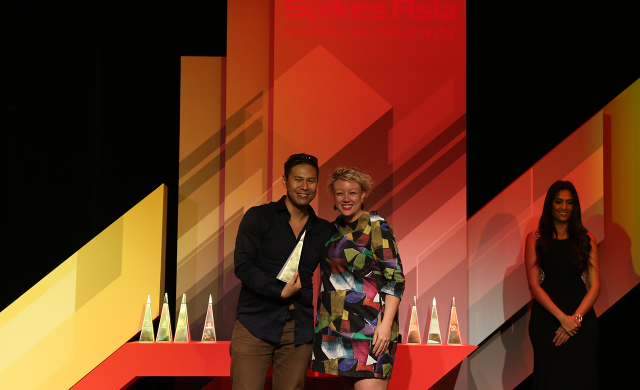 Arthur Tsang, CCO, BBDO accepts the Gold award for Original Use of Music in their 'Endless Love Song – The Reunion of Soup and Noodles' in the Branded Content & Entertainment category

Saatchi & Saatchi Hong Kong – Grand Prix winner for their 'Mother' film for Changyou Online Game Developer.
The conference wound down with a sophisticated finale at the Fullerton Grand Hotel, with delegates enjoying vaporized gin and tonics, a bizarre fluorescent dance performance and exchanging the last of their business cards by the attractive Fullerton Bay waterside.
For an insight into the Chinese industry, Spikes Asia offers little.  As an overview of the work being created in Asia, and an opportunity to meet some of the key players in the region, the well-organised conference represents good value.  SHP+ will be back in Singapore next year, hoping for a much stronger showing from China.
活动尾声,富勒顿大酒店内还留着最后的喧闹。代表们在松子酒和汤力水的气氛下,迷离的灯光中狂欢,在富勒顿湾水边以及交换着最后一轮名片。
如果仅仅作为透视中国广告行业的视角,Spikes Asia亚洲创意节仅仅透露了不多的信息;然而作为亚洲创意行业的总览,以及与地区级大佬照面的绝好机会,这次精心组织的活动体现出了极高的价值。SHP+明年依然会回到新加坡,希望那时中国能有更好的表现。

Desmond Loh, Georg Warga, Katherine Lee, Maureen Sherrard, Terry Savage (Chairman, Lions Festival), Xintai Feng, Diederik van Middelkoop, Maria Laletina (SHP), Billy Beckett