The greatness of small | 相信小的伟大
As a worldwide partner of the 2018 Winter Olympic Games, Alibaba launched its global campaign just before the start of the games earlier this month.  The full campaign, entitled to "The greatness of small", included release on Chinese TV and outdoor screens, as well as outdoor screens in South Korea, and social media platforms in Japan and the United States. The campaign films, which include one main film of inspiring vignettes and two supplemental films, share the inspiring stories of athletes whose personal ambition and daily commitments resulted in ultimate triumph.
作为2018年冬奥会的全球合作伙伴,本月,阿里巴巴集团在冬奥会开幕前发布了全球广告。完整的广告合集名为《相信小的伟大》,发布平台包括国内电视频道和户外屏幕,韩国户外屏幕以及日本和美国的社交媒体。广告包括了一部主视频广告和两部补充广告,分享了运动员追求远大抱负和每日刻苦训练并最终赢得胜利的故事。
伟大的梦想由小诞生
The creative was a partnership between BBDO Shanghai and Proximity.  Proximity, which was previously a sub-brand in the BBDO group has since separated and is under Omnicom Precision Marketing Group but still works frequently with BBDO Shanghai.  Production was lead by the Red Horse Media team and directed by Israeli Eli Sverdlov.
广告创意由天联上海和天时广告共同创作。天时广告之前是天联集团的一个子品牌,后来分离出来,现归属于宏盟集团旗下精准营销公司,但其与天联上海合作依然密切。制作则由赤马传媒团队负责,由以色列导演Eli Sverdlov执导。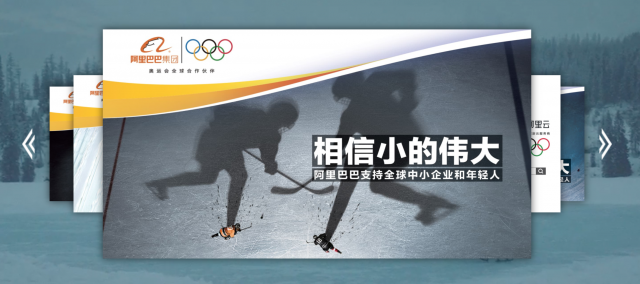 The team traveled to South Africa to shoot the story of the Kenyan ice hockey team, shooting for three days in villages so remote the children had never seen Chinese people.  It made the experience a unique cultural exchange for all sides!  For the manifesto film, which compiled unique vignettes of many different athletes, the team shot mostly in Slovakia.  The original plan was to shoot this in Belarus but due to the lack of snow just two weeks before the planned shooting date the team had to relocate to Slovakia to get enough snow.  The whole teams' attention to small details was certainly the marker for success on this campaign.
团队前往南非拍摄肯尼亚冰球队的故事,在村庄里拍摄了三天,那里的孩子们从未见过中国人,这也让各方体验了独特的文化交流!团队还前往斯洛伐克,拍摄了多个运动员的独特故事,做成视频集锦。团队最初计划前往白俄罗斯,但由于那里雪不够厚,团队只能在在开拍前两周时决定去斯洛伐克取景。整个团队极其注重细节,这一点无疑是这部广告赢得人心的关键。
一个小举动也能成就伟大
According to BBDO, the films have been viewed 500 million times on various social media platforms across China.  While these stories are in many ways the typical touching Olympic stories that we all love to rally behind, they also mirror the rise of a once small tech company in China, Alibaba, whom itself is now rising to greatness and global success.
天联表示,在中国,系列广告浏览量已超过5亿次。虽然广告里呈现的故事在某种程度上就是普通典型的奥运故事,我们都为奥运欢呼喝彩,但这些故事恰恰也反映了阿里巴巴的崛起,最初的那个小型科技公司,如今正在迎来全球性的成功,迈向伟大。

 ———Credits | 制作团队————
Client 客户:Alibaba Group 阿里巴巴集团
Agency 广告:BBDO and Proximity Shanghai 天联上海天时上海
Production House 制作:Red Horse Film 赤马传媒
Post Production House 后期:CRAFT Creations
Music Studio 音乐制作:BW
Executive producer 监制:Arthur Ma, Angel Cao
Director 导演:Eli Sverdlov
DOP 摄影指导:Manu Kadosh
Offline Artist 剪辑:Noam Weissman
Music 音乐:Tomer Biran, The Royal Phiharmonic Orchestra 皇家爱乐乐团
———Cape Town | 开普敦团队————
Executive Producer 监制:Philip Key, Katherine Leach Lewis
Producer 制片:Bernice Purdham
Production Manager 制片经理:Jessica Shaw
Production Coordinator 制片协调:Dafi Karabunarlieva
Art Director 艺术指导:Naobie Noisette
Location manager 现场经理:Moosa
———— Slovakia | 斯洛伐克团队————
Executive Producer 监制:Sasha Cherniavsky
Producer 制片:Daria Stepani
Producer 制片:Branislav Binda
1st AD 第一副导演:Maria Halpakhchi
Art director 艺术指导:Branislav Mihalik