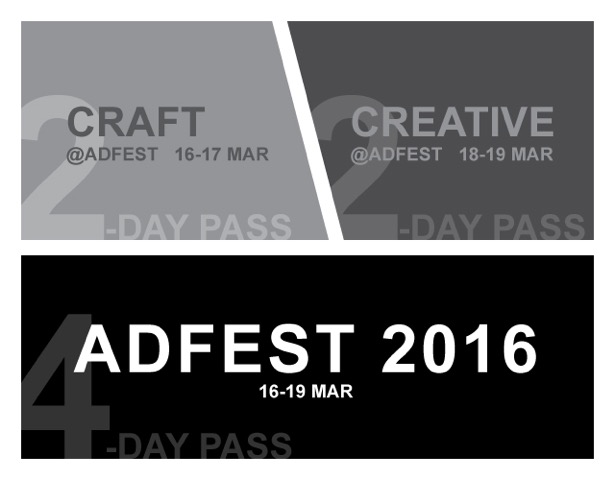 ADFEST is pleased to announce that next year's four-day festival will take place from 16th to 19th March when – for the first time in ADFEST's 19-year history – the program will be divided into two parts: Craft@ADFEST and Creative@ADFEST.
Craft@ADFEST will take place on Wednesday 16th – Thursday 17th March, with a program dedicated to production (including commercial production, post production, music and sound companies), digital professionals, and technological innovations.
Creative@ADFEST will take place on Friday 18th – Saturday 19th March, with a program dedicated to agency and marketing professionals.
Delegates can now choose from three different packages:
Craft@ADFEST (16th – 17th March) or
Creative@ADFEST (18th – 19th March), and the
full 4-day package ADFEST (16th – 19th March)
"ADFEST is one of the biggest gatherings of its kind for creative professionals working in the region, attracting thousands of delegates every year," says Jimmy Lam, President of ADFEST.
"We have decided to package next year's program to accommodate the needs of our audience. Craft@ADFEST is ideal for production executives who are interested in making beneficial connections with other executive producers, directors, and post, music and sound experts. It is also targeted at digital professionals who are at the cutting edge of new communications platforms and technologies.
"Meanwhile, the program for Creative@ADFEST will consist of a high-caliber line-up of the world's sharpest agency creatives, agency producers and marketing professionals, who will share their experiences and inspire the industry to continually raise the bar for creativity.
"Of course, we live in an age of convergence, which means many creative professionals will still prefer to attend the entire four-day ADFEST 2016. But for specialists working in specific areas of the creative industries, there is now an option to choose between different Delegate Packages," says Lam.
The three Delegate Packages are:
Craft@ADFEST (Day 1-2: 16th – 17th March) – THB18,000
Creative@ADFEST: (Day 3-4: 18th – 19th March) – THB26,500
ADFEST (Day 1-4: 16th – 19th March) – THB35,000
* Note: the Creative@ADFEST package includes entry to the Welcome Party on Thursday 17th March.
For more information, visit ADFEST.com
Our postings of the previous ADFEST event: