What did it take to shoot a commercial video in extreme cold? Take a behind-the-scenes look at the new work for Tmall Super Brand Day. 在极端严寒中拍一部商业广告需要什么?看看这个天猫超级品牌日的新广告的幕后花絮吧。
---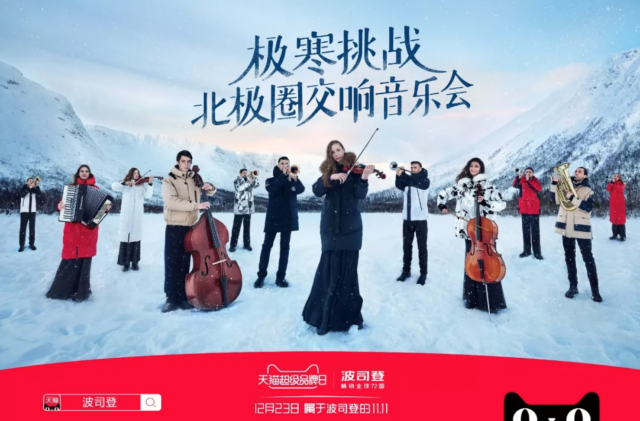 How do you strengthen the «professional image» of the brand which, over its 43-year history, basically turned into a synonym for a down jacket?
一个有超过43年历史的品牌,基本上可以与羽绒服这个品类划等号,你如何加深它的专业形象?
In the new Bosideng video for Tmall Super Brand Day held on December 23rd, you won't hear slogans or pushy product information, or see a star ambassador overcoming outdoor challenges in the cold, or any other typical attributes.
波司登发布了12月23日天猫超级品牌日的新视频,你不会听见广告语或强加的产品信息,或一个明星代言人克服室外严寒的挑战,又或广告里其它常见的特(tao)征(lu)。
The video shows the real product in action, and does so with class – during a symphonic concert show with a beautiful snowy landscape as the background.
通过一场以美丽雪景为背景的交响音乐会表演,这支视频通过实际行动展现了真实的产品,带着高级感。
The team received the brief at the end of September, and mulled over different ideas for an «Extreme Cold Challenge» for some time. Inspiration struck when the song by Fei Xiang «A Fire in Winter» from a Spring Festival Gala 30 years ago surfaced. It was decided — being such a good fit for the theme of the commercial film, this song will be given new life in a symphonic orchestra adaptation.
意类的团队在九月底收到brief的时候,花了好一阵子认真思考关于《极寒挑战》不同的想法。当听到费翔30年前的那首春晚神曲《冬天里的一把火》时,灵感的小宇宙爆发了。于是就这么决定了——因为和此次广告片主题如此契合,这首歌将在这场交响管弦乐的版本中被重新演绎。
GOODZILLA didn't go the easy way in choosing Murmansk, a city in the far northwest part of Russia, as the shooting location. Apart from needing to excavate though the snow with heavy machinery to get to the perfect location, the team had to do the shoots with only four hours of daylight. This also meant a lot of waiting around in the cold for the good light to shoot, while the batteries of gadgets ran out fast.
意类广告没有走一条轻松的路,而是选择了将俄罗斯遥远西北部的城市摩尔曼斯克作为拍摄地。除了要用大型机器铲雪开路,团队还得在仅有的四小时白天里完成拍摄。这同时意味着,在严寒中要等很久才有适合拍摄的良好光线,然而设备很快就没电了。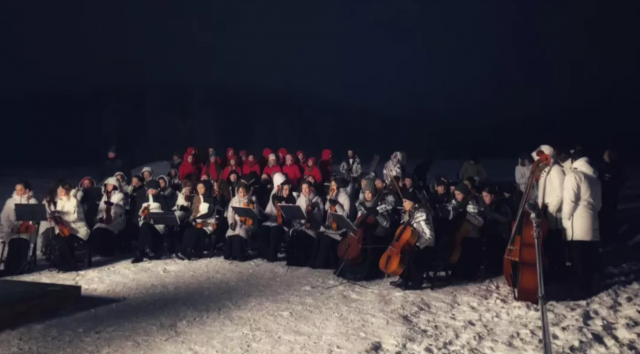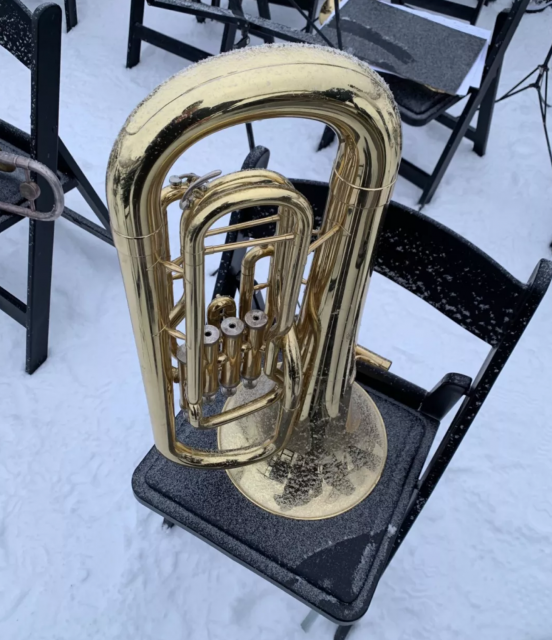 The musicians from the Moscow Philharmonic Orchestra, the main protagonists of the commercial film, had to endure a lot. Warming wind instruments so they didn't freeze to their mouths after rehearsing with only imagination because the instruments were delayed in heavy snow were just a few of the challenges of this shoot.
作为这条广告片里主角,莫斯科爱乐乐团的乐手们必须忍受很多困难。比如,大雪造成乐器未能及时抵达,乐手们只能空手彩排,用意念演奏;接下来,焐热管乐器,乐手们就不会在吹奏时被冷冰冰的乐器粘嘴,这些只是这次拍摄中遇到的挑战的一部分。
True to its name, this commercial film really was a challenge in the extreme cold, but it achieved the goal of enhancing the brand's image with creativity and realistic action.
确如其名,这条商业广告片真的就是在极寒里的挑战,但是它也确实有创意地用实际行动达到了强化品牌形象的目的。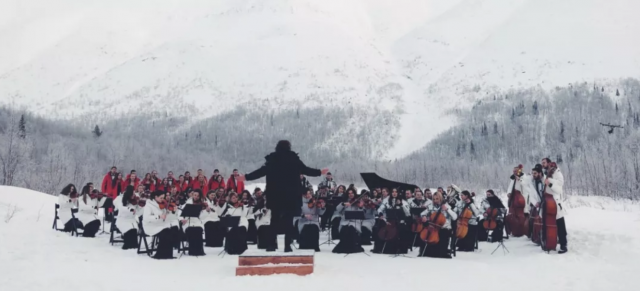 CREDITS 制片团队
Client 客户: Tmall Super Brand Day 天猫超品/ Bosideng 波司登
Agency 代理: GOODZILLA 意类
Production 制作方: Movesight 上海动观
Producers 制片人:Tong Chao童超, Ian
Director 导演: Wang Limin (王砺珉)
Camera 摄影师 : Xi Bings 席冰