In an attempt to show benefits of playing video games, HP commissioned a campaign with video for the computer maker Omen. Does the film give the right impression?
惠普Omen游戏笔记本视频广告展示网络游戏好处。是否收到了良好曝光?
Until recently, China held the title of the world's largest gaming market. But, last year's gaming freeze amid a regulatory crackdown on internet content and addiction changed that. Facing pressure from the Chinese state media and regulators over the epidemic of video game addiction, several companies like Tencent even introduced in tools to restrict minors playing time.
中国刚刚成为全球最大游戏市场,然而去年却出台了互联网内容与网络成瘾相关规范,包含对网络游戏的限制,这市场发生了变化。面对来自官方媒体和管理机构的压力,腾讯等公司甚至推出了帮助限制未成年人玩儿游戏时间的技术工具。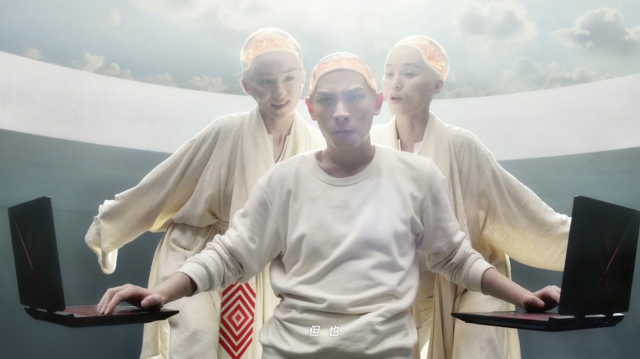 Considering these circumstances, it's easy to see why an advert that plays up research-proven cognitive benefits of video games seems like a perfect match for the promotion of Omen's line of gaming devices.
为此,我们就不难看出,为什么这次Omen游戏产品系列广告要采用网络游戏能提高人们认知能力这一研究证明,看起来与产品推广完美契合。
Using the line "The harder you fall, the stronger you rise", two characters reminiscent of Buddhist monk mentors stroll around gamer training institute imbuing their wisdom on players.
广告标语为"越失败,越强大",片中两个僧侣打扮的"大师",在游戏玩家修炼场向玩家们传递玩游戏的功力。
We see rows of players deep in their meditation state, while others hover over their computers. It's hard to say whether it's the see-through heads with glowing brains of the characters, or the zombie-like looks of the players, but something is rather creepy about the film. Feels like the ad itself is almost a government warning against video game addition!
片中玩家们或进入冥思状态,或重新专注于电脑游戏。那些头戴脑部扫描仪头盔的、表情麻木的玩家们,不仅给人一种匪夷所思的感觉,仿佛这支广告本身就是一个反对网游成瘾的官方警告!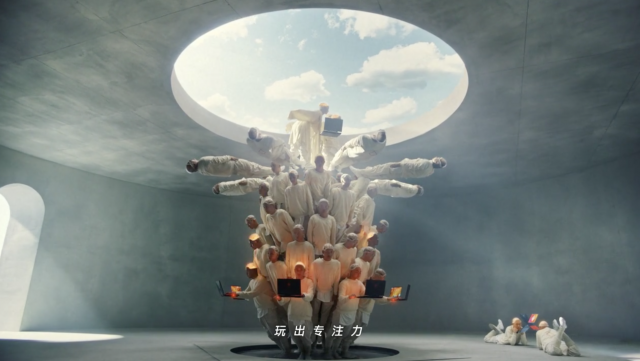 ---
CREDITS 制片团队
Agency: W+K Shanghai
Executive Creative Directors: Ian Toombs, Vivian Yong
Creative Director: Tree Chan
Copywriters: Nick Partyka, Christy Chen, Aier Xu, Raphael Valenti
Art Director: Follen Asee
Creative: César Farah, Matteo Marchionni
Designer: Frankr Ran, Meng Meng, Zhangzhe Peng
Executive Producer: Bernice Wong
Film Producer: Fang Yuan
Film Production Company: Hamlet / Riff Raff
Executive Producers: Jason Felstead, Ruben Goots
Director: The Sacred Egg
Producer: Jane Tredget
Director Of Photography: Benjamin Todd
Film Production Company In Shanghai : Filmate Shanghai
Executive Producer: Priscilla He
Producers: Sami Xia, Tim Zhang, Joe Shen
1st Assistant Director: Maxine Zhang
Art Director: Zorana
Assistant Art Director: Xiao Wei
Stylist: Wang Jian
Film Editorial Company: Cut+run London
Editor: Sam Bould
Film Post Production Company: MPC Shanghai
VFX Supervisor: Patrick Firmansyah
Executive Producer: Jamie Loudon
VFX Producer: Rachel Zhao
Animator: Ambalika Nandy
Audio House (london): Factory
Sound Design: Mark Hills & Jon Clarke
Audio House (shanghai): Big Knows
Executive Producer Big Knows: Arthur Monnet
Sound Supervisor & Sound Design Big Knows: Charles Monnet