The new spots for Rio mark a triumph over adversity for production company WE, who overcame significant obstacles and a tight schedule to create a series of slick, well-executed films.
The theme for the internet spots from agency 25 Hours was 'Night Party', and called for five 15-second videos and one long-form film, with only a month to deliver.
Most notable is the one-minute piece, which sees an army of drones swarming down on a night market, delivering China's most popular bottled cocktail to grateful young revelers below.
You can understand the logic behind the creative. Drones are fashionable these days. Employed for everything from filmmaking and shooting events, to creating graffiti art, they're even being used to transport humanitarian aid to people who lack basic human necessities, like water, blankets and now, alcopops.
The creative concept is risky though, for in spite of their current popularity, drones still carry with them some unfortunate negative associations, conjuring up images of clandestine military operations and invasive surveillance. Whether the film entirely succeeds in avoiding this danger is debatable.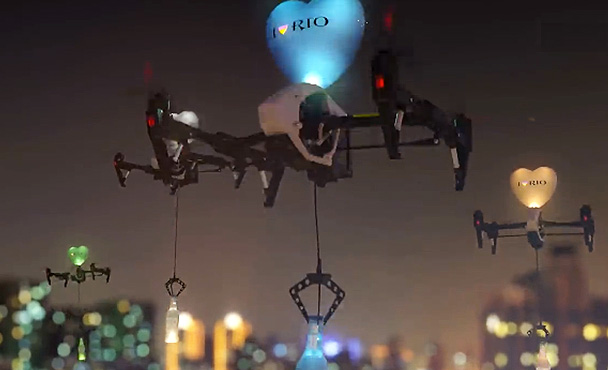 The shoot took place on purpose-built night market in a film studio. Executive producer, Tanya Wu, explained why they didn't use an existing market "Real night market streets are too dirty and messy, plus we would have difficulty controlling the crowd" adding "we didn't want the film to look like a brand video. We needed a market that was visually appealing but didn't lose the authenticity."
Initially the plan was to ground the campaign in an offline event involving real life drones, only for the idea to be scuppered by the Health and Safety authorities, who decided dozens of rotor blade powered mini-choppers buzzing over a frenzied party crowd was inadvisable.
Two last-ditch preproduction meetings refocused the upcoming video to possess more of a documentary feel, explaining the decision to display a countdown and specific date at the beginning.
The troubled concept suffered another blow when it became apparent that the small 'quadrocopters' were not powerful enough to fly while carrying a full glass bottle. That feat would only be possible using a larger 'octocopter', but such a chunky machine would have made the bottles look unimpressively tiny by comparison.
But the show must go on, and so it was post house to the rescue, with the decision being taken to create 90% of the featured drones in CG.
Shanghai VFX whizzes Red Mustache deserve enormous credit for stepping up and taking on the dramatically increased workload. Across a sleepless fortnight, the team modeled, rendered, shaded and animated the drone fleet. Lighting in particular presented challenges, in that every small change in the movement of a drone required time-consuming modifications to be calculated by the simulated real lighting spectrum.
The results are excellent; the machines look like they are really there, as they dip and dive through the night sky and market lanterns.
Praise is also due to young director Fu Binbin. Chosen for his skill in capturing the free spirit of youth, the Rio spots round off a prolific last twelve months for the former art director. He brings a vibrant authenticity to the custom-built night market, and neatly captures the fun and revelry around the barbecue skewers and free booze.
With only a month to create a TVC-quality film and five short clips, the production team deserves a well-earned drink. Hopefully there'll be some benevolent robots on hand to deliver them.
Client(客户):RIO 锐澳
Agency(广告公司): 25 hours
Production House(制作公司):WE Productions
E.P(监制): 吴迪 Tanya Wu
Director(导演):付彬彬
DOP(摄影师):张宏斌
Producer (制片):Leon
Lighting (灯光):林荣洲
Art (美术):萧峰
Props(道具):老表
Wardrobe/Make up & Hair(造型):秋兰
Casting(演员组):飞飞
Line Producer( 执行制片):陈韧、周浩
Post Producer(后期制片):三羊
TC(调色):小米
Offline Editor(剪辑师):黄冰融、阿凯
Online Editor(后期合成师):左懿臻
CG Manager(后期制作主管):熊一多
Model artist(模型师):孙治国
Light artist(渲染师):吴志慧
Sound Mixing(混音合成):Kevin
虽然时间始终是摆在制作公司面前的一道槛,但跨过去次数多了,不少公司就找到了适配各种状况的方法。WE Productions与25Hours广告再次合作的锐澳"夜市"系列线上广告是WE接到的又一宗急活——需要在一个月的时间内交付五条15秒和一条1分种片子。在外人看来,制作公司的应对结果就像好莱坞大片一样,过程艰辛,但绝大都是团圆结局。
这次艰辛的过程主要体现在"无人机夜市送酒"的一分钟短片里,为了实现无人机蜂拥进热闹的夜市,为大块朵颐的年青人空投锐澳鸡尾酒的新潮概念,创意和制作过程真是一波三折。
无人机是近两年最潮的玩意儿,除了用于电影制作和活动拍摄,它甚至被用于人道救援,为交通不便的地区空投食用水和毛毯等必需物资。而现在,它们的任务是空投酒瓶。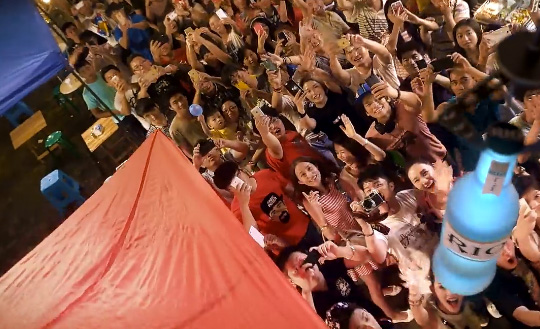 外界其实一直对无人机的使有不少负面的评价,例如触犯了民视监控权。不过如果整个夜市是在影视基地搭建而成的,侵犯隐私的嫌疑显然就不存在了。当然,这并不是本片需要搭景夜市的原因。监制吴迪说:"因为像(上海)通北路这些真正的夜市太接'地气'了,很脏很乱,而且很难控制人流。我们想像当中的夜市场景必须"高于"真正的夜市——画面呈现是精美的。"吴迪还补充说:"当然片子也需要有真实性,如果拍成品牌广告的感觉,又离消费者太远,减少了可信度。"
整个广告战役的第一个风波源于线下活动的取消,原来计划的一场真实的无人机夜市送酒的线下活动因为无人机螺旋桨的潜在"杀伤力"而不得不斩掉,而改用以影片去体现创意概念。
影片的风格也因此重新调整,希望更凸显'事件性',例如片头的日期和倒数就是为了增加纪录片的风格。不过在真实的拍摄的过程中,无人机送酒的概念再次遭到了挑战:因为四轴机吊不起装满了酒的瓶子,但如果选用八轴的机,庞大的机身与瓶身的比例显得非常不协调。结果不得不放弃了实拍无人机的做法。
解决方案最后落到了后期制作公司的肩上——片中90%的无人机都是由后期制作。后期公司"红胡子"一下子接下了海量的三维工作。团队在两周近无眠的加班状态下,火力全开地完成了建模、特效、跟踪到渲染等复杂的工作;在审核阶段,每一次修改又涉及到模拟真实光谱的渲染,每一次改动就增加了时间的成本。但可喜的是,CG无人机呈现出的真实效果还是无缝地配合了实拍的部分。
新晋的导演傅彬彬主要是负责实景的拍摄,他的画面成功地呈现了夜市的活力和免费酒加烤串给年青人带来的兴奋。一年前才刚从美指转型成为导演的傅彬彬,高产的他一年来接下了不少以年青人为题材的广告,对这次的故事把握可谓驾轻就熟。
在可行性一而再,再而三被颠覆的情况下,WE以强大的应变能力保存了一个看似不可能的创意。不知道在庆功宴上,他们是否最终给自己成功地空投了庆功酒呢?
附五条15秒:
黑暗料理:

冰爽蓝Vs麻辣红:

加班餐:

啃鸭脖:

高逼格: