Watching the ad for the recently launched Volkswagen Lamando is like entering a time capsule to a far-fetched future.
The ad is a very rare and pleasant surprise to the usual car-advertising scene in China. A work of extraordinarily vivid fiction, it blends together a high-tech aesthetic of technology, fashion and space in what could easily pass for a short sci-film. It's a bold, and daring effort for VW, one that departs rather drastically from standard glossy, classic car ads in China.
"When the agency (CCG Shanghai) came to us with a brief, they asked for an ad with a cutting edge look," says Andrew Gregg of production house Mili Film. "We found a Lexus spot that resembled what we were looking for and got in touch with the director, German Specter Berlin. He jumped on board and came up with the extraordinary cube imagery."
The cube – a sleek structure that acts as a 'space-age portal' for the Lamando – is indeed a pivotal element of the 90s long film. It is through the cube that viewers are taken from a desert-like stretch of land to the blinding lights of a metropolis, shifting from one whimsical flight of fancy to the next with the sound of pumping techno beats and visually stunning, highly textured atmospheres.
It's surprising to think that, besides this, Specter's experience with cars is limited to the commercial he did for Lexus RC – which, admittedly, has a very similar futuristic vibe. "Bold fashion and captivating images are Specter's area of expertise," explains Gregg. "And that's what VW was after. They needed the film to be consistent with their tonality and CI, but also wanted a high fashion, almost haute couture aesthetic that wouldn't be too dark. For that reason our film had to be a lot brighter than the Lexus RC. The driving shots at the beginning are in daylight, for example. Specter did an excellent job at keeping it fashionable while staying within VW's guidelines."
Put together in a very short time frame – the team had just over two weeks of pre-production – the commercial was a complex, multi-layered and truly international project. Post-production company Storz & Escherich realized the opening sequence, which is entirely CGI, in Berlin, with only one car to work with. "As the model hadn't been released yet, the client didn't want to risk it being seen in public or transporting it to a far-off location," Gregg recounts. "I've shown the opening sequence to several DOPs and many had a hard time believing that it wasn't shot practically."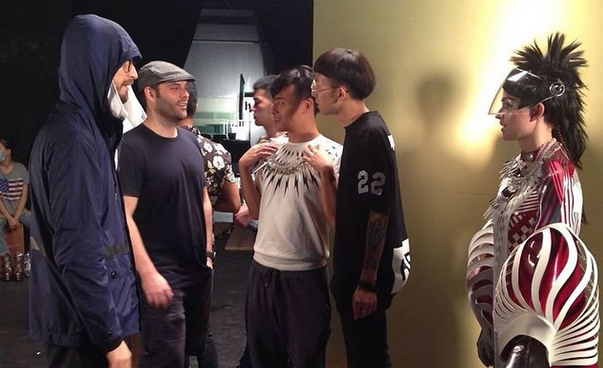 Director Specter Berlin (left 1)  and Executive Producer Andrew Gregg (left 2) on set
The lighting, a key aspect of the spot, was the work of Jan Prahl, Specter's preferred DOP from Germany, while the art department and visuals for the LED screen were put together by Lin Bei, "a good friend of ours and one of the top art directors in Taipei," Gregg says. The styling – which wouldn't look out of place in a Lady Gaga video – was overseen by Taiwanese Li Daqi and Lao Liu.
Besides the enthralling visuals, what makes the commercial stand out is the pioneering direction it takes ads of this kind – especially in China. "The client has been very satisfied with the final product," says Gregg, "and the video was a hit at the autoshow it premiered." It's a legacy that has already made a mark among competitors. "I've seen quite a few films that have been, ahem… influenced by it since," he says.
Expect more parallel/ futuristic worlds of tantalizing possibilities coming your way soon from the same team. Director Specter is shooting two new commercials for VW currently which will be covered by SHPPLUS as soon as the films are released.
Credits:
Agency: CCG Shanghai
Production House: Mili Films
Director: Specter Berlin
Executive Producer: Andrew Gregg
Post: Storz&Escherich
DOP: Jan Prahl
Art Director: Lin Bei
Styling: Liu Zhi Xuan, Li Daqi
Editor: Johannes Hubrich