The latest spot from Lexus has drawn attention for employing an unusual combo of drumming, twerking and Wing Chun to promote their IS200t model.
It seems likely that this campaign, like many other commercials across various different brands, drew inspiration from the Sam Brown directed Audi A3 'Better, Faster, Stronger' spot, featuring a mad mash-up of various bizarre elements including a man speed-skipping and an Audi made of jelly.
Director Chifflet, with a background in directing music videos was a natural choice to capture the edgy tone Lexus were going for.
The shoot took place across two late-August days in a studio in Shanghai.
The concept of the set was to give the impression that Lexus had invited three experts in their discipline to a hangar to test their speed against the new IS200t vehicle. As such, it was important to see an expansive background behind the three performers, who would be contained within wall-less circular 'rooms'.
The set was constructed across one night, with the team starting the build the evening before the shoot and working through the night until the early morning of the first day.
Set up in four hours, the LED screen offered a striking, flexible backdrop that could be customised or turned off for each individual performer. Given the need to construct three different sets in a limited timeframe, ease and speed were the main concerns. As Chifflet put it, 'it was about putting in layers in front the LED screen that were easy to roll in and out'.
The first day shoot was with Beijing drummer Wang Lan – introduced to Chifflet as a rock icon that was to Chinese drumming what Jimi Hendrix was to electric guitar in America.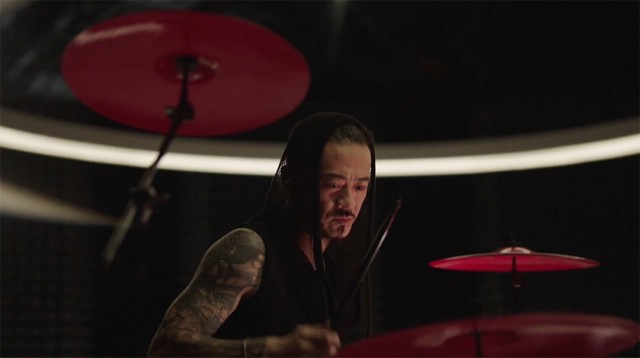 Iconic Chinese drummer Wang Lan
Wang pre-recorded a pounding thrash metal test beat three days before the shoot and invited Chifflet to his studio to take a listen. The director liked the recording, but felt it was too heavy for the film. Though Wang Lan didn't speak English, his knowledge of English drum terminology meant he and Chifflet, also a drummer, were able to communicate through a shared language. Together the pair created a more neutral hip hop beat, recording the final version in half a day.
Day two began with dancer Li Jing, also known as China's 'Godmother of Belly Dance', the co-founder of the East Eva International Dancing Academy where she teaches belly dancing. Agency Lintas were looking to include some unusual elements in the spot, and so asked Li to depart from her usual style in favour of twerking.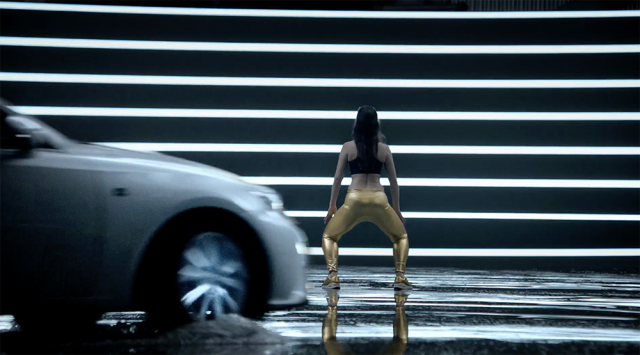 Li Jing, China's 'Godmother of Belly Dance'
The third action performance was with American actor and Wing Chun master Jerry Liau (Yi Yang). Liau shot to fame in 2014 after landing the bronze medal in Jackie Chan's stunt-actor TV competition 'The Disciple', becoming Chan's 'disciple' and signed to his JC Group in the process. Liau, who also directs with his production company Phoenix Legend Films, was previously mentored by the martial arts director of wuxia classic movie Crouching Tiger, Hidden Dragon. He came to the studio on the afternoon of the second day, in between shooting his latest movie, to inflict hell on a traditional ‪Muk Yang Jong (Wooden Dummy).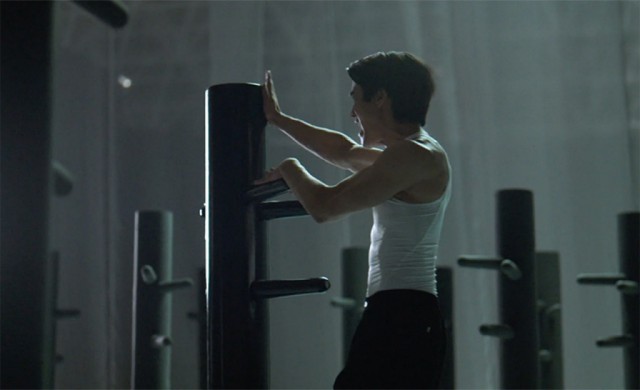 American actor and Wing Chun master Jerry Liau (Yi Yang)
Altogether it was two hectic but smoothly executed shoot days. Chifflet paid special tribute to DoP Vikash Nowlakha with whom he struck up an immediate understanding, "I loved working with Vikash and I'd love to work with him again. He was really humble and curious and tried to understand the various aspects of the project from the first time we met. What I like with Vikash is we think alike with lights and camera effects. We work with the same references in mind."
Chifflet himself edited the three 15-second spots.   It's a shame we don't get to see more of the three world-class talents doing what they do best but, thankfully, Chifflet has edited a special director's cut, combining all three into one more revealing, dynamic piece.
最近,雷克萨斯的广告系列新片吸引了大众的注意力,因为他们在片中援引了极速鼓点、电臀舞和咏春元素来宣传他们的IS200t车型。
这则系列广告看上去就如很多其他品牌的广告一样,从萨姆·布朗导演的奥迪A3"更好,更快,更强"广告中汲取了灵感,将许多怪异且丰富的元素混合在一起呈现出来,其中甚至包括一个不断踢踏的男人和一块奥迪形状的果冻。
导演奇弗莱特,作为一个拍音乐录影带出身的导演,被邀请来执导雷克萨斯想要表达出的那种潮流之音似乎是一种再自然不过的选择。
八月下旬的两日在上海的一间摄影棚内,拍摄正式开始。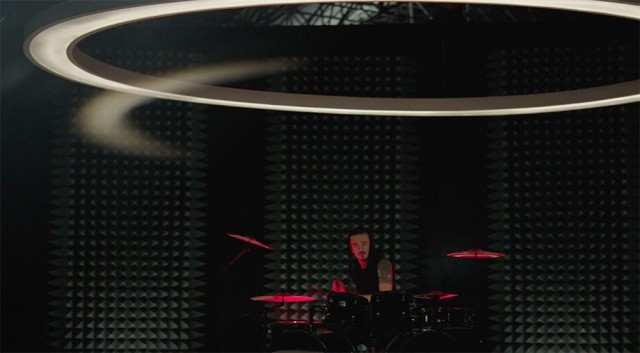 整个拍摄的概念就是要制造这样一个氛围:雷克萨斯邀请三位来自不同领域的职业高手在一坪机库中以速度来与新型的雷克萨斯IS200t斗快。所以在各自被装进一间没有墙壁的圆形"房间"的三位表演者身后能看到一个巨大布景很重要。
这块布景一夜之间就搭建完成,整个团队在开拍前一晚开始搭建,并整夜工作,直至开拍第一日的凌晨才结束。
经 过4小时的搭建,大型LED屏幕呈现了一派引人注目又灵活多变的背景,还可以根据每一位表演者的风格自如变化和开关。鉴于在有限的时间内需要构造三种不同 的布景,简易和快捷就成为两个最主要的考量因素。就像奇弗莱特所说:"主要是在LED屏幕前打造出易于切换的多层次。"
第一天的拍摄是围绕北京鼓手王澜展开的——向奇弗莱特介绍他时,被形容为如同美国电音吉他界的吉米·亨德里克斯级别的中国摇滚鼓手。
王 澜在拍摄开始三天前预先录制了一段金属摇滚鼓点的试音,并邀请了奇弗莱特到他的工作室去试听。导演很喜欢这段录音,但感觉上对于影片来说太重金属。尽管王 澜不会说英语,他对关于鼓点的英语术语的知识还是可以让他与同为鼓手的奇弗莱特顺畅交流。他们一起创造了一种更中性化的嘻哈节奏,并在半天内录制出了最终 版本。
第二天的拍摄始于素为中国肚皮舞教母之称,同时还是北京伊斯特伊娃国际舞蹈学院创办人及培训导师的舞蹈家李静 。灵狮广告希望可以在广告中加入一些不同寻常的元素,所以要求李静一改往日风格,多加入一些电臀舞的元素。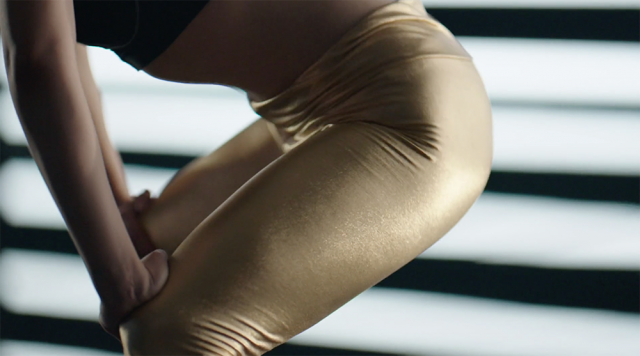 第 三位表演者是美籍演员,咏春大师易扬,他在2014年成龙的特技竞赛秀《龙的传人》中获得第三名而声名鹊起,成为成龙的"传人"并签约其下的JC集团。易 扬也在他的制作公司凤凰传奇影业担纲导演,而他的前任师父则是经典武侠电影《卧虎藏龙》的武术指导。他在拍摄第二天下午利用他自己新片的拍摄空档过来痛打 一个木人桩。
总 的来说,两天的拍摄工作虽然异常繁忙却顺利无比。奇弗莱特特别致敬了和自己一见如故的摄影指导维卡什·诺拉卡:"我喜欢和维卡什一起工作,而且期待跟他再 次合作。他谦卑且充满好奇,从我们认识的第一天开始就试图理解整个项目的方方面面。我喜欢维卡什的一个方面就是对于灯光和摄影效果方面我们的想法很相似, 我们脑中的蓝图总是不谋而合。"
奇弗莱特自己剪辑了三个15秒的广告短片,尽管我们没能看到三位世界级大师更多的精彩表演是一种遗憾,但幸好,奇弗莱特制作了导演特辑版,将三段短片汇总成为一个更深刻也更富动感的作品。
Production Producer: Ali Ding, Penny Peng
Agency: Lintas
Agency Producer: Smiley Yuan, Mad Wu
Creative Director: Picasso He (ECD), Juli (CD), Alex Qi, Dan Han, Changming Yang, Chuan Qin, Rong Huang
DoP: Vikash Nowlakha
Production Designer: William Lan
Editor: Mauri Chifflet
Online: Mae Lee
Color Grading: Tom, Digit Digit post
Music house: Massive, Blast Studio