Rapid development of takeout platforms and the usual exhausting work rhythm increasingly make kitchens the least used space in homes of young Chinese urbanites. Add overall small apartment space and we're facing a tempting question: do modern homes still need a kitchen?
外卖平台的飞速发展和每天使人越发疲惫不堪的工作节奏,在中国都市年轻人的家里,厨房便成为了最少被使用的地方。
Starting from this brief, the kitchen brand Fotile decided to jump ahead of the changes, and released an unexpected commercial film at the end of March. We talked with the production company 37Film to get «behind the scenes».
从这个brief开始,厨具品牌方太决定赶在这些变化之前,在三月底发布了一个意料之外的广告片。和制作公司37Film交谈后,我们为大家带来一些幕后花絮。
The 4 minute and 30 second spot with 33.9M views on Weibo alone features famous TV host Kevin Tsai as a neutral expert, who presents the pros and cons of having a kitchen from perspectives of different characters.
这支长四分半的片子由知名电视节目主持人蔡康永主演,单单在微博上就有3390万的观看量。通过不同人物的视角,蔡康永向观众展示了厨房的优点和缺点。
With the reputation of a «wise man, who looks at things objectively and has a strong analytical ability», Kevin Tsai is a great match for the neutral presenter role. He does not represent either side, but it's hard not to notice that in the ad he definitely enjoys homemade food.
让被称为"智慧、客观看事情和分析能力强"的蔡康永出演这个持中立态度的主持人是太适合不过了。他没有代表任何一方,但是不难发现,他在广告里是真的喜欢吃家里做的食物。
The film was shot at the height of the virus epidemic, so the team had to move the shooting to Thailand, and finished the work in 2 days at eight different locations. 37Films shares that the final street shot was especially difficult considering Bangkok's strict regulations on gathering in public spaces. In addition, all 12 actors had to be flown from China to Thailand, as the film, targeting mainland China, had to feature actors with pure Chinese accents.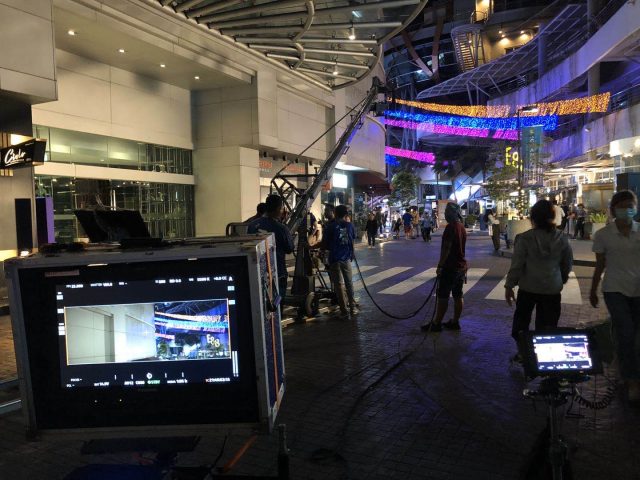 这支影片的拍摄时间正是疫情严重的时候,所以团队不得不去泰国拍摄,并且在两天里跑了八个不同的地点完成拍摄。37Film说,鉴于曼谷对公共场合的人群聚集有严格规定,片尾街景镜头的拍摄极其困难。另外,因为这支广告片是针对中国内地市场,所以片中的12位演员必须从中国飞到泰国,以保证影片角色操的是纯正的中国口音。
Scenes with Kevin Tsai were shot by team B in Taipei and produced remotely, as the TV host could not leave Taiwan. In the end, thanks to Kevin Tsai's attitude and cooperation, the shot was efficiently finished in 4 hours, half the time planned.
因为蔡康永不能离开台湾,有这位电视主持人的镜头是由B组在台北拍摄并远程制作。最后,多亏了蔡康永的积极配合,拍摄在四小时内高效完成,比原定时间少了一半。
The video triggered a heated discussion, just as Fotile wanted — Weibo's hashtag campaign has already generated over 1 billion views and 70K comments and counting. Making food as an expression of love and care, love of cooking vs valuing time that can be spent on things that are more fun than cooking — «need kitchen» and «no kitchen» parties present arguments evenly in the video, but netizens' comments show that the majority is not ready to give up their kitchens just yet.
正如方太所预期的,这个视频引发了热议—微博带话题标签的campaign就已经产生超过一亿的阅读量和七万条评论,数量还会增长。通过烹饪表达爱和关怀,"爱下厨"和"把时间花在去做比下厨更有趣的事情"形成对比—视频中,"有厨派"和"无厨派"的双方各自表达观点,但是网上的评论显示,大多数人还是没有准备好不要厨房。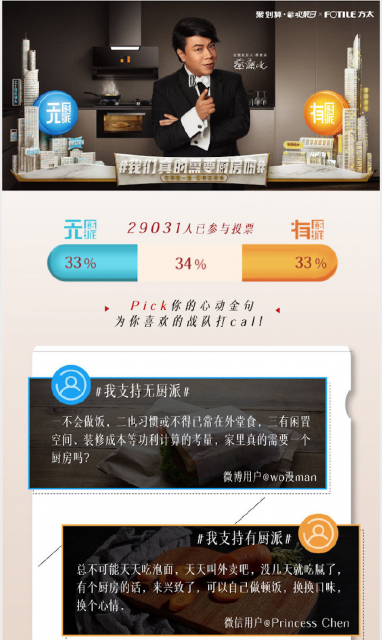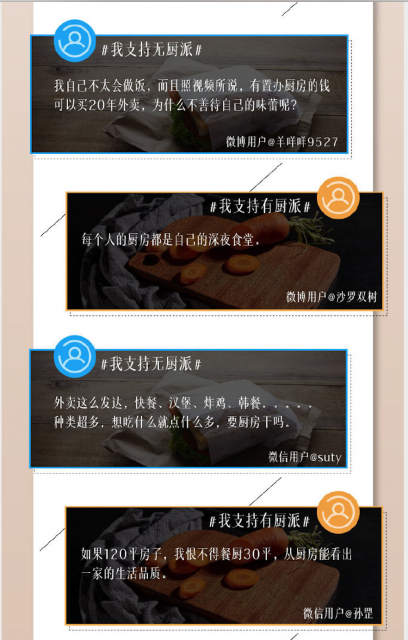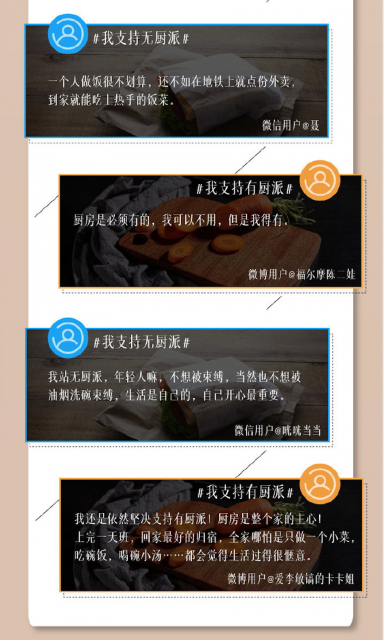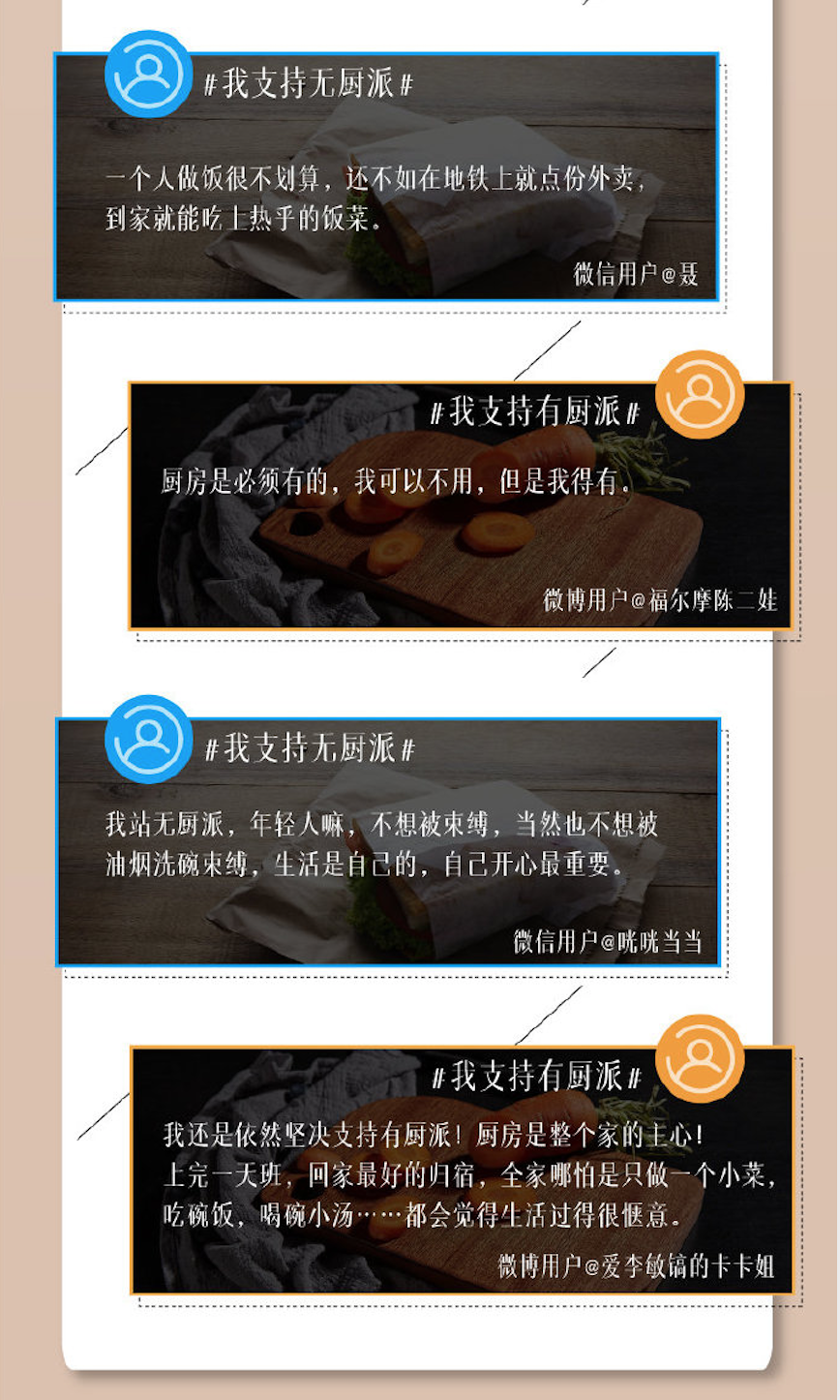 ---
CREDITS 制片团队
Agency 代理公司: SGAD+
Production 制片公司: 37Film
Director 导演: Yu Fenglin 禹峰林
DoP 摄影:Liu Liangyu 刘良玉
Executive Producer 监制 : Xiao Chabao 小茶包
Editor 剪辑: Shan Yao 闪耀
Art Direction 美术设计: DYLAN FILM
Service Production in Thailand 泰国制作服务商:DYLAN FILM