This quirky spot put out to draw attention to the third year of e-commerce giant Sunning's 818 shopping festival is perfect light-hearted summer entertainment.  The almost slapstick style comedy aims to highlight the hidden enthusiasm within us all.  The short vignettes released individually on multiple Chinese platforms, including Iqiyi, PPTV, Tencent Video, and WeChat moments, showcase passionate individuals in various area like food, beauty, music, electronics, and sports.  There was also a special 40 second version released on Sunning KOL's Weibo accounts.
为了庆祝苏宁818发烧购物节三周年,苏宁打造了一部无厘头广告,轻松愉悦的氛围在炎热的夏季博人一笑。搞笑的风格就是为了燃烧起人们潜藏的热情。短片在国内多个网络平台上相继播放,包括爱奇艺、PPTV、腾讯视频、微信朋友圈等,演绎了美食、美妆、音乐、点子、运动各个领域的发烧友的逗乐事。此外,苏宁自己的微博大V账号还有一个专门的40秒特别版。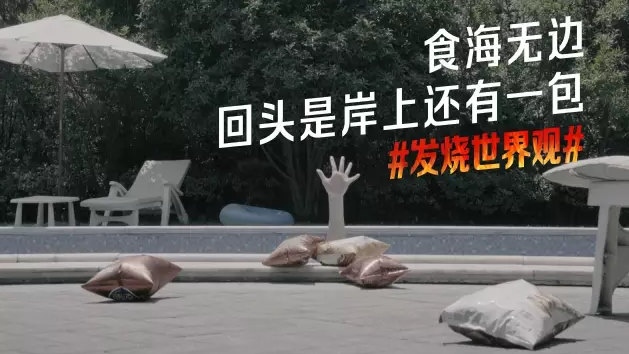 Sunning is China's third largest e-commerce platform, and like the others it has initiated its own shopping festival.  The creative was led by local Shanghai agency Karma, who worked with Sunning before in 2013 on a spot with Wu Mochou.  This time the challenge was to put something out that would help Sunning's shopping festival stand out from the others. 
苏宁目前是中国第三大电商平台,也同样开启了自己的购物狂欢节。本次的创意广告由上海颉摩广告领衔打造,早在2013年,颉摩就为苏宁打造了吴莫愁主演的广告。本次广告的主要目的是让苏宁在众多的购物节中脱颖而出。
While brainstorming for the spot, Karma's creative team came to the conclusion that everyone is an enthusiast or nuts for something, and they wanted to showcase this in a fun, humorous way.  The scenes are almost supposed to be "as if there was a hidden camera filming someone's everyday life which reveals their secret obsessions and the value an individual finds in those seemingly silly obsessions".
颉摩创意团队展开了头脑风暴,最后大家认为,每个人都是某种东西的发烧友,所以他们想要以幽默风趣的方式把它展现出来。广告中的画面,就像是每个人的日常生活中都有一个隐藏的摄像头,把他们的小癖好,和他们从中找到的乐子拍下来。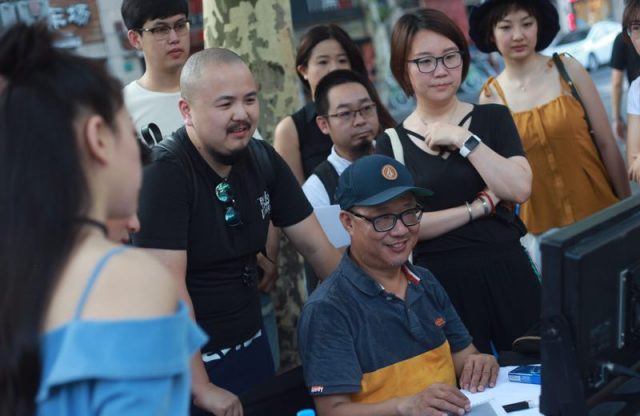 Executive Creative Director Kama Zhang with client | 执行创意总监Kama Zhang跟客户
The client was so pleased with the final 15 second spot, there were no edits required after the first delivery.  Certainly a relief from the whole team, who shot the combined spots in two days during Shanghai's heat spell with temperatures getting up to 42 Celsius.  Production and post was executed by Gwantsi, a go-to production company for Karma.
苏宁对最后的15秒尤为满意,第一版剪辑完成之后完全不需要修改。这无疑让颉摩团队松了一口气。在上海42度的高温酷暑下,团队花了两天时间拍摄取材。片子制作和后期都交给了观池 – 也是颉摩的老朋友。
The results of the campaign for Sunning's sales are yet to be seen but these comical spots are sure to make everyone smirk a little at the funny and different things we find ourselves obsessing over.
虽然苏宁发烧节的最后销售额尚不可知,但是这支爆笑广告无疑让大家都为自己的小癖好为之一笑。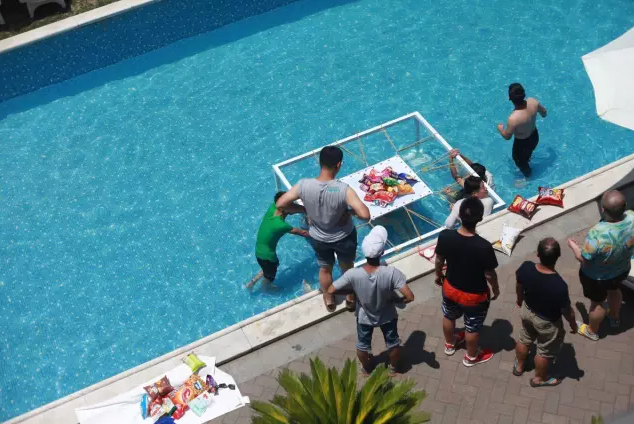 Credits 制作团队
Agency 广告 : Karma
Executive Creative Director执行创意总监: Kama Zhang
Art Director 艺术指导: Shuai Wang
Designer 设计 : Roc Zheng
Copy writer 文案 : Tina Tian
Account Director 客户总监: Amanda Zheng
Acoount Manager 客户经理 : Iyo Tsai
Account Executive 客户代表 : Miho Xian
Production Company 制作公司 : Gwantsi Production 观池制作
Director 导演 : Binbin Fu
[craft + creativity in the
Chinese advertising industry]
[行知合一,广告中国]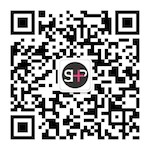 Press and hold the
QR code to follow us
长按二维码关注