Tennis superstar Wang Qiang highlights how Dunlop Tires can elevate performance in their latest film. Directed by the celebrated JB Lee, Dentsu Shanghai and Gwantsi Shanghai teamed with MPC to create a full CG 360-degree world.
MPC团队与李静波导演、上海观池、上海电通合作,为邓禄普轮胎打造出一部恢弘巨作。此影片是以国内知名网球运动员王蔷为主角,MPC创作出360度的三维世界,来为大家展现出邓禄普是如何最大限度得提升你的表现和发挥。

With an ever-evolving idea and concept, and a very tight timeline of only three weeks after offline confirmation, MPC had to be super flexible. Working with a team of around 25-30 artists over the course of the project and collaborating with the director, agency and production MPC was able to create a whole world from scratch.
影片拍摄过程中不断迸发的灵感和概念,以及一个三个星期后就需要确认的时间进度表,MPC必须具有超级灵活性。在整个项目过程中,他们与大约25-30名创作人员组成的全新合作团队,并与导演、经纪公司和制片公司多方合作,使他们能够从零开始创造一个全新的世界。
According to Lily Li, General Manger of MPC Shangai, "It was a beautiful job and we were very happy to work with director JB Lee who gave us so much inspiration during the creative concept stage."
MPC的上海总经理Lily表示,"这是一份很棒的项目,我们非常高兴能与JB Lee导演进行合作,他在创意概念阶段给了我们很多灵感。"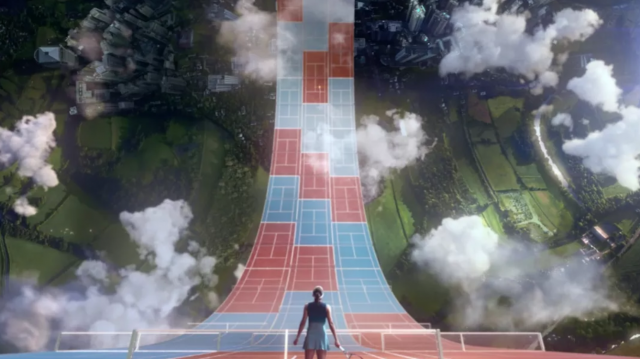 The result is a unique and dynamic visual film and something "you'd never imagine as a commercial for a tire" as Lily said. But the whole approach works in the end and really gets the message across!
这部影片为大家呈现出一个独特兼具动感且精彩绝伦的世界。"你永远不会想象它竟然会是轮胎的商业广告",正如Lily所说。但最终他们做到用创意传递,真正的表现了内容本身!

---
CREDITS 制片团队
Agency: Dentsu Shanghai
Agency Producer: Wenjie Yang
Agency Executive Creative Director:  Zheng Li
Agency Creative: Yiwei Yang
Director: JB Lee
Production company: Gwantsi Shanghai
Production company producer: Helen Wang
Main MPC credits
VFX Supervisor: Patrick Firmansyah
Colorist: Nikola Stefanovic
Post production producer: Rachel Zhao
CG Supervisor: Christian Kalata
CG artists: John Svensson, Paolo Gnoni, Ember Chen
2D Lead: Ginesh Gandhi
2D artists: YanZhong Dai, Minnie Chen, Marielle Santens, Allegra David, Becanti Wijnbergh, Cheng Qiu, Tingting Su, Robin Liu, Eason Wu