斯柯达New Fabia全新晶锐不久前上市,拥有多种颜色车身的新款车彰显个性和时尚,瞄准了年青的消费市场。在创意上,广告代理FCB打出了"只为快乐"的主题,并设想年青人"快乐"的解读应该是'和而不同',快乐应该由年青人去定义。
年青、色彩、定义快乐和追求快乐,这些关键词加起来喻示着本片的风格与以往斯柯达过往几支高上大的风格截而不同。拍摄任务最终落到了上海的年青导演王砺珉。如果有读过SHP+杂志对王砺珉专访的读者,应该对他已经一点都不陌。毕业于伦敦电影学院,科班出身的王砺珉在讲故事和氛围的营造有着出色的能力,作品里还不时渗透出丝丝的英伦文化潮。
在这三支名为《摄影达人篇》、《扫街吃货篇》和《电玩大神篇》的片子里,王砺珉构想的追求快乐过程应该是带着几乎癫狂的执着,是刺激和疯狂的:"片子应该是节奏亢奋,让人有一种荷尔蒙过剩的强烈冲击感。"要做到视觉上的刺激,王砺珉的想法是大量堆砌和切换镜头,结合快节奏的剪辑达致亢奋的状态。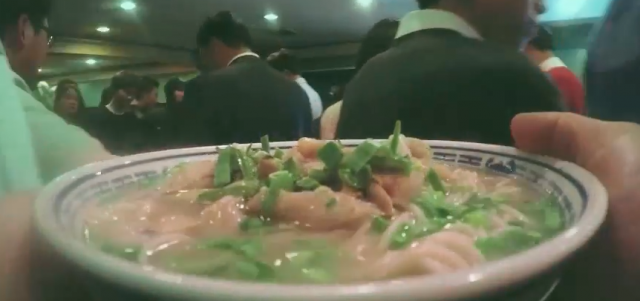 一碗来之不易的好汤面……镜头啦!
为了增加变化多端的视角,王砺珉几乎考虑到了主体、客体,上上下下、前前后后等多种视觉镜头,还用上了Go Pro制造出立体和真实感,像摄影师坐过山车时飙升骤降的那几秒;电玩家在现实与睡梦中挣扎起床的那一刻;和吃货端着汤面穿梭在拥挤的人群的紧张过程……手持拍摄呈现特有的粗糙质感和晃动可能带来不太舒服的观感,对于中国广告片来说,它是独特和甚至是先锋的。对于英国的CULT片迷,快速的镜头切换、碎碎念的旁白和强劲的音乐节拍和色彩浓烈的画面,似乎看到了经典的《迷幻列车》和《偷拐抢骗》等的影子。
对于三条片子仅用五天的拍摄时间,而每条成片最终还可以用到三、四十个镜头之多,拍摄的强度不是一般的高,其中不断地转场,每天休息不到三小时,披星戴月的工作,用制作公司贞观团队的话来形容"(拍摄)就像一个团队在打一场战,但是蛮有意思的"。大概也只有这种"刺激"的工作方式,才能真正产出如此"刺激"的作品吧!
吃货篇 (片中不落俗套的吃货帅哥主角由韩国演员朴宰用担演,其本人就是真实的吃货一名,在韩国主持着一档人气美食节目)

电玩篇 (电玩界知名玩家"草莓"魏汉冬本色出演)

摄影篇

拍摄花絮

Credits 制作人员:
代理商:FCB
制作公司:Possible Film 上海贞观
监制:郭敏嘉
导演:王砺珉
副导演:薛海贝
制片经理:王鹤峰
制片:丁丁
执行制片:刘山珍
制片助理:陈剑瑶、李海朋、陈平
美术:顾云清
道具师:程龙
摄影师:梁忠强
摄大助:张洪斌
灯光师:郑光永
器材公司:蓝迪
服装组:王剑、丁月艳、
化妆师:刘佳
场务:小徐
Casting: 吕漪文 大杨(助理)
演员:朴宰用、草莓(特邀)、秦立洋、安康伟、张植绿、史彬、小白、马一奥
后期制片:吉亮、徐倞(助理)
剪辑:王春祥、王小敏
TC:丁登科
音棚:Smile studio
作曲:Albert
Online: 薛翔、姜彬
The brightly colored new Fabia Skoda, launched in China about a month ago, is trying to target young consumers with an exciting and dynamic campaign. Created by ad agency FCB Shanghai, the campaign is centered around everything being 'only for happiness' and shows young people enjoying themselves and implies that they understand what 'happiness' really means.
The 'young, colourful, vibrant and happy' direction opened a new genre for Possible Film, and young local director Wang LiMin had the task of bringing the spot to life. Wang graduated from London Film school, and SHP+ readers might be familiar with him from our recent exclusive interview. Wang's storytelling and atmospheric talents with traces of English pop culture really add to the script and highlight the happy and fun nature of the characters.
In the three new films, 'Foodies', 'Gamer' and 'Photographer', Wang visualized 'the happiness' as the perseverance of goals, and the result is exciting and maniac: "I imagined these films should look very crazy. They have such a fast tempo, they give you the feeling of an adrenaline high.' In order to stimulate the visuals, Wang imagined the films switching quickly between different camera shots.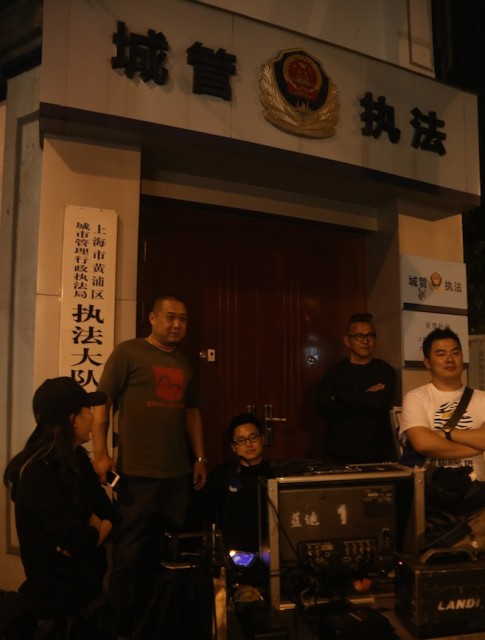 拍片就是这样披星戴月,连城管都懒管的了。
In order to create a great variety of views, Wang looked at every possible angle and view of each subject and object in the films. He mounted a Go-Pro on the characters for some shots, and the unique rough texture and dizziness of the handheld cameras bring a rather uncomfortable viewing experience and all of these elements add up to create a spot which is quite special among Chinese ads. For fans of the English cult films the fast pace of these TVCs, the camera changes, quick editing, voice overs and music, along with the strong colors, are reminiscent of some classics like Trainspotting and Snatch.
The three TVCs were shot in 5 days in Shanghai, and each film has double the amount of shots to a normal TVC – 30-40 shots are used in the finals. Though the schedule was not terribly tight, there were many locations used and the whole team ended up with an average of less than 3 hours sleep each night. But Possible Film described the shoot "like a team in a battlefield, but it is fun;" it is perhaps the high spirit of battling with time that generates the adrenaline of the film.