China has 772 million Internet users, 98% of which access it on mobile devices, and a digital economy of CNY 4.15 trillion. These are the facts Steven Chang, Corporate Vice President of Tencent, opened with as he kicked-off Cannes Lions' China Day, an annual one-day program dedicated to exploring Chinese creativity. These massive numbers showed Chang's desire to try to explain China's scale of digitalization to international audiences that don't intuitively understand the power that Baidu, Alibaba and Tencent wield.
中国有7.72亿网民,其中,98%的人都通过移动端上网,中国的数字经济达4.15万亿人民币,这些数据都是腾讯公司副总裁郑香霖在启动戛纳国际创意节中国日时给出的,中国日在每年的戛纳创意节举办,专注探索中国创意。如此庞大的数字让我们看到,郑香霖想要给全球各地的观众解释中国数字化的巨大规模,外国观众不太了解百度、阿里、腾讯的实力。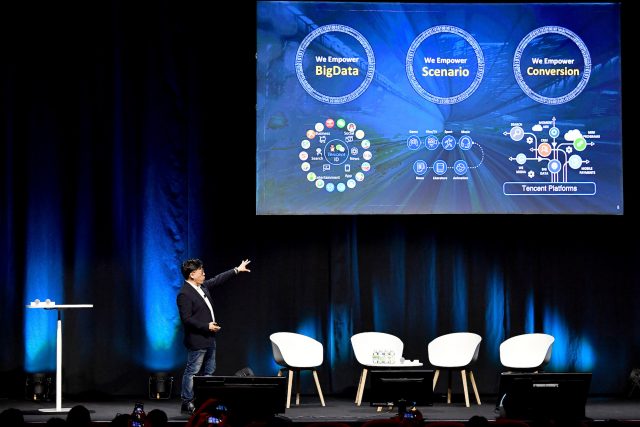 Steven Chang opens Cannes Lions China Day with a Tencent presentation
郑香霖启动戛纳国际创意节中国日活动,带来腾讯演讲
Touching on a common theme of the day, Matt Che, Vice President of Marketing, AB InBev APAC North, commented on a global misunderstanding of the power of China's creativity, market and consumers. "When we look at the international perspective of the China market, people often think, 'The China market is full of potential — full of growth.' It has always been received as a low-hanging fruit market. That was probably true five or 10 years ago. But starting from about two to three years ago, it's no longer low-hanging fruit. It's just as tough as any other market to break into."
中国日的活动有一个共同的主题,活动上,百威英博亚太北区市场副总裁车祁表示,世界对中国的创意、市场和消费者的实力都有误解。"看看外国人对中国市场的看法,他们通常会想,'中国市场充满潜力,不断增长。'中国市场总被认为唾手可得,五年十年前这种想法可能还正确,但最近两三年开始,中国已经不那么简单了。跟其他市场一样,攻破起来不容易。"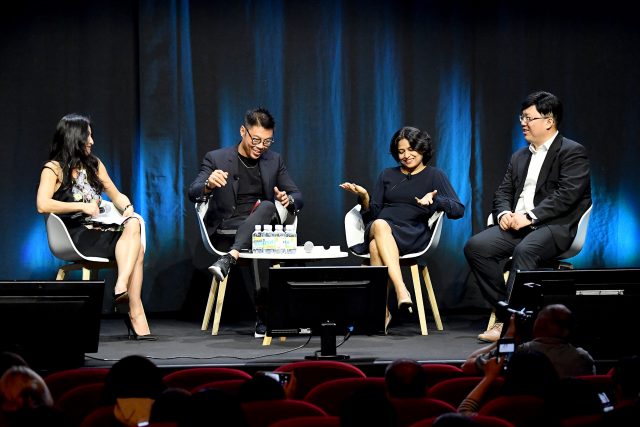 Sophia Ong from Tencent moderates a session on Chinese innovation with Matt Che, VP Marketing, AB InBev APAC North, Asmita Dubey, Chief Digital Officer for Consumer Products, L'Oréal, and Minyi Zhang, Deputy GM of Tencent Social Ads.
腾讯Sophia Ong担任中国创新主题讨论主持人,嘉宾为百威英博亚太北区市场副总裁车祁、欧莱雅消费品首席数字官Asmita Dubey、腾讯社交广告部副总经理Minyi Zhang
Across the day's sessions hosted by JD.com, DDB China Group, Huawei, Mindshare, Adquan, Baidu, iProspect China and more, brand and agency representatives repeated these themes. They laid out the 101 of how China consumes products, media and news to an audience of international creatives eager to learn about how to break into the world's second largest economy.
活动当天有很多小活动,主办方包括京东、DDB中国、华为、传立媒体、Adquan、百度、iProspect China等,各大公司和广告机构的代表都反复提到了同样的主题。他们讲述了中国的产品、媒体、新闻消费,国际创意人士都迫切想要了解如何能够打入世界第二大经济体。
Speakers also shared how China is leading the world in technological innovation, applying AI to brand and shopping experiences, mobile devices, cars and homes to a market of early-adopters with high demand for personalized, intelligent technology.
演讲嘉宾还谈到了中国是如何引领世界的科技创新,把AI应用到品牌和购物体验、移动设备、汽车和家居中,吸引科技敏感人群,这些人对个性化智能化科技需求很高。
In addition to personalized brand experiences or self-driving cars, Wilson Yao, CEO of advertising agency AllYes, shared how agencies can apply AI to their campaigns. "I really love the word AI. It's happening everywhere in different industries, including in the advertising industry. AI in the advertising industry is all about maximizing results. Providing the most effective advertising campaigns by using the most effective money to communicate the right message … and this is coming from Big Data."
除了个性化的品牌体验和无人驾驶汽车,好耶广告CEO姚晓洁讲述了广告机构如何能够利用AI促进广告宣传。"我很喜欢AI这个词,它遍布不同行业,也包括广告产业。广告行业的AI关键就是要把成果最大化。提供最有效的广告营销,最有效地利用资金,传达正确的信息……这就来自于大数据。"
But most commonly, speakers came back to the issue of reframing Chinese brands as premium, innovative leaders, peaking in Huawei's session, "Made in China – Changing Global Perception of Chinese Brands." Andrew Garrihy, Chief Marketing Officer for Western Europe at Huawei, said, "There's a perception that Chinese brands can't be innovators, but it's changing. We're finally moving away from the idea that Chinese brands are mere copycats."
但是,演讲嘉宾普遍都回归到一个话题上 – 重新定义中国品牌高端、创新领袖的形象,这一点在华为活动上最为热烈,"中国制造 – 让世界改变对中国品牌的看法。" 华为西欧区首席营销官Andrew Garrihy表示,"人们有一种观念,认为中国品牌不能创新,但现在人们的想法也在转变,终于不再认为中国品牌只是山寨了。"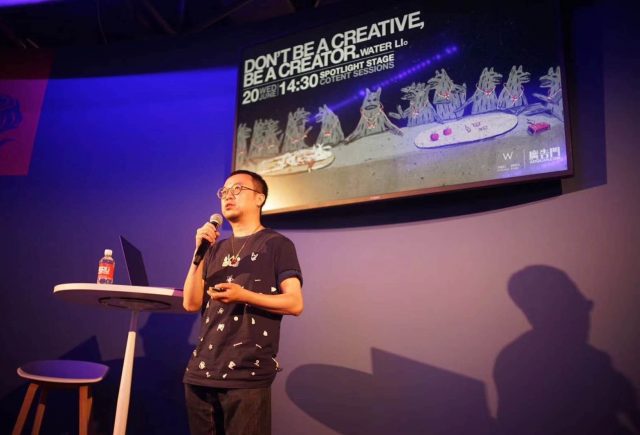 SanShui of W Agency shares their creative philosophy and best campaigns
W创意广告机构创始人李三水分享他的创意哲学和最佳案例
And most relevant to the Lions was the Chinese creativity on display. In an under-the-radar session from Sanshui Li, founder of indie creative agency W Shanghai, he shared their most provocative case studies. In their Wild Island exhibition that took over Shanghai's Joy City Mall, W Shanghai proved that one amazing creative idea can be shared between 30 brands to make a shareable experience that engages with wider audiences.
跟戛纳创意节关联最大的还是中国的创意展示。上海独立创意广告机构W创始人李三水召开了一个小活动,他跟观众分享了最发人深省的创意案例。在他们策划的上海大悦城Wild Island展上,W证明,同一个精彩创意可以被30个品牌共享,可以给更多观众带来一场共享旅程。