ADFEST has announced that next year's festival will take place on Thursday 19th – Saturday 21st March in Pattaya, Thailand with the bold new theme, 'Be Bad'.
'Be Bad' is a rallying cry to encourage the industry to create braver, more provocative work. In an era of enormous change, it is easy to get distracted by new technology and constant upheaval. Yet distraction is the enemy of great work. What's really needed is to 'Be Bad' more often.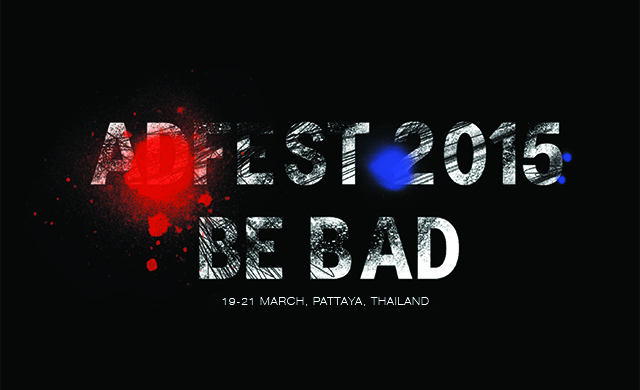 "Fantastic work doesn't come easily. It results from the conviction to find a new angle and disrupt the status quo; it means having the passion to challenge the norm, the average and the mediocre. The ADFEST 2015 icon, designed by Maud in Sydney, brings ADFEST's 'Be Bad' manifesto to life by showing that rewriting the rules can deliver surprising results," says Jimmy Lam, President of ADFEST, explaining 2015's theme.
David Park, Creative Director at Maud and Jury President of Design Lotus and Print Craft Lotus at ADFEST 2014, says: "'Be Bad' is about breaking the rules and subverting the idea of 'good design'. We've created an anti-design system that, rather than adhering to grids, gutters and guidelines, opts for clashing colours, distorted character spacing and using raw, unpredictable materials. By applying destructive behavior to the visuals, we wanted to create a polarizing identity that is sometimes good, sometimes bad, but always exciting."
ADFEST 2015 is a three-day festival made up of seminars, workshops, networking events, screenings, parties and the annual Lotus Awards. This year's festival will once again take place at the beachside Royal Cliff Hotels Group in Pattaya, Thailand.
"The industry needs more of us to 'Be Bad' by taking clients out of their comfort zone. Shake it up. Be bold. Get clients in your corner, fighting for provocative work and the art of creativity. This year we will shout 'Be Bad' as loud as we can from the ADFEST rooftop. Come and join us and make a noise," says Vinit Suraphongchai, Chairman of the ADFEST Working Committee.