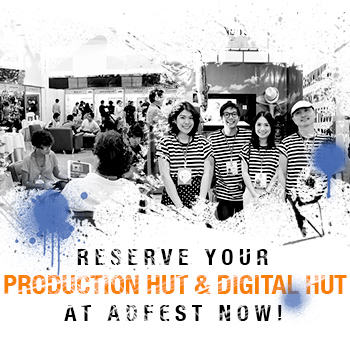 ADFEST will once again host the Production Hut and Digital Hut in 2015 – a platform created exclusively for production and digital companies to directly connect with the creative industry. .
"ADFEST is considered the place to meet your target audience and make valuable connections. Its tropical location and passion for fostering communication within the industry provide all the ingredients for growing connections, using the Production or Digital Hut as a base to host meetings, distribute your showreel, or promote your parties," says Kem Suraphongchai, Festival Director at ADFEST.
All production-related companies are eligible to exhibit at Production Hut, including production houses, animation companies, post-production, special effects, sound studios, stock photography and footage companies. The Digital Hut is open to all digital/interactive companies.
A fee of USD$6,500 covers one 2m x 2m booth, complete with an LCD TV & DVD player and two complimentary delegate registrations to ADFEST 2015, which runs from 19th – 21st March 2015 at the Royal Cliff Hotels Group in Pattaya, Thailand. Group discounts apply for three or more production companies.
If you are interested in taking up a booth at ADFEST 2015, you can contact: