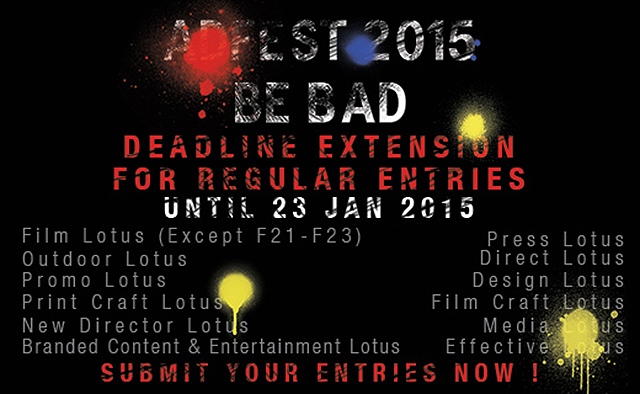 Due to popular demand, ADFEST has extended the entry deadline for this year's Lotus Awards until Friday 23rd January. This deadline extension applies only to the following Lotus categories:
– Film Lotus (excluding the 'Other Film' sub-category)
– Press Lotus
– Outdoor Lotus
– Direct Lotus
– Promo Lotus
– Design Lotus
– Print Craft Lotus
– Film Craft Lotus
– New Director Lotus
– Media Lotus
– Branded Content & Entertainment Lotus
– Effective Lotus
"After receiving many requests from agencies and production companies asking for a longer deadline, we are happy to announce we have extended the deadline one more week," says Kem Suraphongchai, ADFEST Festival Director.
PLEASE NOTE: entries to the Remote Judging Categories (which include Other Film [in Film Lotus], Radio Lotus, Interactive Lotus, Mobile Lotus, Integrated Lotus, and INNOVA Lotus) have closed.