Cadillac just released an ad that relinquishes the "everything posh, fancy and dramatic" vibe typical for luxury car promotions. Here's why it polarised the Chinese internet.
凯迪拉克刚刚发布了一支广告,放弃了豪华车推广中常见的"一切都那么时尚、精致、激情澎湃"的感受,而是采用了一种截然相反的腔调。
What's the first image that comes to mind, when you hear the name "Cadillac"? Do you, like many of us, picture rows and rows of luxury vehicles worthy of American presidents and Hollywood movie stars?
听到"凯迪拉克"这个名字时,你的第一反应会是什么?是否像很多人一样,首先想到配得上美国总统和好莱坞巨星的成排成排的豪华车?
While in the U.S. the brand has to deal with the stigma of promoting a vehicle considered to be an "old man's car", in China Cadillac opted for a marketing strategy to appeal to the younger crowd with pioneering spirit messages.
凯迪拉克在美国要解决的问题是不再作为"老年车"来推广,而在中国则选择的市场策略则是,用具有先锋开拓精神的信息吸引年轻群体。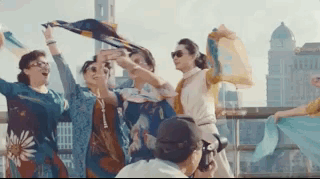 The strategy seems to be paying off, as China quickly became Cadillac's largest market with sales still growing strong now. Considering average buyers in China are in their early to mid-30s, the brand has to communicate with its core audience. Their recent commercial film is another attempt in that direction with a twist of rather tongue-in-cheek humour which is garnering a variety of responses.
目前看来这一策略是奏效的。中国快速成为凯迪拉克最大的市场,销量持续增长。其中国主要买家的年龄为30-35岁,品牌需要与核心受众沟通。最近的这支视频广告就是品牌在这条道路上的再度尝试,采用更加开玩笑式的风格,引发了种种评论。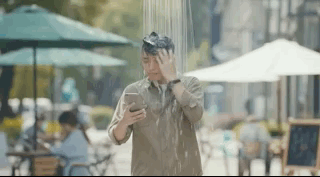 The video bombards the viewer with mundane situations in typical everyday life, suggesting if you don't have one thing, you cannot have another. The film links these silly scenarios together by repeating "If there's no rear wheel drive, it's not a luxury car." With the last scene showing a young guy focused on his phone through a short and VERY personal rainstorm and the line "If it's not brainwashing, it's not an advert" leads the viewer to think that perhaps this very advert is on its own not so subtle mission to brainwash.
视频中充斥着日常生活中的一些典型状况,传递"无此即无彼"的信息,将一个个搞笑场景与凯迪拉克的"没有后驱,不算豪华"信息连接。片中最后一个场景展示的是一位年轻人,在路上一边看手机,一边无意识地被路旁的水柱淋了头,台词是"没有洗脑,不算广告",这让观众联想到,也许这支广告本身不至于"洗脑"。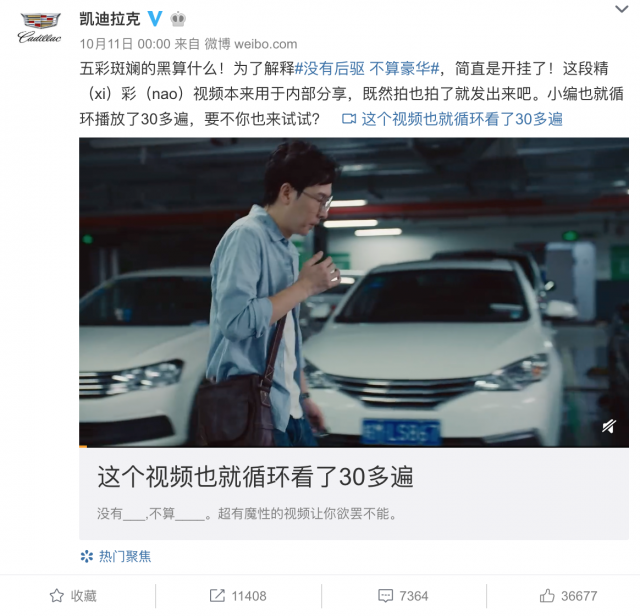 The ad caused polarised responses, with among over 7000 Weibo users commenting along the lines of  wanting to sell their Cadillac after seeing this ad – but still others commenting that it's interesting and they look forward to see if the film turns into a series. The simple formula of the slogan also led to netizens creating their own phrases – including, "If it doesn't cost double your salary, it's not luxurious" (没有双薪,不算豪华), "If you don't have a Cadillac, don't say you have a car") (没有凯迪拉克,不算有车) and so on. On the brand's official Weibo page alone, the video was reposted 11 507 times gathering 36 611 likes.
凯迪拉克的这支广告引发了两极化的评论。微博上有评论称"看完想卖了家里的凯迪拉克",并有7000多个用户追加评论。但也有用户表示,这个广告很有意思,希望做成一个系列。广告中这些口号采用了非常简单的公式,激发了网友创建新的短语,比如"没有双薪,不算豪华"、"没有凯迪拉克,不算有车"等等。在凯迪拉克品牌官方微博账号上,该视频广告的转发量为11 507,赞数为36 611。
---
CREDITS 制片团队
Client 客户:Cadillac 凯迪拉克
Creative Agency 创意代理商: 胜加 SG
Director 导演: Xu WangLiang 徐王良
Production Company 制作公司:37films 毕寅文化
Executive Producer 监制:Trouble宋亚婕
Line Producer 执行制片: He Xiaoming 贺小明
Sound design/Music 声音设计/配乐: Soundpic 杭州万像循声文化传媒有限公司
DP 摄影指导: Xing Wei 辛伟
Art Director 美术指导:Bai Shuyi 白书一
Head of production 制片主任: Huangfu Yujia 皇甫宇佳
Art 美术:Xiao Fang 晓芳
Editor/special effects 剪辑/特效: FEEL