The importance of family has long been a key component of traditional Chinese society, born out of deep-seated cultural values.  However, through a combination of increasing influence of Western culture, a growing focus on personal social lives and increasing workloads, these values are beginning to be eroded, especially in big cities.  Young people are increasingly regarding their parents as an inconvenient hindrance, choosing to leave them and their extended family members in the countryside in favor of forming their own families in cities.
在中国的传统意识中,"家"这个概念无疑是最重要的组成部分。这不仅是一种生活方式或者对人行为准则的约束,更是一种文化的传承。然而随着社会的变迁与西方文化的引入,当前中国——尤其是都市生活中,传统大家族的观念正在不断的受到冲击乃至淡化。年轻人脱离父母,独自承担组建新的、更小规模的家庭的观念已经成为一种趋势。随着如今社交活动的丰富与工作的逾渐繁忙,"家庭"越来越无足轻重甚至在某些时候称为了一种负担。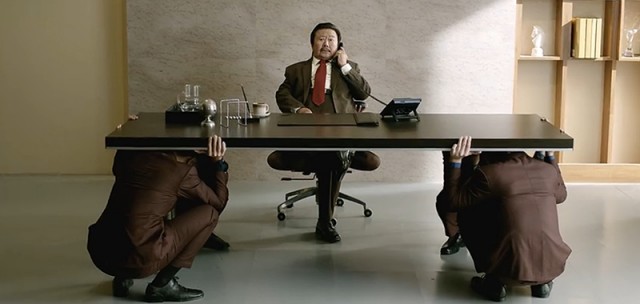 In response, in 2010 Red Star Macalline Furniture created 'Family Day' aimed at reminding people of the essential importance and value of the family unit.  Last month they released their new spot for the occasion.  With the tagline 'Love your family, because your family loves you', the film tells the story of an ill-treated employee who, after being comforted by the embrace of her family's unselfish love, is reminded just how valuable they are.  The film closes with the simple but resonant statement, "Family is the only place for willing love and support".
针对这一现象,红星美凯龙在每年的12月3日发起了一项名为"爱家日"的活动,旨在重新唤起现代都市中国人对于家的认识与感情。作为活动的主打内容,每年都会推出一个口号明确而又温馨的广告短片。今年的广告片设计与制作由上海W广告创意公司操刀主持。经过W的大量的研究调查,同时结合红星美凯龙"爱家日"的主题,他们决定推出"爱家,因为家爱我们"这一广告语作为主打。广告的前半段散发着浓浓的泰式幽默,同时也显露着员工在工作时被老板和同事欺压的辛酸和无奈。当主人公回到家中后,家人对她所给予的无私,不计回报的爱与奉献,使得她明白了家的温暖与重要性,同时也使得短片的思想得到了升华,点出了"回家,回到那个为我们承担所有,却心甘情愿的地方",终熬成了一碗温馨的鸡汤。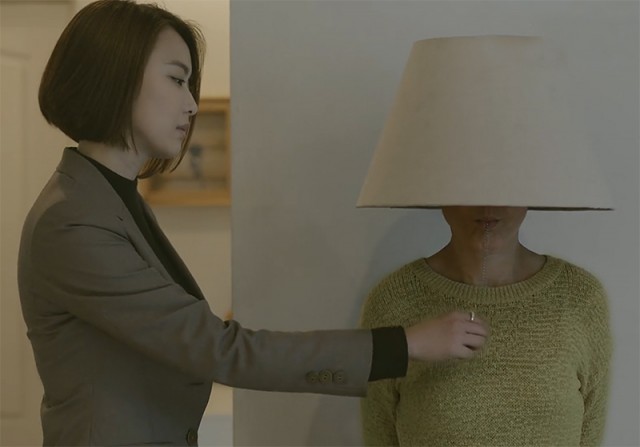 According to Shanghai agency W Creative Director Li Sanshui, the aim was to steer clear of the 'love your family' clichés, instead emphasizing the steadfast support they provide. The concept, he explains, was to liken the role of furniture in the home to that of a family, adding that, 'only our family can accept what the others cannot, only our family will always stand besides us to understand and tolerate the worst parts of us. Whether we like to admit it or not, our family is our doormat."
根据W广告创意公司创始人李三水的说法,他们试图打破之前空洞的口号式的"爱家"观念,而着重强调家对于现代都市人的意义。从一开始W就不仅仅满足于"爱家日"的宣传,更尝试将红星美凯龙的产品与这个观念结合起来。W的想法不仅仅是通过将亲人比作支撑家庭的家具,更试图将红星美凯龙的核心产品——家具也同时打造成家庭观念的一部分。李三水解释说:""不管我们愿不愿意去承认,家人就是我们的受气包。我们要去构建一个最简单的事实,只有家人才会去容忍外人无法容忍的缺点,去宽容外面人无法宽容,去安慰,去跟你站在一起,而不需要任何理由"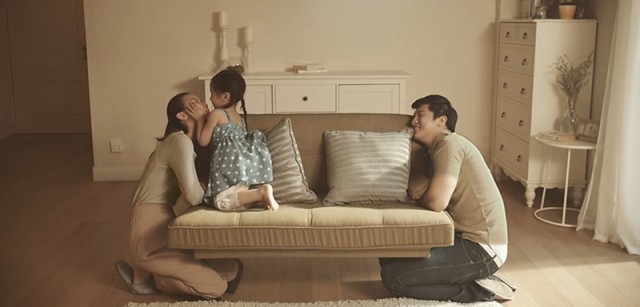 Whilst the spot has received a largely positive response since its release on December 3rd, some detractors have accused the agency of plagiarizing the concept from the award-winning Argentinian animation El Empleo by director Santiago Bou Grasso.   Li contests that the idea of people dressing as lifeless objects is nothing new, and that the crucial difference between El Empleo and the commercial is the message behind it.  He adds, "It doesn't matter if our commercial is similar to the animation, we think it is a success as long as people like it."
广告一经推出,在社会上便引起了巨大的反响。有人指责本片在创意方面过分借鉴阿根廷获奖动画短片《雇佣人生》。李三水认为本片与《雇佣人生》最大的区别还是在于创意的出发点。相比于本片对于家庭支持的构建,《雇佣人生》只是揭露了一个社会现实。李三水说:"只要观众喜欢,我们就觉得成功了。"
The spot was directed and produced by renowned Thai director Mum, known for his humor and no-nonsense approach.  Li was struck with Mum's professionalism and dedication, highlighting in particular his insistence on shooting retakes where others would have said 'good enough'.  Li explains that this attitude is precisely the reason he chose Mum and his production team MumFilm, "a world-class production isn't just about inviting a famous foreign director or shooting abroad, but rather the pride in and dedication to the work." 
这则广告由世界级的泰国广告导演Mum执导完成拍摄。泰国广告一直因其幽默,搞笑而一针见血闻名。对于李三水来说,泰国导演与制作团队的敬业精神是最令其佩服的一点。剧组远赴泰国,在极短的时间内完成了这个4分钟的广告的拍摄。Mum的制作团队并未因时间紧迫而放松对于片子的质量要求。在拍摄过程中许多次在大家都已经觉得可以的情况下,Mum仍然不满意,认为需要重新拍一条。在导演与制作团队的选择上,李三水秉承了希望达到国际级水平的理念,因此才选择了MumFilm。对于此,李三水解释说:"一个国际级的广告片并不是说去了国外拍摄或者请了国外导演执导就可以称得上国际级,而是整个团队对于该片的要求与秉承的信念。"
Li offered his thanks to Red Star Macalline for their support and the creative freedom allowed to his team, "They had faith in our team. This commercial is totally different from what they've made before in that it connects the brand's idea with its main product."
The surreal spot represents a new humorous string to the W bow.  Their increasingly diverse body of work is largely created in-house by their compact creative team.  When asked how he gets the best from them, he repeats his mantra, "Take pride in your work.  It's not a relationship like employer to employees – treat clients work as your own." 
在本次广告的制作过程中,李三水希望感谢红星美凯龙给予W团队最大的自主度,由于这则广告与红星美凯龙之前所做的一系列广告很不一样,他十分感激客户对于他和W团队的信任。李三水同时也希望Mum团队在拍摄过程中对于这则广告的严格要求,正因为他们的严格要求,才能有了这么一则制作精良的广告。在采访的最后,李三水也强调了将W打造成国际级团队的愿望,这包含了对于这份工作的高度认可度,以及对待工作本身的欣赏与享受的态度。