Brands employing cartoon characters to enliven products and forge a lifelong consumer relationship is a tried and tested marketing strategy. The character woos the consumer, who associates positive feelings with the product. Think of McDonald's deploying a range of colourful characters to embed the happy golden arches in impressionable young minds, the ubiquitous cereal boxes cartoon largely responsible for transforming otherwise dry flakes into a much-loved family staple, or Disney's Mickey Mouse, whose image has given appeal to countless lifeless merchandise.
将卡通形象融入到品牌中,不仅可以让产品更加生动鲜活,同时还能建立长久的客户关系 – 这已是久经验证的营销战略。卡通形象吸引着消费者,让人对产品产生积极感受。就比如说,麦当劳采用了一系列彩色的形象嵌入在黄色的M字母上,给年轻人留下了深刻印象,原本平淡无奇的麦片装在卡通盒子里面之后,反而成了家家户户喜爱的主食;还有迪士尼的米老鼠形象,让数不清的原本毫无生气的产品变得魅力十足。
As brands seek to establish themselves in the immature China marketplace, there are increasing opportunities for characters, and those that create them. UP Studios is one such company capitalizing on the demand. Last month, IHG Intercontinental Hotel Group announced a deal which will see UP Studios' character BOOMi applied to a family holiday package to appear at all 75 of their Holiday Inn hotels and resorts, in 20 provinces across China. The bear's image will adorn a welcome pack with children's storybook and multiple other room features including pillows, slippers and bath curtains, while huge fiberglass statues will be installed across the chain's locations.
各大品牌都想在尚不成熟的中国市场立足,这既给卡通形象创造了机遇,同时也给角色创造者带来了机遇。苏州上游动漫公司就是这样一家公司,通过满足市场需求来创造收入。就在上个月,洲际酒店集团宣布,中国20个省份的全部75家假日酒店和度假村的家庭度假计划都将采用上游动漫设计的的布迷形象。布迷小熊印在了背包上,作为全国各地连锁酒店的见面礼,书包里面装上儿童故事书,而且酒店房间的枕头、拖鞋、浴室门帘,还有玻璃丝雕像都将印有这只小熊。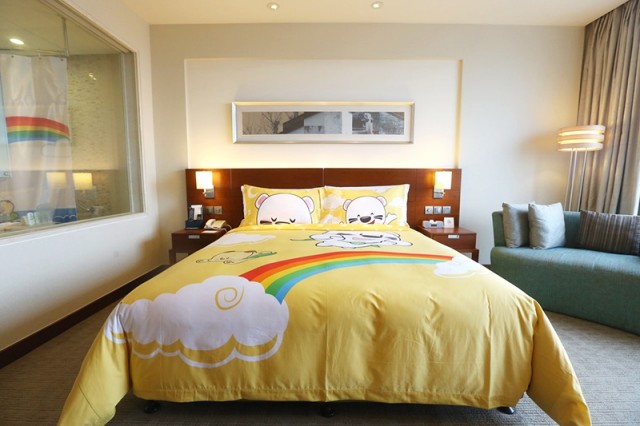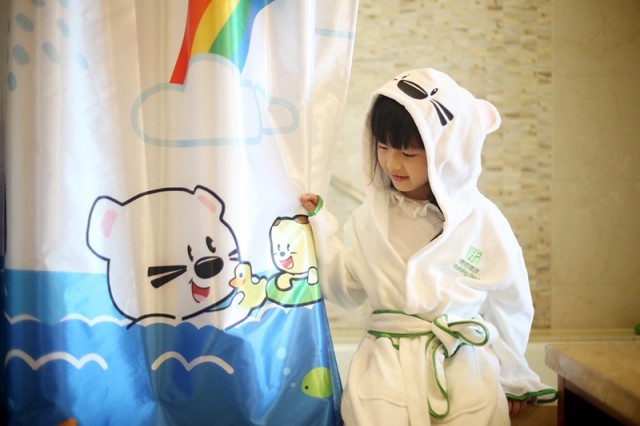 UP Studios' character BOOMi is to appear at all 75 of their Holiday Inn hotels and resorts. The bear's image will adorn multiple other room features including duvets, slippers and bath curtains.|上游动漫的小熊布迷形象将会出现在75家假日酒店与度假村房间的被子,拖鞋与浴帘上。
What's more, Tencent has signed on as a partner to promote the campaign. In conjunction, the gaming and social network behemoth last month launched an online-to-offline product on their QQ Kids web and mobile platforms, allowing parents to customize a BOOMi storybook with photos of their child, which is then printed and delivered. In striking the deal, UP Studios became the first company to be invited to bring a branded property onto Tencent Kids' DIY digital platform and marks the largest ever deal of its kind for an independent creative studio.
此外,他们也已和腾讯签订合约,腾讯将作为本次宣传的合作方。与此同时,behemoth游戏社交网络于上个月在腾讯儿童网络及移动平台上还发布了O2O产品,家长可以定制布迷故事书,印上自己孩子的照片,之后再发货到家。此项协议的达成意味着上游动漫成为了首家受邀打造腾讯儿童DIY数字平台品牌产品的公司,这也是有史以来,独立创意公司所达成的最大一笔买卖。
Trevor Lai & UP Studios | 赖嘉晟&上游动漫
UP Studios is a frontrunner among the scores of companies in China trying to develop, or buy, intellectual property (IP) to supply the demand amongst brands, theme parks, animated feature films, children's books and games. The creator of BOOMi and an ever-growing world of characters, is company founder, CEO and creative director, Trevor Lai.
中国有几十家公司致力于IP的开发和购买,以满足各个品牌、主题公园、长篇动画电影、儿童书籍、儿童游戏方面的需求,上游动漫首当其冲,是其中的佼佼者。布迷和不断壮大的角色王国都出自于赖嘉晟之手,他是公司的创始人、CEO兼创意总监。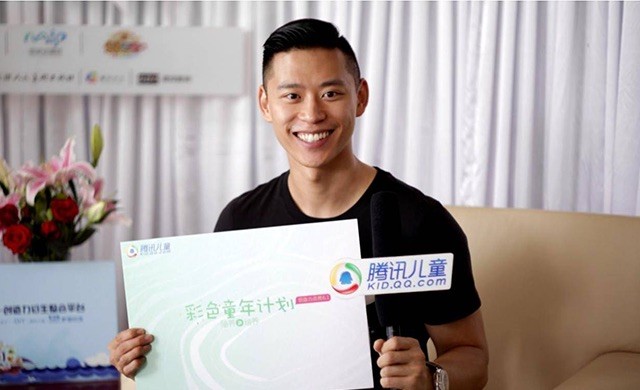 Trevor Lai, Founder, CEO & Creative Director, UP Studios|上游动漫创始人,CEO兼创意总监,赖嘉晟
Engaging and charismatic, Lai is a storyteller, both in his work, and the polished manner in which he presents himself when we meet for lunch in Shanghai. Born to parents with roots in Hong Kong, Hangzhou and Taiwan, and growing up in Vancouver, his passion for storytelling saw him publish his first illustrated book at 17. During university, he worked with British Columbia libraries on a year-long campaign to encourage Chinese kids in Canada to read in English, a project publicly endorsed by one of his heroes, bestselling children's writer Robert Munsch. After graduation, he joined Identica Branding & Design to learn the marketing business, quickly rising up the ranks and relocating to Shanghai as the Vice President of the company's Asia headquarters, all the while forging relationships with influential industry figures. That experience led to him becoming original host of 'Thoughtful China', a talk show about creative, media and business in China.
我们在上海与赖嘉晟共进午餐聊天,他是一个很会讲故事的人,很吸引人又很有魅力,彬彬有礼。赖嘉晟父母来自杭州和台湾,后移居香港。赖嘉晟在加拿大温哥华市长大。他对讲故事充满热情,17岁时就出版了自己的第一本漫画书。大学期间,他和英属哥伦比亚图书馆合作,鼓励在加拿大的中国儿童读英文书籍,这个项目长达一年,也得到了他的英雄 – 畅销儿童书籍作家Robert Munsch的公开支持。大学毕业后,他加入了迪卡品牌策划咨询公司,并且很快晋升高管。在北任命为公司亚洲总部的副总经理后,赖嘉晟在上海定居下来,并学习市场营销,同时也借此和业界富有影响力的人物打通了人脉。
In 2012, having studied the growth of companies like Disney, Lai founded UP Studios to create original IP for everything from brands, children's books, animated series and feature films. He explains the straightforward logic behind the decision, "The opportunity here is huge because, compared to the US where you have five or six major studios making IP that has global appeal, in China, no one has emerged as a leader yet."
赖嘉晟对迪士尼等公司的发展进行了研究,2012年,他成立了上游动漫公司,致力于为各大品牌、儿童书籍、动画片和动画电影打造原创IP。之所以专注于原创IP,背后的逻辑很简单,"在中国机会很大,不像美国,已经有五六家大公司致力于打造具有全球吸引力的IP,而中国还没有哪个公司崭露头角成为领袖。"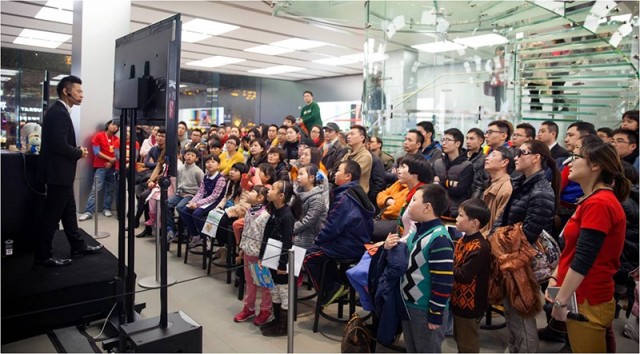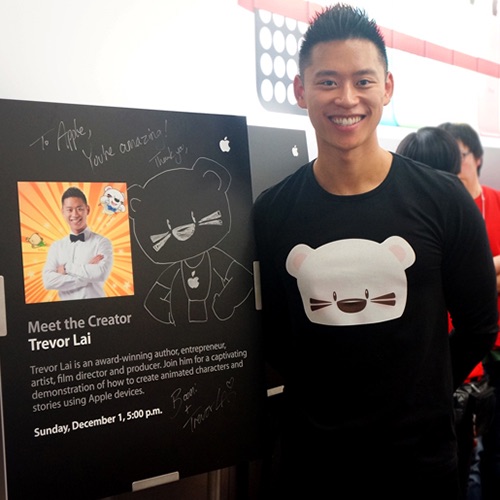 UP Studios became the first animation studio to tour Apple's flagships stores in Beijing, Shanghai and Hong Kong, showcasing their BOOMi Camera app that inserts animation of BOOMi and other characters into videos|上游动漫成为首个在北京,上海与香港的苹果旗舰店中展示他们的布迷动漫相机app的动漫工作室。该app能够将布迷熊的形象置入照片与视频中。
His aims for the company are grand, but simple, "We want to become a leader in creating original IP and entertainment in China, for the world. We want to create characters and stories that inspire multiple generations of families in China and around the world."
对于自己的公司,赖嘉晟定下的目标很宏大也很纯粹,"我们想要在中国打造面向世界的原创IP和娱乐内容,要成为领袖。我们希望我们所打造的角色和故事能够激发国内外一个家庭的几代人,共同欣赏。"

Indeed Lai applies an international approach, both in the content he creates and his management principles. He refers to his 26-person team in Suzhou as a meritocracy in which staff members are encouraged to contribute to creative decision-making and to empower themselves by showing initiative and proactively improving their skills. It's a culture that sets his company apart from others in China that remain hamstrung by a rigidly vertical structure.
实际上,不论是内容的打造,还是公司的管理,赖嘉晟都从国际视角出发。他将苏州的26人团队称之为精英体制,鼓励员工参与决策制定,贡献自己的创意,让员工展现自己的主动性,积极提升自身技能。这样的企业文化让他在中国那种普遍严格的垂直管理结构中独树一帜。
Whereas other studios usually mix original content development with production work for clients, he explains, "We have always been focused on 100% original IP. We don't do production work for other animation studios, although we are exploring co-development with some interested partners. In most cases, we develop the IP from scratch through to production and marketing, which means we have intimate end-to-end knowledge of the creative and business spectrum."
很多工作室既致力于原创内容的开发,又会为客户提供制作服务,而赖嘉晟的公司则不同,"我们一直都是100%专注于原创IP的创作,而不是为其他动画公司提供制作服务——同时我们也与其它公司探索合作关系。多数情况下,我们开发的IP都是从零做起,贯穿到制作和市场营销中,这也就意味着我们拥有非常紧凑的端到端的创意和商业知识 。"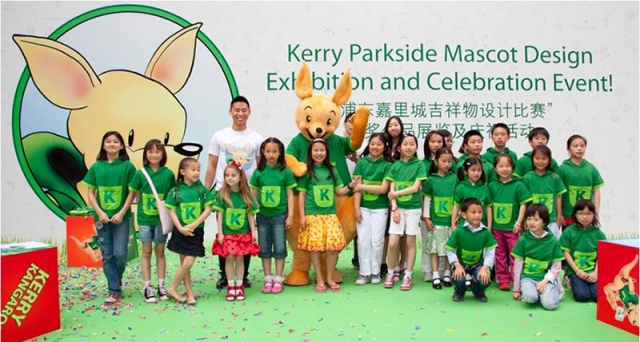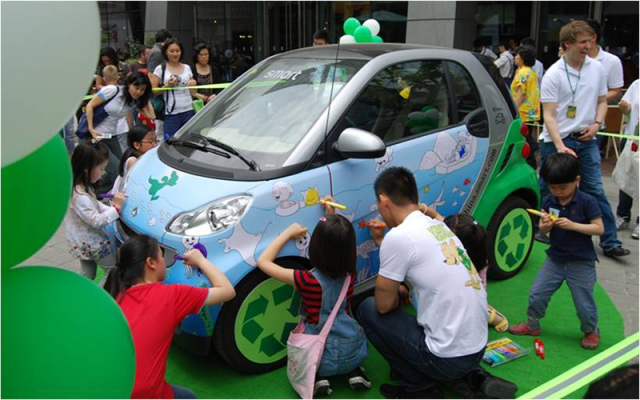 Kerry Kangaroo was commissioned by Kerry Properties.  The promotion also saw Lai design the world's first 'colouring cars' for Mercedes-Benz SMART|嘉里袋鼠是专门为嘉里城设计的动画形象。这次宣传中有赖嘉晟为奔驰SMART设计的世界首款'彩色汽车'。
Lai's acumen in monetizing content is backed up by an artistic integrity. He believes passion for your creations is the only way to ensure audiences will feel the same way. For him, storytelling and character development must come first. Whilst his company has thrived on the basis of striking commercial deals, he recalls turning down numerous content creation requests and promotion offers from big brands, simply because they weren't the right fit for his characters.   He explains, "One of the keys to success is learning to say "no" to projects that don't fit your company values or quality benchmark."
赖嘉晟有着敏锐的洞察力,知道如何把自己开发的内容变成钱,这也离不开他的艺术完整性。他认为,只有自己对创作充满热情,才能确保观众也能够感同身受。他认为讲故事和角色开发是第一步。虽然赖嘉晟的公司努力的想要进行商业运作,但是有很多次,一些大的品牌找到他们要求内容创作和宣传时,却都被他拒绝了,原因很简单,因为这些公司根本就不适合他的角色。他解释说,"成功的关键在于学会说'不',拒绝那些跟你的公司价值和品质标准不符的项目。"
When asked about the challenges he faces, both on a day-to-day basis, and in realising his longer-term goals, he cites a common issue across the creative industries in China, "The most important challenge that any studio faces is finding great talent. We want to keep up the momentum by having more talented artists, writers, animators and programmers in our team." Finally, he adds that, "as we scale to bigger projects and feature films, finding the right partners who have complementary strengths will be critical."
当被问到在日常工作中以及长期目标如何实现的过程中所面临的挑战,赖嘉晟指出他们和整个中国创意产业一样,面临着同样的问题,"任何一个公司所面临的最大的挑战都是如何找到好的人才。我们的团队希望融入更多有才华的艺术家、作家、动画师、编程师,保持团队的势头。"最后,他说道,"随着故事片和项目规模的扩大,找到能和我们优势互补的合作伙伴至关重要。"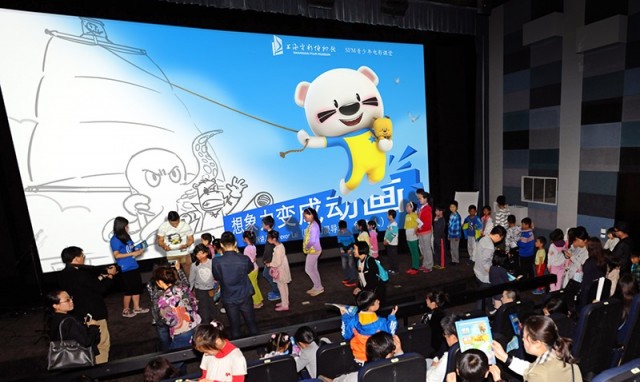 Lai signs autographs following his BOOMi short film presentation at the Shanghai Film Museum | 在布迷熊短片的展示后,赖嘉晟在上海电影博物馆为小粉丝签名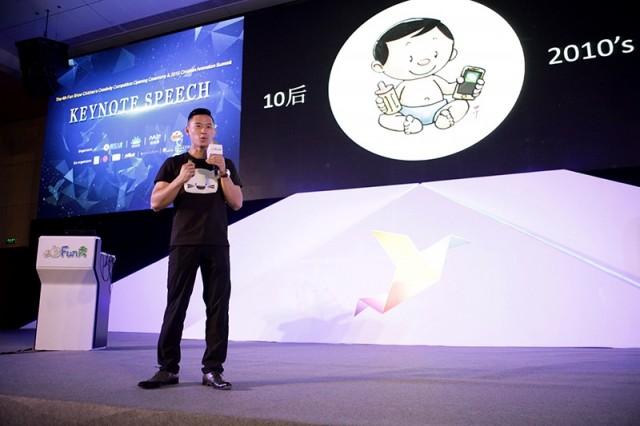 Lai gives the keynote presentation at the Tencent Conference|赖嘉晟在腾讯大会上作主题发言
Trevor's Tencent Animation Conference Keynote Speech About IP |上游CEO赖嘉晟谈儿童市场知识产权
The Characters  |  人物角色
Lai's cast of characters has enjoyed a successful three years since the company's inception. Here we run down some of the highlights:
自公司成立三年以来,赖嘉晟打造了一系列成功的人物角色。在此,我们为大家解析其中的几个重要角色: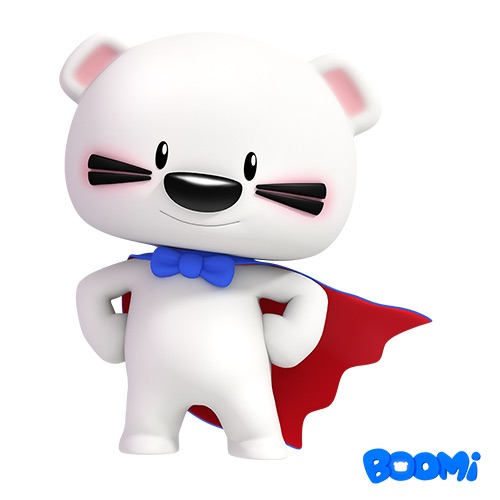 UP Studios' flagship character and star of the recent Holiday Inn and Tencent deals got his first break in 2013, when UP Studios became the first animation studio to tour Apple's flagships stores in Beijing, Shanghai and Hong Kong, showcasing their innovative BOOMi Camera app that inserts animation of BOOMi and other characters into videos. The following year, Link City commissioned 800kg statues of BOOMi and his puppy Bibop to place outside their malls in Suzhou through to 2015. Lai recently presented a BOOMi animated short film at the Shanghai Film Museum, and has announced the character will soon appear in his own animated series.
布迷是上游动漫的主打角色,也是近期假日酒店和腾讯合作中的明星角色,2013年,上游动漫成为首个在北京、上海和香港的苹果旗舰店展示动漫角色的工作室,在苹果app上播放布迷和其他动漫角色的视频。2014年,Link City定制了重达800公斤的布迷和小狗贝卜的雕像,放置在苏州商场的外面。展示时间长达一整年。这也是布迷的首次亮相。赖嘉晟在上海电影博物馆展示了一部布迷动画短片,并且宣布很快将推出布迷动画片。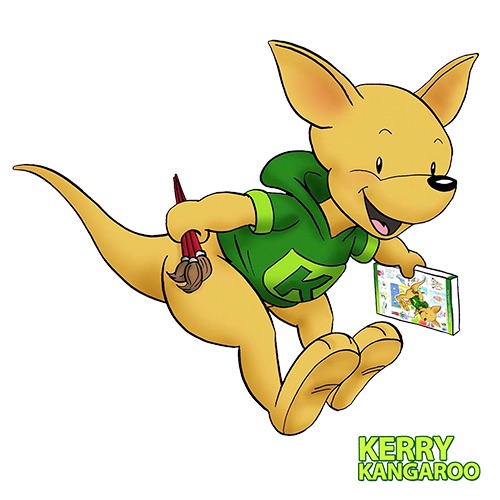 Commissioned by Kerry Properties, the promotion also saw Lai design the world's first 'colouring cars' for Mercedes-Benz SMART.
袋鼠形象是专门为嘉里城定制设计的,这次宣传我们也看到了赖嘉晟为奔驰SMART设计了世界首款'彩色汽车'。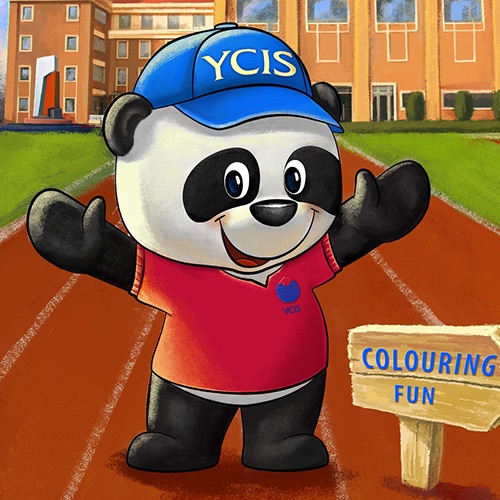 UP Studios worked with Hong Kong's Yew Chung International Schools to create this curious panda Yao Yao, who is featured in books and welcome packs for all new students across the country.
上游动漫和香港耀中国际学校合作,打造了一只充满好奇心的熊猫瑶瑶。熊猫的形象从学生教科书一直延伸到了新学生的迎新大礼包上。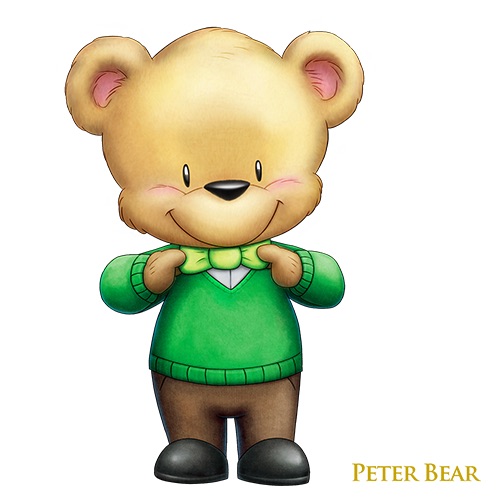 Trevor created Peter Bear for the Peninsula Hotel Group, which opened its flagship Shanghai hotel in 2010, but has been operating hotels in Beverly Hills, New York, and around the world for over 60 years. In addition to writing and illustrating a children's book and hosting multiple family events each year, Trevor also designed the Peter Bear toy, which has become one of the best-selling gifts at the hotel.
赖嘉晟为半岛酒店集团创造了彼得熊这一动画形象。半岛酒店2010年在上海设立了他们的旗舰店,在此之前的60年,该集团已经在比弗利山庄,纽约和全球各地运营了多家豪华酒店。除了创作儿童插画读物和主持家庭活动外,赖嘉晟同时还负责设计了酒店最热销的礼品——彼得熊玩具。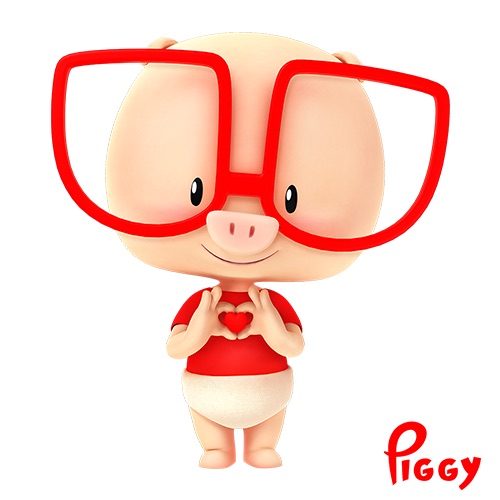 "Love is a universal topic, and I wanted a character that could represent that in an endearing and timeless way", explains Lai of Piggy, who appeared alongside BOOMi in the Apple store roadshow, and has since become the subject of a major six-figure book deal – the biggest ever US debut deal for a children's book author in China – with leading US publisher Bloomsbury Children's Books.
"爱是一个普遍的主题,我想通过一个可爱并且可以超越时间限制的角色体现出爱",赖嘉晟如此解释道,猪猪和布迷一样,都在Apple Store进行了展示,之后猪猪将作为一部包含了六个角色的漫画书的主要角色之一,这也是首次在中国儿童书作家和美国所达成的最大一笔买卖,该书由美国出版商Bloomsbury儿童书籍出版。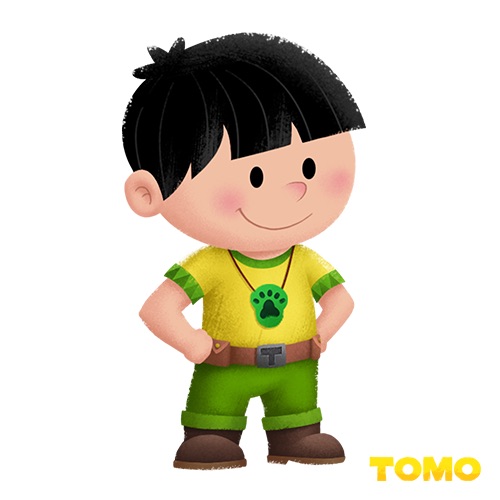 Inventor and explorer Tomo is the subject of another multi-book deal, with worldwide publishing rights acquired by a new branch of Macmillan Children's Publishing Group, one of the world's top five kids publishers. The first book in the series, Tomo Explores the World, will launch in October this year. Both Piggy and Tomo properties will be adapted into animated series once production and broadcast partners are established.
敢于探索与创新的维京海盗Tomo是另一部书籍的主角,该书由世界五大儿童书籍出版商之一的麦克米伦儿童出版集团在全球出版。本系列的第一部书——《Tomo探索新世界》将于今年十月发行。一旦敲定制作方和播出平台,Piggy和Tomo的形象都将出现在动画片中。
Lai recently signed with Gotham Group – the Hollywood agency that represents creators on several of Disney's kids shows – for all film and television deals outside China, meaning we may soon also see his stories on the big screen.
赖嘉晟近期又和Gotham集团(一家好莱坞公司,是多个迪士尼儿童节目的创作机构)签订了一份协议,中国以外的所有影视项目都将由该公司负责,也就是说,我们可能很快就将在大荧幕上看到赖嘉晟所创作的故事了。
Links: 链接
Weibo: @TrevorLai赖嘉晟
Facebook and Instagram: @upstudiosworld