While the world suffers on lockdown, China is getting back on its feet.  Infrastructure, roads, factories, offices, shops and restaurants are all open, just schools, universities and large public places remain closed.
正当世界经历隔离的时期,中国正在恢复。基础设施、道路、工厂、办公室、商店和餐馆全部开放,只有学校、大学和大型公共场所仍然关闭。
Meanwhile the filming industry is also back in full force, not only resuming shooting, but also beginning to find ways to support the worldwide industry.
与此同时,电影行业也全面恢复,不仅恢复拍摄,而且开始寻找支持全球电影行业的方法。
Even at the height of the virus, Chinese productions never really stopped.  In February, when virus cases started to spread outside Wuhan and the government implemented drastic restrictive measures across the country, most production companies went to Thailand – a familiar place with highly qualified crews and competitive production service prices.  Thai companies enjoyed a month-and-a-half of major Chinese productions until March, when eventually Thailand also had to conced that the virus had spread there too.  Chinese production companies were forced to fold their shoots and go home. In the process, some of the projects have never resumed and had to be cancelled but overall, the Chinese production market hasn't taken too severe a hit, at least relative to the industry is facing around the world right now.
即使在病毒最猖獗的时候,中国的电影制作也从未真正停止过。今年2月,当病毒开始在武汉以外地区蔓延,政府在全国范围内实施严厉的限制措施时,大多数制作公司都去了泰国——这个熟悉的地方有着高素质成员和有高性价比的制作服务。在3月份之前,泰国公司在中国的主要电影制作中参与了一个半月的时间,但最终泰国也不得不承认,病毒也在那里传播了。中国的电影制作公司被迫关闭拍摄然后回国。在这个过程中,一些项目从未恢复,不得不取消,但总的来说,中国的制片市场没有受到太严重的打击,至少相对于世界各地范围内的该行业需要面对的态势。
From mid-March, shooting restrictions in certain Chinese cities were loosened, allowing studio shoots with smaller crews to recommence, followed soon after by larger location shoots, including car projects in Shanghai and XinJiang.  Indeed, as of now, beginning of April, the new projects in circulation have picked back up to near pre-covid levels, but the situation on the ground has revealed a few interesting twists, because….
从3月中旬开始,中国某些城市的拍摄限制有所放松,允许规模较小的摄制组重新开始拍摄,不久之后又有规模较大的外景拍摄,包括上海和新疆的汽车拍摄项目。事实上,到目前为止,四月初,流通中的新项目已经恢复到接近疫情前的水平,但是实际情况揭示了一些有趣的转折,因为……
Following outbreaks around the world and fearing a second wave, as of 28th March, China enacted a nationwide ban on foreign nationals entering China. That means no more directors, DOPs, talent or foreign productions are allowed in, almost certainly until after the National People's Congress, the most important political event of the year that has been indefinitely postponed from its original March 5th date. An unprecedented circumstance, considering this is the first cancellation of this major event since the Cultural Revolution in the 1970s.
在世界各地爆发疫情并担心出现第二波疫情之后,中国于3月28日颁布了一项全国性的外国人入境禁令。这意味着,在全国人民代表大会之前,几乎可以肯定不会再有导演、摄影导演、各类人才或外国制片项目允许进入中国。全国人民代表大会是一年中最重要的政治事件,原定于3月5日召开的会议被无限期推迟。这是自上世纪70年代文化革命以来首次取消这一头等大事。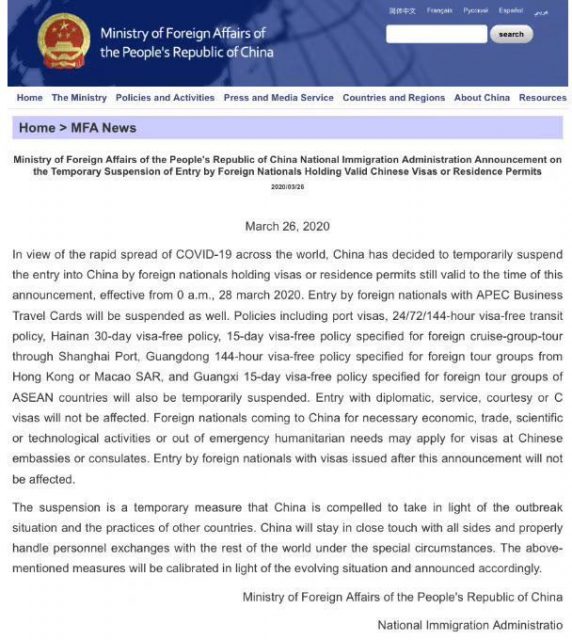 Meanwhile, for the first time too, local Chinese directors have only a smattering of foreign directors with whom to compete. As far as we know, there are only three established international directors – French, Australian and South African – currently in Shanghai (though there may be others).  The majority of others normally based in China are stranded outside, presenting a big opportunity for local Chinese directors and the lucky remaining foreigners.
与此同时,中国本地导演也首次只与少数外国导演竞争。据我们所知,目前在上海的国际导演只有三位,分别是法国人、澳大利亚人和南非人(不排除还有其他人)。其他大多数通常在中国的导演都被困在国外,这为中国本地导演和身在中国的幸运外国导演提供了巨大的机会。
Some brave brands are nonetheless still going ahead and pitching foreigners to work remotely, including apparently a major global car brand with an alleged 11-day shoot.  That demand is forcing almost every significant local production company to look into remote shooting possibilities.
尽管如此,一些勇敢的品牌仍在向前推进,争取让外国人远程工作,其中尤其包括一家宣称拍摄时间为11天的大型全球汽车品牌。这种需求正迫使几乎所有重要的本地制作公司都考虑远程拍摄的可能性。
At the same time, much as China is now selling masks and health equipment to countries in short supply, as one of the only territories in the world open for shooting, it is suggesting solutions to the global advertising industry too. Local production companies are starting to offer international companies and their clients the ability to execute shoots within China using this remote technology.
与此同时,作为世界上仅有的几个开放拍摄的地区之一,中国目前向供应短缺的国家出售口罩和医疗设备,同时也在为全球广告业提出解决方案。当地的制作公司已经开始向国际公司提供在中国境内进行远程模式拍摄的机会。
As for the future, the current solutions being explored pose fascinating questions for the future of physical shoots versus the relative potential efficiency and affordability of all-digital execution.
至于未来,目前正在探索的解决方案为实际拍摄的未来与全数字执行的相对潜在效率和可负担性提出了心驰神往的问题。
Either way, China's ad industry will not only survive, but will probably end up thriving.
不管怎样,中国的广告行业不仅会生存下来,而且可能会蓬勃发展。