When Ben Zhang collected his wages for three days work as a movie extra, more than he earned in a month as a teacher, it was enough to convince him that a better future awaited in China's burgeoning filmmaking business. In 1999, he and his sister Jacqueline began their new life, launching a production company in China's commercial capital.
当张斌拿到他当3天群众演员赚来的工资时,他已经决定要和旧生活告别了——这三天内赚到的钱超出了他在大学里当老师一个月的工资。——张斌坚信一份更美好的前途正在崛起中的中国影视制作市场等待着他。1999年,张斌和他的妹妹张雪芹一起,在中国最大的城市上海,成立了他们的影视制作公司——观池。
China's nascent advertising industry in the 90s and early 2000s was a dog-eat-dog environment.  International production companies entered the market to capitalize on the recently opened financial floodgates but often failed having underestimated the wild lawlessness.  Local companies struggled against more experienced Hong Kong and Taiwanese competitors, and, with only limited reserves of capital, were starved to death by the notoriously late Chinese client payments.  Through business acumen, an innate understanding of the complex business landscape and dogged hard work, the Sichuan siblings' company, Gwantsi, has endured as one of the only survivors.
世纪之交的中国广告行业充满着激烈的竞争,国外的制作公司相继涌入中国,然后又迅速消失在中国动荡的市场中;本土公司深陷与香港、台湾同类型公司竞争的泥潭之中,同时又不得不动用微薄的资金去应付拖欠的项目款项。在种种困难之中,这对来自四川的兄妹凭借着敏锐的嗅觉和奋发图强的工作态度,将观池带出了市场的泥潭,成为那个时代为数不多的幸存者及佼佼者。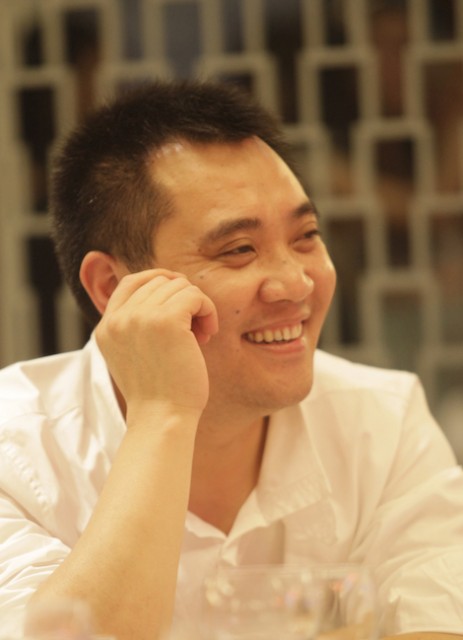 Ben Zhang, President of Gwantsi|观池董事长张斌
These days, the 200 person, company headquartered in Shanghai with branches in Beijing, Chengdu and Hong Kong, is an omnipresent force in the Chinese commercial industry.  In 2015 they handled around 400 commercial jobs under their three main business areas of commercial production, interactive technology and original content.  This year, Gwantsi was responsible for producing three of the five Chinese New Year Gala public service announcement spots, the most prestigious and widely seen commercial slot in China, becoming the first production company to to do so for three consecutive years. 
如今,观池这家拥有200名员工的上海公司是中国影视制作行业的领军人物;也在北京、成都和香港都成立了分公司。仅在2015年,观池制作了超过400部作品,领域覆盖商业广告,互动科技与原创内容。今年,观池公司参与拍摄了3组央视春晚的公益宣传片,在中国最大的广告盛宴中大出风头,成为了第一个连续三年与中央电视台春节晚会合作的制片公司。
Not content to rest on their laurels, Ben and sister Jacqueline intend for Gwantsi to be at the forefront of China's evolution from manufacturer into innovator and creator.  They have constructed a new training base for young talent and are offering investment, partnership and incubation services for promising creative projects, be they film, animation or virtual reality.
SHP+ sat down with Ben Zhang at the Gwantsi head office in Shanghai, to learn more about the company origins, how they weathered the storms and their intention to lead China's content charge.
并不满足于现状的张斌和妹妹张雪芹希望观池成为中国创新产业的一部分,他们正致力于将这个影视制作公司打造成一个创新者与创造者。过去两年中观池扩建了他们在上海的总部,全新成立了互动科技部,原创内容部。他们还投资建造了一个教育基地,通过赞助与教育的方式帮助在校学生与新兴人才实现他们的梦想,无论这个梦想是电影,动漫抑或是当下最火热的VR产业。
在扩建中的观池上海总部,SHP+有幸采访了张斌,听取了他本人与观池的发展历史与前景:他们是如何从一家影视制作公司发展到如今引领中国市场原创内容的领军人物。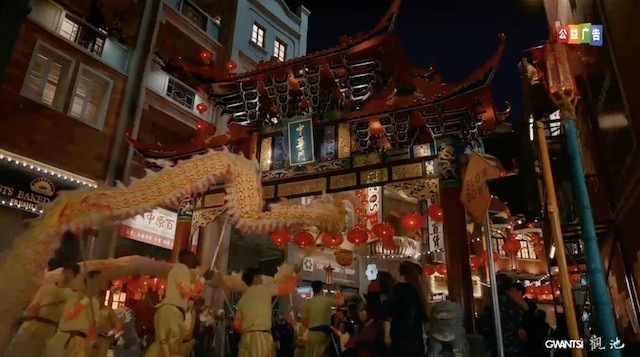 2016 Chinese New Year Gala PSA: Doors|猴年春晚公益广告:门
Tell us about your background and how you came to start Gwantsi?
Gwantsi is the name of my hometown, a small town deep in the mountains of Sichuan.   The first time I came across the filmmaking industry was by chance. I played an extra in a movie and made about 750RMB in three days. At that time my salary as a teacher was 600RMB a month.  I decided to jump into the production industry and spent five years in a production house. Over the years, Chinese production had developed a lot and was getting more involved in the global market. In 1999, I quit my job and started Gwantsi.
能跟我们讲一下你自己的背景以及观池的历史吗?
"观池"是我出生地的名字。我是踢足球出身的。在四川山区里长大,因为小时候跑的快,成了一个运动员。大学(华东师范大学)里学的也是足球,与影视行业毫无关系。也是因为一次很偶然的机会,在外面当群众演员做了3天,赚了750块。当时我在学校里的工资一个月是600块。于是我就跳了出来,在老东家做了5年。中国商业影视的国际化程度越来越高,许多国外的公司也都加入到中国市场中,1999年时我就成立了自己的公司。
What was the production company landscape like in 1999?
The conditions were severe with pressure and competition from Hong Kong and Taiwan companies, followed by those from Singapore, Korea and Japan.  Local production houses were weak and unprofessional at that time. Such competition helped the development of local companies but also forced many out of business. Gwantsi was one of the first companies that could compete with international production houses and one of the few to survive that period.
1999年上海影视制作行业的发展状况是什么样的?
竞争很激烈,本土制片公司力量非常薄弱。最早时香港的很多制作公司带动大陆影视制作的发展,后来是台湾,新加坡,日本,韩国公司进来,才把我们的总体水平带起来。观池是国内第一批和港台新日韩这些制作公司来竞争的国产企业,也是为数不多的幸存者之一。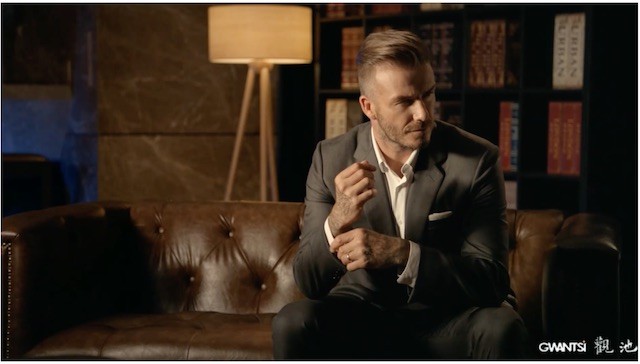 Haig club with David Beckham|翰格蓝爵,贝克汉姆
You've been working in this industry for a long time.  What changes have you seen?
There have been four stages: first, the 1980's 'old filmmaking factory' model.  Then the 90s to 2000s 'half international' business model, namely south east Asian production houses entering the China market, bringing in advanced technology and management.  Then in 2003 the start of the 'international process' and then, finally, 'Globalization' – the local Chinese companies running at an international level. There are still gaps between the local ones and the international ones, but that gap is closing.  International companies have helped improve Chinese commercial production and brought new ideas like marketing into the industry.  The industry here is following international trends and nearing maturity.
你在这个行业已经做了17年了,这17年里这个行业经历了怎样的变化?
我认为中国影视制作业可以分为四个阶段。第一个阶段:80年代老电影制片厂的生产模式。第二个阶段:90年代~2000年初香港台湾等东南亚地区国际公司的操作经验,半开放式的生产模式。第三个阶段:2003年融入全球(国际化)。第四个阶段:国际化程度相当高了(全球化)和国际公司的差距仍然存在,但在逐步缩小。国际广告公司带动了中国广告行业的发展,促进了本土企业的发展,也同时把企业在传播、市场营销层面带向了新的高度。中国行业已经基本成型,按照国际规范在操作了。
How did Gwantsi compete with established companies and ultimately survive?
My sister Jacqueline, the co-founder of Gwantsi, and I, were the "four-no's" people in Shanghai: no car, no house, no bank deposits and no personal life. We devoted ourselves to the company 24-7 and such enthusiasm has never changed.
As the company managers, we've always tried to keep an open mind.  As a local company, when we are not strong enough, we learn from those international big companies.  We always try to keep ahead of our competitors.  At the beginning of Gwantsi, we absorbed talent and production resources from Hong Kong, Taiwan and other south east asian areas, and then the western talent and production resources.  When other companies started doing the same thing, we then switched to explore local markets and local talent.
观池是如何在竞争中生存发展的?
我和我妹妹张雪芹,作为观池的创始人,是上海滩的"四无"人员——无车、无房、无存款、无生活。全部都投入到了工作上,一周7天一天24小时,这份热情从来没有变过。
一个公司的格局和做公司的心态很重要,一定要开放的心态和全球观。我们是一个本土公司,我们本身不够强大的时候一定要向国外公司去学习,学习如何融入。所以一开始的时候我们会吸收一些港台日本新加坡的制作资源进来,甚至会超越港台公司的资源优势。当国内公司学我们用港台资源时,我们就打国际牌,大量吸入欧美澳地区的制作资源。我们在战略上运用的比较超前。大家都国际化的时候,我们换成打本土牌,整合本土资源。
Did you receive investment in those early years?
Gwantsi faces a lot of pressure. We didn't have any investment when the company started.  We were all on our own.  There are risks in getting finance from the bank, as well as entering the capital market.  It is very different in the filmmaking industry, that we insist on the ingenuity and craftsmanship in our work.  You have to love your job in order to go further in this industry.  We fear that capital will corrupt our intention to make good products.  The China market is a very strange one.  We sometimes get frustrated by the fact that even some Fortune 500 companies are allowed to be behind on payments in China.  This year we are planning to get investment to help us craft the best possible products.
在观池刚成立的时候,收到过外界的投资吗?
我们面对很大的压力。观池刚刚成立的时候是没有吸纳任何投资的,主要从立足自身出发。通过银行的融资贷款,甚至进入资本市场,这都存在一些风险性。做影视行业的人跟别的行业不太一样,我们更像工匠,要有匠心精神。你热爱影视制作,才能专注这个行业,走的更远。不能像现在的一些行业一样,有了资本的催化就会忘记初心。这样一旦太过于金钱化,是做不好片子的。中国市场是很奇怪的,我们也都很困惑,许多世界500强企业在中国也学会了欠钱,面对这样的问题,我们有很大的压力。不过,2016年我们也会进入资本市场,为做更好的内容来融资。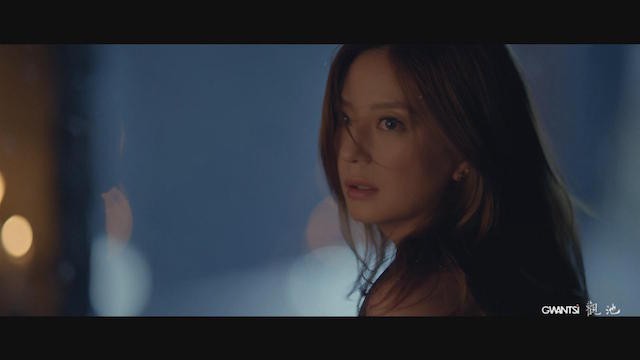 Land Rover with Zhao Wei|路虎,赵薇
At last year's Shanghai London Advertising Forum, one panelist said if foreign companies want to work in China, they should work with Gwantsi because you're the local Mafia.  What did he mean by that?
I think this is because we've worked with a lot of foreign companies and are familiar with the their management style.  Our advantage is that we can cooperate with them with fewer misunderstandings.  Gwantsi enjoys a great reputation and credibility in this industry, which we have found to be very important to the company development. No matter what difficulties we've faced, as long as we have made a promise, we will see that the work gets done.
去年的上海伦敦广告论坛上,一个业界人士说如果国外公司要在中国发展的话,应该与观池合作,因为观池是中国大佬级的公司。你怎么看待这个说法?
我们跟国外公司合作的多了,了解他们的操作习惯。磨合的时间长了,我们也就习惯了这些操作。我们的优点就是比较容易理解国外公司的想法,少走弯路,少产生沟通上的分歧,懂得理解对方,配合他,把片子做好。观池在这个行业里的商业信誉非常好,就是东方人最看重的"诚信"。我们只要承诺,答应的事情,不管在实际操作时遇到多大问题,我们都会承担并面对。
What are the biggest challenges for international companies who come to China?
In 2006, a foreign company tried to establish an office in China.  I set up a meeting with the owner and advised them that, in order to survive in the market, they should hire a local management team because they know how to run the business in China.  The advantage for foreign companies is their production quality. However it can be very dangerous to not localize your management. This company closed down within half a year.  Many of the Fortune 500 companies have localized their management team, which is provides their basis to survive in China.  In this industry, we share the same concepts but the way we approach is very different. You could easily get knocked out if you don't localize your management.
国际公司在进入中国市场时最大的挑战是什么?
2006年的时候,一家国际公司试图进入中国市场,我跟他们的老总见了个面,送了他们一句话:"如果你要在中国市场存活下去,必须要有本土的运营人才,因为他们懂得这里的市场和规则。"无论是你对项目的操作把控、片子的品质,还是能将国际化资源整合,这些都是优势。所以,运营不本土化非常危险。后来,这家公司半年就关掉了。包括许多世界500强企业在中国已经变的非常本土化。这是他们生存的根本。外国公司进入中国首先是选人。每个领域里大家的思维,观点,认知都已经很相近了,但在操作方面还是有非常大的差距。如果不融入本土操作规则非常容易被淘汰。
What are the unique characteristics of a Chinese management team?
Culture, ideas and the market are what differentiate a Chinese management team and a foreign one.  You won't have problems with payments in the west.  There are many cognitive differences, for example, the way the audiences understand and appreciate a work.  Other countries don't have as huge a market as China.  Audiences from Shanghai have a different cognition in comparison to those from Beijing, yet we have one media that covers the entire country—CCTV.  You have to produce something that works across the whole of China.
中国的运营团队有什么样的特点?
文化的差异,思维的差异,市场的差异。国外就不会像中国这里的客户有延迟付款这种事情。这些都是在认知方面的差异。其次,观众的接受度,在表现上是有差异的。在国外的市场可能没那么大,中国的市场太大了:长三角地区和西部地区大家的认知不一样,北方和南方也不一样。但我们只能用一个媒体——CCTV。在一个媒体平台上面的东西要覆盖到那么多区域。这一点上用外国的思维很难去理解这一点。所以会和客户有认知上的差异。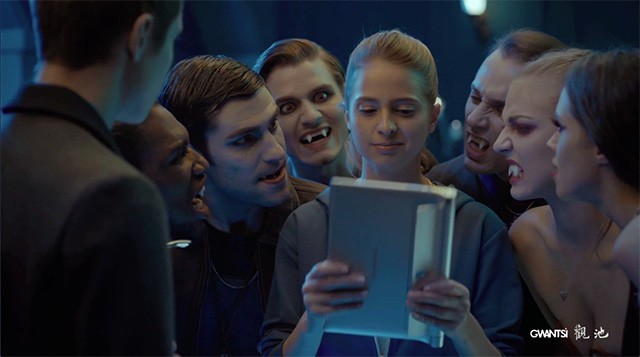 Lenovo YOGA: Kill Time|联想YOGA:时间刺客篇
Which Gwantsi project are you particularly proud of?
The most meaningful work for me is a series we did after the earthquake in Sichuan in 2008. We put company earnings from our first decade into a preservation project for the culture of a minority called "Qiang" . We spent three years exploring their culture and organizing them in order to present them in several videos and an opera.
在观池的历史上,你觉得哪个作品是特别让你自豪的?
对我来说人生最有意义的一个系列,是2008年5.12地震后,我们把开公司前10年的钱加上房子全部用来保护中国羌族少数民族的文化。用叙事歌舞剧的方式把一个少数民族的文化串联在一起,通过长时间挖掘梳理这个少数民族的文化,然后搬上舞台加以呈现。这里有视频有演出。我们在08年11月启动的项目,维持了3年。
What is it that inspires you to promote the Chinese culture?
It's not just me.  In China there are many groups of people trying to promote Chinese culture to the world.  I am merely a part of this movement, and an executor.  Chinese culture is a major part of the world and needs more recognition.  From the perspective of filmmaking, Chinese culture is more attractive when presented with an international approach.  This multicultural integration requires time and effort to achieve.
是怎样的情怀推动你去推广中国文化元素?
这个不是我一个人,中国有一大群人在做这个事情。我只不过是其中一份子和一个实际干活儿的。中国文化是世界的一个重要组成部分,中国文化一定要融入世界。民族的就是世界的。从影像的角度来说,中国的许多东西用国际视角来拍摄展现反而会更美。这是一种多元和融合,是要靠时间和每个人的努力来融合的。
Are you now working mostly with Chinese or foreigner directors?
About 60% of directors we work with are foreigners, but we do not have a preference.  Whoever makes the best product is our first choice.  We are planning to increase the local director share to 50% this year.  Local directors are making progress through cooperation with foreign directors and production teams.  There are great local directors, the level is improving and some are already making their mark on an international level.  However I am focused on their development as a team and helping them through that process. They are our future talents.
你跟国外的导演合作更多一点还是国内导演合作更多?
与观池合作的导演中,国际导演的比例大约是60%。2016年我们计划国际与国内导演比例对半开。本土导演在国外学习,还有通过和国外团队的合作,提升很多。
本土导演有很大一批非常优秀,这些人的总体水平在提升。有个别已经开始展露头脚, 不过我还是强调他们作为一个团队的作用,他们是我们未来的希望。我个人会倾注更多的精力去关注他们的成长,并在成长中尽我所能帮助他们。我们并没有对于国际导演或者本土导演的偏爱,我们一定是回到原点,谁合适谁就上。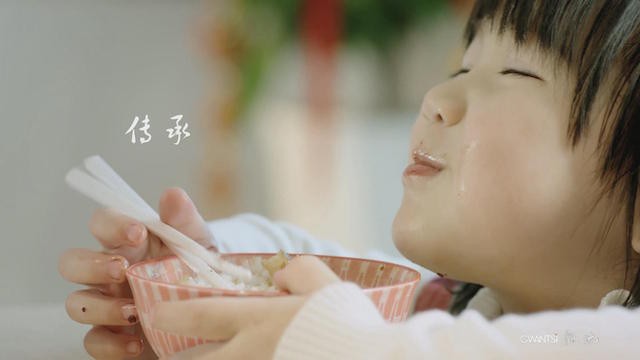 2015 Chinese New Year Gala PSA: Chopsticks|2015春晚公益广告:筷子篇
Gwantsi is moving into new areas – technology, VR, TV shows, movies etc. What do you want to do with Gwantsi in the future?
Gwantsi's future development is focused on crafting the best content. We see ourselves as a content provider.  Besides production services we provide for our clients, we are also trying to dig into original content.  Currently, we are encouraging creative ideas from college students in China and overseas.
Instead of the current filmmaking market, we are focused more on the next generation.  My sister Jacqueline is responsible for creative technology such as VR and the development of experiential creative content.  As for me, I'll focus on exploring the sub-cultures of the youth, their unique 'intellectual property'.  Gwantsi will provide this young talent with funding and technology and education.  When combined all this with their ideas and passion, I believe we will achieve something great.
The first phase is already in progress.  All the resulting work will be released this summer.  At the same time, around June, our first training base will also be finished, targeting young filmmakers and students. We will have selected directors, cinematographers, composers, post production crews from all over the world to lecture these students, and bring them on site where they will have the opportunity to go through the entire process of making a film.  We provide this young talent with both academic and practical training.  We propose the topic and they will shoot around that.  We will critique their final pieces and select a winner.  This is not just homework, but real practice.
观池的新方向——科技创新,VR,电视节目,电影等等。你认为观池未来的定位是什么?
观池未来的发展目标是专注内容,催生精品。观池的未来定位是一个内容提供商,除了为客户提供定制服务外,我们也在挖掘一些原创内容的东西。我们在全国大学生和留学生群体中做创意孵化,主要针对未来。我们并没有就现有的电影市场来做准备,我们做的准备是针对00后进行打造的。
我妹妹张雪芹Jacqueline,是在VR的创意科技这块发展,他是偏体验式的创意和内容发展。我个人现在主打原创内容的东西,针对年轻人的亚文化,有自己IP的自主产权内容。我们有教育培训,也有实践。资本的力量加上我们的硬件技术支撑,和年轻人的想法与激情,融合起来。这个活动的第一季已经出来了,具体内容会在2016年的暑期档推出。6月份的时候第一批的培训基地也会出来。培训基地针对年轻的爱好者和在校学生,我们通过选拔出来会请一些全球的导演,摄影师,作曲和后期制作的高手给他们做理论指导,然后带他们去现场拍摄。从理论到实践的提升。他们的提升不是以讲课的形式,是我们命题的内容,他们要把这个内容拍出来。以战代练。所有的团队做的作品我们要进行评选。
Further Details:
Click here

to learn more about Gwantsi's competition for Chinese film students

.
Gwantsi is hiring.

 

They are especially interested in specialists in TVC, interactive technology, programme development, original content development and creative design.

  Email HR@gwantsi.com for more information.
更多资讯:
点击此处了解更多有关观池学院奖的消息
观池正在招人。他们需要电视广告,互动科技,规划评估,原创内容以及创意设计方面的人才。更多内容请email:HR@Gwantsi.com