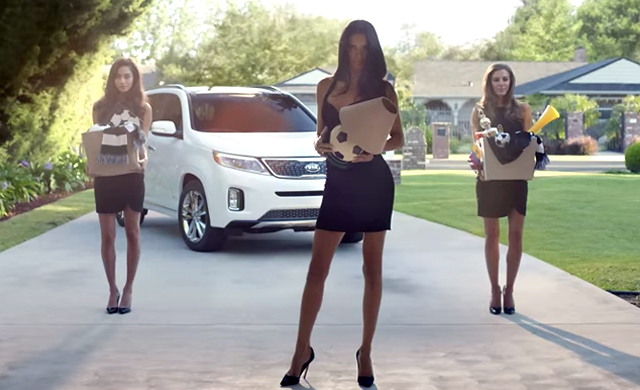 Every four years the whole world gets together to celebrate soccer, or football depending on where you are from, and to see who will come on top to bring the World Cup title home to their country.
 Even we are supporting different teams and even our team might be eliminated before reaching the submit, we continue with this game anyways.
With all this craziness going on all over the world ad agencies did not fall short in bringing the hype to their local campaigns.Below is a compilation of ads we thought are some of the funniest, strangest, most exciting and most touching of them all.
四年一度的世界杯,如同全球狂欢的节日。无论你来自哪里,都希望世界杯冠军的大力神杯有一天可以被捧回自己的国家。无论你支持哪只球队,哪怕你的球队早早地被淘汰,你都还是会疯狂追捧着每场赛事。
在全世界陷入一片狂热之时,各国的广告代理公司也自然也没有闲着,利用这个四年一载的黄金机会大肆炒作,推出各种世界杯为题的广告战役。SHP+选出了我们认为最搞笑、最怪异、最令人兴奋的和最感人的世界杯广告片。
Cars:
Stop what you are doing and listen to the Victoria Secret Model.
伙计们,手头上的工作停一下,听听维多利亚秘密的模特有什么话对你说…
Title: Adriana Lima Transforms a Man Cave – FIFA World Cup.
Product: 2015 Kia Sorrento
Company: Kia
Agency: David & Goliath
Stay protected this futbol season.
足球季,记得做好保护措施了…
Title: Hyundai 2014 FIFA World Cup Because Futbol "Boom"
Product: 2015 Sonata
Company: Hyundai USA
Agency: Innocean USA
Sports Wear:
We break the rules…and everything else.
我们来打破常规,还有其他的东西…
Title: House Match ft. Beckham, Zidane, Bale and Lucas Moura: All in or Nothing. Adidas Football
Product: Apparel, Accessories, and Cleats.
Company: Adidas
Agency: TBWA/Chiat/Day
Food & Beverage:
Let's just have some fun- It's World Cup Season.
世界杯期间找点乐子吧

Title: McDonald's GOL! FIFA World Cup – Brasil 2014
Product: To promote McDonald's
Company: McDonald's
Agency: DDB
General:
The great thing about the World Cup is that it brings the whole world together.
世界杯最了不起的地方就是把全世界人们都团结起来了

Title: 2014 FIFA World Cup – Time Zone
Product: To promote ESPN
Company: ESPN
Agency: WDCW
Historical:
Chilean miners supporting the Chilean Team on behalf of Chile.
智利矿工支持智利国家队

Title: Comercial Mineros – Apoyo Selección camino al Mundial 2014
Company: Banco De Chile
Agency: Prolam Young & Rubicam
Humor:
Old Spice is now in Brazil and Terry Crews never disappoints.
Old Spice在巴西,Terry Crews(Old Spice广告的主角)一如既往的搞笑

Title: Old Spice- Drill to Brazil
Company: Old Spice
Product: Deodorant
Agency: Wieden + Kennedy
Sports:
Kids represent their favorite player for a sudden death match game.
青少年幻化他们最爱的球员,来一场生死较量对决

Title: Nike Football: Winner Stays. Ft. Ronaldo, Neymar Jr., Rooney, Ibrahimović, Iniesta & more.
Company: Nike
Product: Risk Everything Nike World Cup Sports Gear
Agency: Wieden + Kennedy, Portland, Ore.
Creative Directors: Alberto Ponte, Ryan O'Rourke
#RiskEverything Campaign
www.nike.com/riskeverything
Technology:
The world is watching so do not hold back.
全世界都在看,所以千万别退缩

Title: Beats by Dre- The Game Before The Game
Company: Beats by Dre
Product: Beats by Dre headphones
Agency: R/GA & Beats by Dre
Women:
You need to see for yourself.
无语,直接去片…

Title: Woman's reaction to England World Cup knockout
Stand up against domestic abuse. #StandUpWorldCup
Company: Tender Education and Arts. England.