Delta Air Lines launched a new safety video recently, Dubbed, "The Internetest Safety Video on the Internet" Delta's latest video features 25 internet sensation references. This is Delta's latest creative attempt to captivate passengers while spoon-feeding them boring, required safety information. A few months ago we published an article about the New Zealand Air safety video – the first of now a common trend.
Delta's Internetest video is a bit different: it revolves around memes. Every viral video is included from the Harlem Shake to Screaming Goat.  While these videos are engaging, creative and relevant, some online reviews bash Delta for trying too hard.
While I wouldn't go so far as to say Delta is trying too hard, I do question how they will keep up on relativity. Meme popularity is constantly evolving. A viral video can create memes that seem significant now yet become irrelevant next week. According to Fast Company, Delta's safety videos, "will change over time in little ways, you may never see the same on twice." This is good news for passengers who crave new entertainment.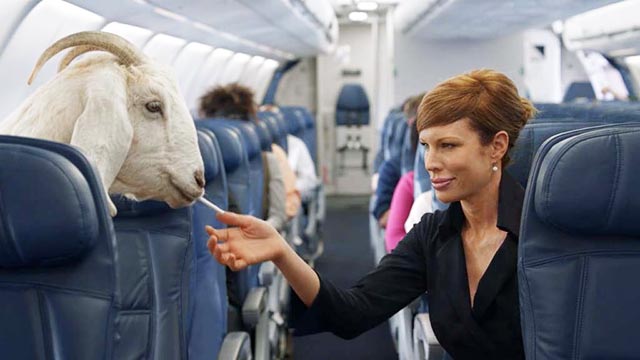 This humorous video (and the ones to come) is still no more than an inflight safety video; raising the question: Is watching a video the same as paying attention to it?
On my recent flight to China I watched the Internetest Video. While I watched all 6 minutes of fantastic, creative genius, I did find myself asking: What would I do if I actually had to use a raft? I concluded that although I watched the video, I didn't actually pay attention to what to do in an emergency. I was more focused on what would follow the, Charlie bit my finger reference.
In a society cultivated around short attention spans, the more important question is raised: Is it better to watch and not pay attention than to not watch at all?
Credits:
Client: Delta Air Lines
—Project: "Pay Attention": The Internetest Safety Video
Agency: Wieden + Kennedy, New York
Executive Creative Directors: Susan Hoffman, David Kolbusz, Jaime Robinson
Creative Directors: Sean McLaughlin, John Parker
Copywriter: Ian Hart
Art Director: Perry Morton
Head of Content Production: Nick Setounski
Production Company: Arts & Sciences
Director: Matt Aselton
Executive Producer: Marc Marrie
Producer: Zoe Odlum
DOP: Corey Walter
Editing Company: Final Cut
Editors: J.D. Smyth, Jeff Buchanan
Post Producer: Mackenzie Alexander
Visual Effects Company: MPC
Art Director: Diana Park
Designers, Animators: Colin Hess, Denis Moran, Leland Goodman, Tyler Gibb, Kim Dulane
Music Company: Black Iris
Song: Clean Teef
达美航空最近推出了一个噱头十足的航空安全须知机上视频,名为"The Internetest Safety Video on the Internet",视频的名称还造了一个新词 "Internestest",是网络(internet) +有趣 (interest)的合并。最逆天的不是它打破了千篇一律的安全视频模式,而是它居然一口气恶搞了25个互联网上最热门的人物和现像。不知道是否受了去年新西兰航空"回到中土"的安全视频(SHP+的相关报道)的启发,现在全球不少航空公司开始追随另类安全须知视频的风潮 。
被达美安全须知视频恶搞的对像包括了哈林摇摆、冰桶挑战、尖叫山羊和跳舞Baby等,以及许多在老美当中很流行的病毒视频。把25个高点击率的病毒视频串连在一起恶搞,不知道美达航空是否希望此广告可以获得25倍的传播力效力。
虽然我们不能说达美的广告用力过猛,但是传播的力度并不可以这样简单地叠加。另外,大部分病毒视频的成功是因为它可以"被恶搞"。但如果你已经恶搞尽别的视频,那你就再也没什么可以被搞之处了。但无论如何,病毒视频的生命力有限,多属昙花一现,所以无论当时有多火,难免最终都是"后浪推前浪,前浪死在沙滩上"。
所以不管视频有多流行,最终能否传递信息才是王道。而到底有多少达美的乘客真正把安全须知听进去?我最近就坐过一次达美航班,有机会看到了这条安全视频。六分钟的确有不少笑料,但太部分的集中力都是在笑点上,到了真正的安全条例部分集中力明显马上降低。不过,可以把安全须知一字不留地看完总比以前直接闭眼休息要好多了吧。