Fred & Farid New York has created a campaign film for LOUIS XIII cognac that won't be seen in its entirety for 100 years.
佛海佛瑞纽约为路易十三干邑打造了一部宣传电影,完整的影片将会在100年后呈现给大众。
Entitled 100 Years: The Movie You Will Never See, the film was written by and stars Hollywood superstar John Malkovich, and directed by Sin City's Robert Rodriguez. So far, the campaign has featured a main trailer, a series of teasers, a glossy website and a celebrity party at which invitations for the unveiling of the film (in 100 years) were handed out.
电影名为《100 Years: The Movie You Will Never See》,由好莱坞巨星约翰·马尔科维奇创作并主演,由《罪恶之城》导演罗伯特·罗德里格兹执导。目前为止,此次活动已经做出了一部主要预告片和几段片花,以及光鲜的网站,还开了一个名人派对,借此发出参加(100年后)电影揭幕的邀请。
The film has been locked in a safe that will unlock automatically on 18 November 2115. A countdown on the official website tells us how long we have to wait (currently 99 years, 353 days, 23 hours, 57 minutes and 14 seconds).
电影被锁在了一个保险箱里,将会在2115年11月18日自动解锁。官网上的倒计时告诉人们还要等上多久(截止到现在99年353天23小时57分钟14秒)。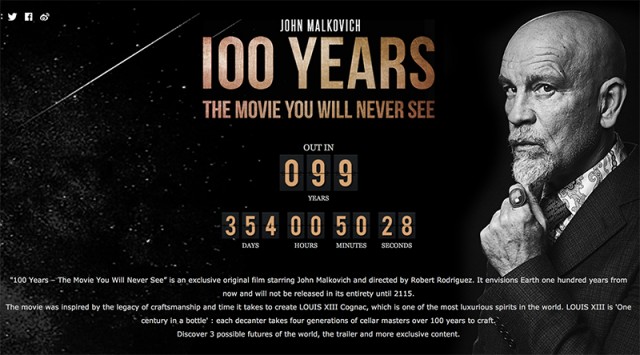 The 100 years concept reflects the length of time it takes to create a bottle of Louis XIII cognac. F&F's CD Laurent Leccia and MD Francois Grouiller explained, "In today's instant gratification culture, the long commitment it takes to create Louis XIII is an oddity. It inspired us to make something unusual that would excite people's imagination."
100年后的概念是为了反映出酿造一瓶路易十三干邑要花费的时间之久。佛海佛瑞创意总监Laurent Leccia和总经理Francois Grouiller解释说,"在我们现今的即时满足文化中,酿造路易十三干邑所付出的长时间的努力看起来很奇葩。这正激发了我们要打造一种与众不同的东西的灵感,刺激人们的想象力。"
It wasn't the first time Malkovich had worked with Rodriguez, having collaborated for a Nespresso ad in 2009. He commented on his working relationship with the director "I love the way he works, the calmness and ease with the way he does things, and also the confidence and security he has in the choices he makes; he projects great excitement when he feels he has something good."
这已经不是马尔科维奇和罗德里格兹的首次合作,2009年二人曾合作过雀巢Nespresso的广告。马尔科维奇这样评价他和导演罗德里格兹的合作关系,"我很喜欢他工作的方式,他工作起来很冷静又放松,他对自己做出的选择也充满信心,很有安全感;当他觉得什么东西很好的时候也会欣喜若狂。"
Rodriguez himself commented, "This is the first time I've done anything like this and I was intrigued by the idea of working on a film that nobody in my lifetime would ever see"
罗德里格兹说道,"这也是我第一次做这样的电影,影片完成后,在我有生之年不会有人看到它,这样的想法让我着迷。"
In creating the campaign, the discussion turned to what society may look like 100 years from now. These musings led to the creation of three trailers, featuring Malkovich and co-star Shuya Chang, imagining scenarios of what society might look like in the year 2115.
在打造这部影片时,人们探讨的话题是100年后的社会将是什么样。这样的沉思引出了三条预告片,马尔科维奇和荧屏搭档张舒雅共同演绎,想象了2115年社会的模样。
'Ultra Urbanization'
'Nature'
'Retro Future'
Asked whether the film is a gift to the future or a window to the past Malkovich answered, "somewhere between a 'Get well soon' card, and a greeting from another time." He went on to comment that, "it would have been a fascinating thing in 1915 to see someone reflecting on what it would be like in 2015."
当马尔科维奇被问到这样的一部电影到底是送给未来的礼物,还是探索过去的窗口时,他如是回答,"像是一张'慰问卡',又像是来自另一个时间的问候,它介于二者之间。"他又继续说道,"如果我们能看到1915年时候的人们对2015年的展望是什么样的,那该很有意思。"
Pleasingly, this is exactly what another group of young French artists (F&F is a French agency) did back in 1900 for a series of illustrations entitled 'En L'An 2000' or 'In the Year 2000'.
令人兴奋的是,早在1900年,一群年轻的法国艺术家(佛海佛瑞同样为一家法国公司)就做了一系列的插画,法语名为《En L'An 2000》,英文名叫《In the Year 2000》。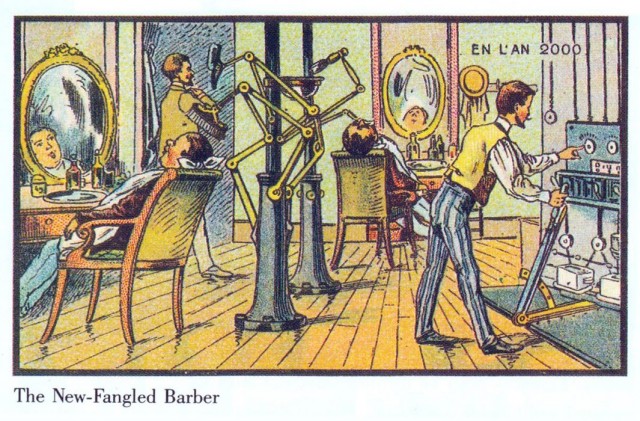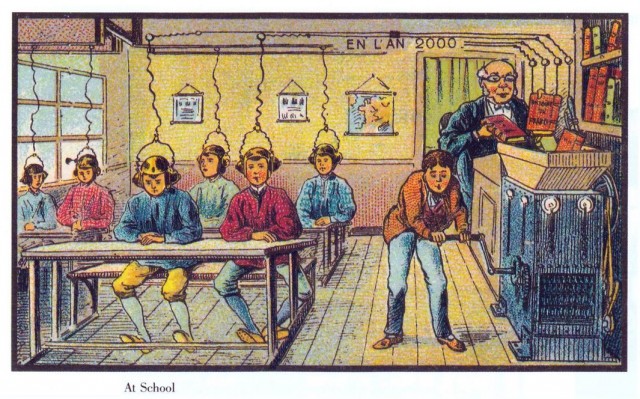 The artists were invited to create illustrations for the Paris World Exhibition in 1900, with the brief to envision what progress scientific design might bring the world 100 years into the future. The resulting images were printed as cigar box inserts, then as postcards between 1899 and 1910.
当时这群艺术家受邀为1900年的巴黎世界展览创作插画,对他们的要求就是要展望一下100年后,科学设计会给世界带来怎样的进步。他们设计出的图案被印在了雪茄盒的衬垫上,后来在1899-1910年间印成了明信片。
Just as the Louis XIII film will not be seen for 100 years, so were these images lost for a significant period of time, only reemerging when science-fiction writer Isaac Asimov discovered and published a set in 1986.
就如同路易十三干邑的电影将会封存100年一样,当时的这些图片在很重要的一段时间都遗失了,直到1986年科幻小说家艾萨克·阿西莫夫将它们挖掘出一套插画并将其出版。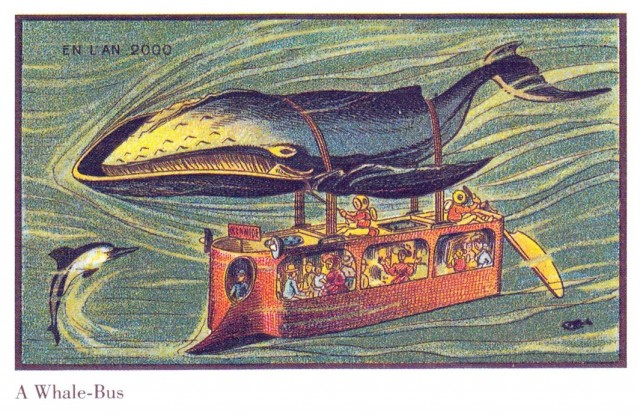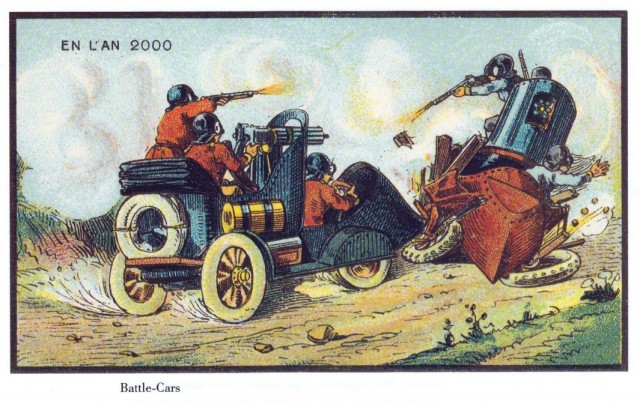 The inclusion of all manner of flying contraptions recalls the growing romance of flight at the time of their conception. While any projection so far into the future could so easily stray into dark Terminator-esque realms given humanity's propensity for self-destruction, both the Louis XIII trailers and the En L'An 2000 illustrations err towards a tongue-in—cheek tone.
它包含了所有形式的飞行机器,在构思时唤醒了人们对飞行越来越多的浪漫记忆。目前为止,任何一个展望未来的作品都极容易误入迷途,做出像终结者一般的氛围,这是因为人性本身就有自我毁灭的倾向,但是路易十三干邑预告片以及En L'An 2000插画却都是轻松快活的基调。