Film Festivals might be the single best example of boundary-free advertising – without clients or brands to get in the way, creative "ads" and trailers for festivals can make for some fantastic creative. When your client, instead of the usual brands, is called 'Queer Film Festival', 'Creepy Animation Night' or 'Breast Film Fest,' you are very likely to see some hilarious, crazy and exciting ad – maybe some even better than the films!
电影节广告片可能是唯一一个创意无上限的类别,因为电影节本身就是一个创意主体,少了品牌客户的约束 – 试想一下你要为类似"同志电影节""惊悚动漫夜"或者"乳房电影节"拍宣传片,你怎么好意思不绞尽脑汁创造些更基情、更惊悚、更离异的广告片呢?因此电影节的广告可以比参赛电影本身更富创意和更好看。
Canadian 加拿大
Canadian Zombie – Canadian Film Festival 2014

If the Canadian fellows you've met fail to strike you as the nicest people in the world, then check out this story about Antoine Zombie – a soft-hearted-zombie-turned-actor's road to fame. Created by JWT Canada, directed by Jonathan Bensimon, this hilarious ad brings the essence of Canadian films and beyond; maple syrup, anyone?
"加拿大僵尸" – 2104年加拿大电影节广告
如果在你遇到过的加国人当中还没人让你感受到他们的友好,那你一定要看看这个有关僵尸安东尼的故事: 他是一个礼貌又心软、一心想成为演员的僵尸,广告讲述了他从好莱坞转战回加国的成名之路。由加拿大的JWT创作、Jonathan Bensimon执导。这条幽默的宣传了以加国电影、甚至加国精粹为任,加国特产的枫糖浆就在片中辄了个镜头。
Boom – Toronto International Film Festival 2013

Just like in every country and in every industry, 'Uncle in the Biz', a.k.a. 'Gwansi' in China, helps to pave the way. From BBDO Toronto with director Untitled Film's director Mark Gilbert
 "变!" – 2013多伦多国际电影节
在每个国家的每个行业都可能会有一个"行业里的老舅"(即是中国的"裙带关系")为你铺路。创意为多伦多的BBDO,导演是来自Untitled Film制作公司的 Mark Gilbert.
STORYTELLING 讲故事
Formula – Brooklyn Film Festival 2014

Not matter how bizarre, outrageous or absurd your stories are, Brooklyn Film Festival wants to hear your ideas!
Director: Stephen Kessler
DP: Joey Alvarado
"公式" – 2014布鲁克林电影节
无论你的故事有多奇异、多离谱或者多荒诞,布鲁克林电影节都会聆听你的点子。导演Stephen Kessler,摄影师Joey Alvarado.
Bedtime Story – Newport Beach Film Festival 2014

For the 15th anniversary of this film festival, ad agency RPA collaborated with production company Toll to tell not-so-sweet bedtime story through a passionate movie buff father to his young daughter. Directed by Tom Routson.
"寝边故事" – 2014纽波特海滩电影节
籍这个电影节15周年之际,广告公司RPA与制作公司Troll合作制作了一个会让小朋友抓狂的广告:一个狂热的影迷父亲以其独特的方式向女儿讲睡前故事。由Tom Routson导演。
SHORT 短片展
Glasses – Miami Short Film 2012

'Short' is the creative standpoint for many short film festival commercials around the globe. In the last few years of its promo ads, Miami Short Film festival adapts this angle to tell you why 'Short is More'.
Director: Ramses
Ad Agency: Conill/MIAMI
 "眼镜" – 2012迈阿密短片展
短片展的"短"一字,是世界许多短片展广告的创意来源。过去几年以来,迈阿密的短片广告以精彩的创意向你宣扬"短即是多"的观念。
It's Miami, It has to be Shorts – Miami Short Film 2012 (Print Ad)
We know the rules, it's supposed to be about TVC and video – but this film festival's print idea is just too brilliant to be ignored. Created by Conill Saatchi & Saatchi USA. Photos by Mauricio Candela.
虽然我们这次以视频广告为主,但2012迈阿密短片展平面广告实在太精彩,我们也在这里分享一下。主题是"这里是迈阿密,一切都要短"海报由美国Saatchi&Saatchi制作,摄影师为主题为Mauricio Candela 。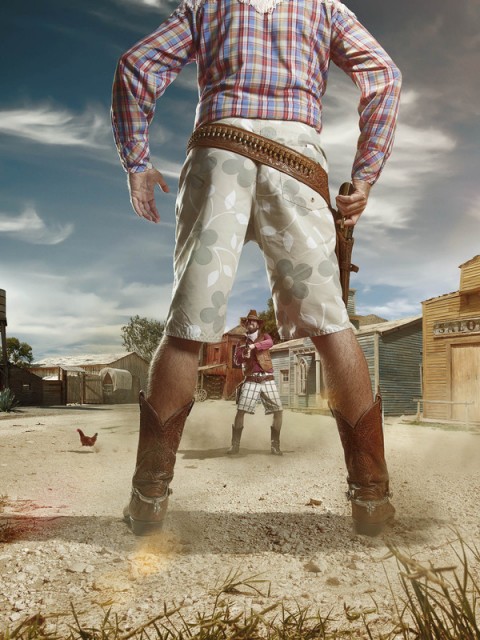 Bladder Friendly – Mecal International Short Film Festival (Prints) 2010
This prints ad for Barcelona's Mecal International Short Film Festival make a point in a real sick way. Shorts rule!
"对膀胱好点" – 2010 Mecai国际电影短片展
这两款来自巴塞罗那电影节的平面广告以变态的创意"深入民心"。
CREEPY 惊悚
Creepy Bunny Is Creepy – Creepy Animation Night of the Anim'Est film festival, 2011

How to build up a creepy tension in 30 seconds? Put a man-sized bunny in the men's room….
Ad agency: Ogilvy, Romania.
"让人毛骨悚然的兔子" – 2011Anim'Est电影节惊悚动漫夜
如何在30秒内迅速内制作让人毛骨悚然的紧张气氛?把一个真人大小的毛兔走人偶放到男厕了吧….
Suicide – Amsterdam Cinestud International Student Film 2010

Don't let kids fool you, their stories are not always innocent and happy. According to this fantastic piece, they might have something up their sleeve!
Concept / Director / Art Direction: Alain Friedrichs
DOP: Roel van't Hoff
Production: Roderick Frenck
"自杀" – 2010阿姆斯特丹Cinestud国际学生电影节
不要让小孩把你耍了,他们的故事未必永远都是天真无辜。在这个广告里,小孩都变成了阴谋家。Alain Friedrichs独包揽了创意、导演和美指三职,摄影师是Roel van't Hoff, 监制是Roderick Frenck。