黑白镜头下,一群西装革履的现代人手持刀刃,在一片无人的荒漠上生死搏杀——这就是上海W广告公司与导演徐峰为网易旗下改编手游《大唐无双》带来的最新宣传片:《重返黄金时代》与《不为我而战》。
Shanghai agency W and director Xu Feng have created two unusual films to promote NetEase's newly adapted mobile game, Da Tang.  The two four-minute films, titled Back to the Golden Age and Don't Fight for Me, transport us to a barren mountainscape where suited modern humans wage battle like ancient warriors.
《重返黄金时代》| Back to the Golden Age
《不为我而战》| Don't Fight for Me
中国玩家们在国产网游宣传中沉浸日久,年复一年接触的宣传口号不外乎"真实打击感","酷炫特技"。对此,W的ECD李三水提出质疑:"这些所谓酷炫特技真的能吸引玩家吗?"
Game promos normally tend to feature flashy cut scenes or custom created animation and, in China, are accompanied with overt slogans like 'Cool VFX!'.  But, says ECD Li Sanshui, "We wondered if it is the visual effects that really attracts users".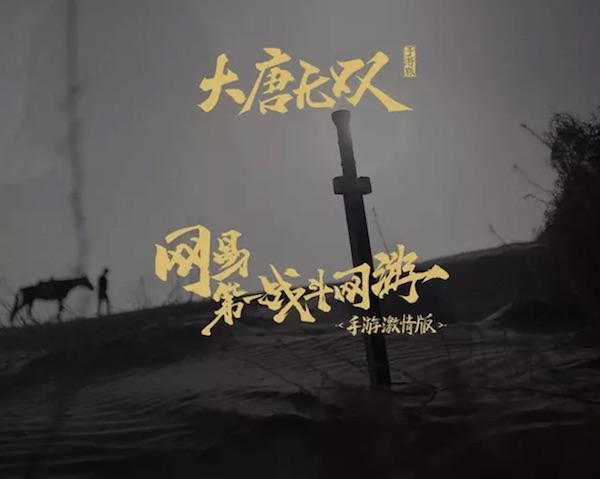 对此,W拿出了自己的答案。6年前,《大唐无双》凭借一句"来,战个痛快"吸引了千万玩家,而这一次,他们则将这句宣传语改成了"不为我而战"。
In response, the agency has taken a unique approach.  It first revised the game's tagline "Come Fight With Us" to "Don't Fight for Me" for the second film.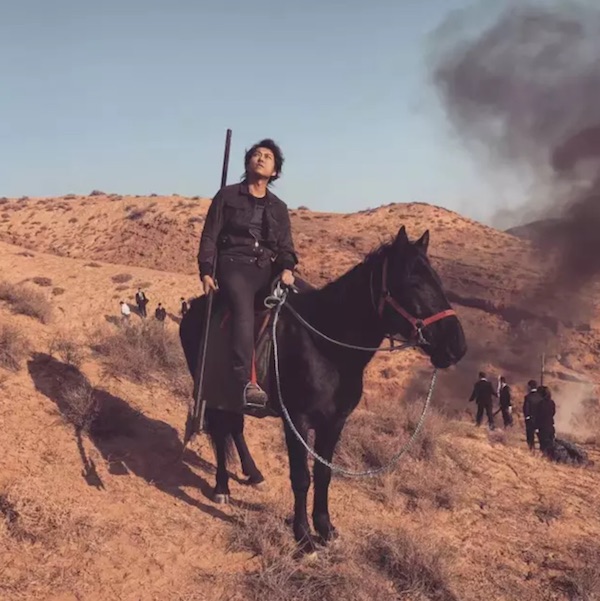 "我们选择去抛开一切表面上跟游戏相关的形式,去和用户讨论游戏的本质什么,和我为什么爱玩这一款游戏。"李三水作品将这部描述为一个现代古风寓言,"希望它能像所有好的寓言那样所带来一定的"警世"作用。"在W的镜头下,玩家们曾为了欲望、权利、金钱而互相作战,而他们也最终团结起来,肩并肩为一个共同的目的而战斗。
Then, instead of showcasing the game itself, says Li, "We are trying to explore the true meaning of a game, and why we love it."  He describes the films as traditional fables using modern characters, "tales that brings meaningful ideas to players."  Players in W's interpretation are not fighting for power, money or women, but simply to stand together as brothers.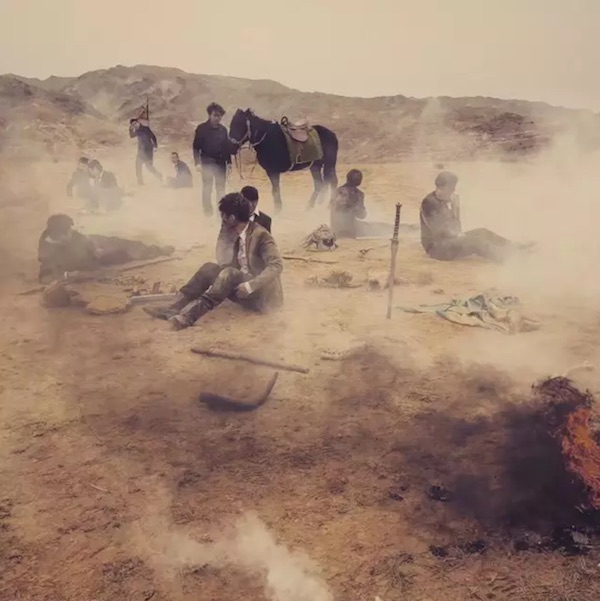 为了契合游戏内场景并构建本片"武侠"之风,W与摄制团队来到了内蒙古阿尔善与宁夏寺口子两地进行拍摄。这两处无人荒漠中的拍摄过程充满了未知与挑战:一只充当群演的鹰在拍摄过程中飞出几里远只为抓一只耗子充饥——导致整个拍摄不得不中断;荒漠的夜晚冰冷刺骨,剧组在近零下15度的严寒中打折扣哆嗦完成拍摄任务。
To create a fantasy, "wuxia" mood reminiscent of the original game, the films were shot in the barren northwestern landscapes in Alxa, Inner Mongolia and Sikouzi, Ningxia, locations over 500km and seven hours drive apart. 
The six-day shoot was littered with incident, including an unruly hawk that escaped and flew miles away from the location. The battle scene featuring over one hundred men, was shot in temperatures as low as -15°.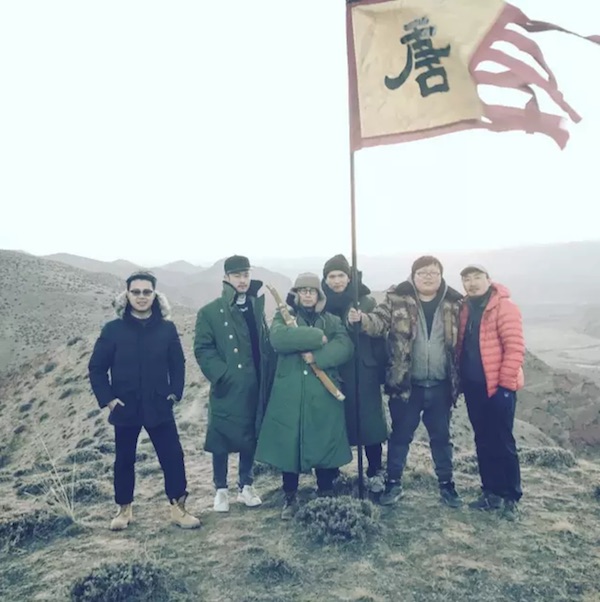 导演徐峰是W多年的老朋友。他们之前合作拍摄过许多成功的广告如《一首听了就有钱的歌》和《一首给马云的歌》。当谈到这位老朋友时,李三水说:"短时间内大规模的演员调度和在偏远拍摄地的演员招募的确是《正片》执行中的两大难点。这一次完全依赖于徐导多年的执行经验和江湖感召力。在拍摄地处如此偏远的情况下,徐导一呼百应,短时间内召集了超过100名来自全国各地的优秀演员和群演,圆满完成了影片。"
Li credits frequent collaborator Xu Feng, the director of A Song That Will Make You Rich and A Song to Jack Ma for a successful shoot, despite the testing conditions.  "The distance between the locations and the environments themselves were extremely challenging. It was only Xu's influence and experiences that enabled us to gather over 100 actors from all over China and perfectly execute the scene."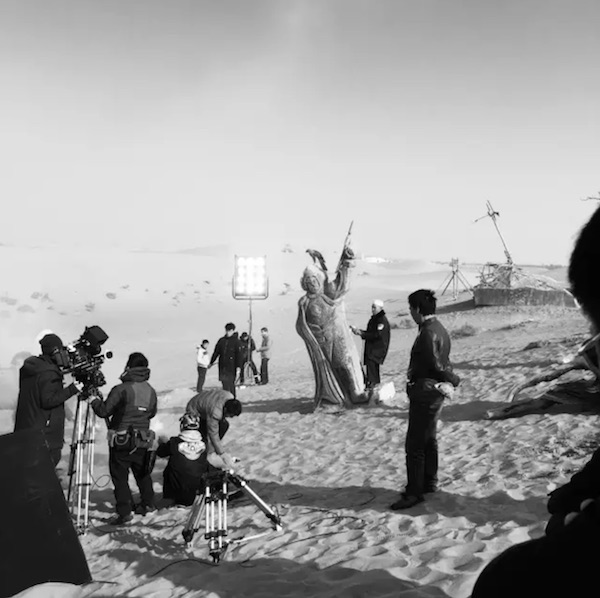 "从某种程度上说,这个案例产出的过程,就是W与网易团队以及导演团队一次齐心协力,#不为我而战#的最好实践。"李三水说。
Li continues, "This campaign is a great example of cooperation with our client and the production team.  In some ways, the challenges the best practice for #Don't Fight For Me."
W随后又放出了一支花絮短片,其中还包含了由李三水填词,专门为《大唐无双》而作的歌曲。
W have also released five minute behind the scenes film, featuring an origina, self-composed song.
拍摄花絮 | Behind the Scene
除影片外,W还打算发布一只H5和一系列品面作品,进一步代表《大唐无双》品牌与玩家沟通什么是#不为我而战#,以及战斗的意义。
The agency also plans to release one H5 game and a print series to elaborate on the meaning of #Don't Fight For Me#.
The original Da Tang game launched in 2011 and has since attracted over 50 million users.
制作名单:
广告公司:W
导演:徐峰
主演:张聃
制作公司:风映
监制:钱晔,张振杰,俞涵译
道具:谢之平
服装:娟子,李彭
摄影师:大海,周昱
艺术指导:闫兴喆,黄子铨
剪辑:李贺
配音:大许
调色:东权
Credits:
Agency: W

Director: Xu Feng

Leading Actor: Zhang Dan

Production: Filmate

EP: Fang Quanzhen

 

Producer: Qian Ye, Zhang Zhenjie, Yu Hanyi

Prop: Xie Zhiping

Costume: Juan Zi, Li Peng

Cinematographer: Da Hai, Zhou Yu

Art Director: Yan Xingzhe, Huang Ziquan

Editor: Li He

VO: Da Xu

Colorist: Dong Quan

Song: Don't Fight For Me

Composer: Yu Hanyi

Lyrics: Li Sanshui