BBDO广州为益达口香糖打造的最新广告在中国引起了不小的反响:他们揭晓了全新的宣传策略与广告语,同时大胆起用了郭敬明这一极受争议的人物。
作为箭牌糖果全球战略的一环,BBDO广州联手奥斯卡最佳短片导演Joachim Back与好莱坞制片厂Anonymous Content为中国地区拍摄了3组15秒的短片和一则1分钟的长篇。
BBDO Guangzhou's latest campaign for Wrigley's Extra has caused a stir on two fronts – for changing the tagline and focus, and for using a controversial celebrity.
Opted and overseen by BBDO Global, BBDO Guangzhou joined forces with Best Short Film Oscar-winning director Joachim Back and Hollywood studio Anonymous Content to create three 15-second spots and a one-minute version for the China market.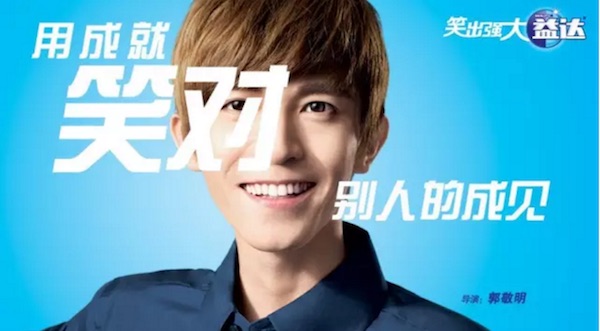 这则广告改变了益达过去诸如"关爱牙齿,更关心你"对于口腔健康的宣传,而启用了"笑出强大"来鼓励年轻人笑对挑战。BBDO广州创意伙伴施健儿解释说:"消费者随着时间的变化他们也在变化,我们也希望能够希望我们的作品能与年轻群体的消费者有相关性。"
The campaign scraps the longstanding and popular tagline 'Cares for Teeth, Cares for You' that emphasised the oral health benefits of chewing Extra, replacing it with 'Time to Shine', encouraging young people to face up to their challenges.  BBDO Guangzhou Creative Partner Helen Sze explains, "Our customers are changing, so must our strategy. We want to reflect what people are thinking now."
她接着补充:"这次我们使用一种感性的方式去跟消费者沟通去说明益达品牌的精神。从消费的洞察出发,现在的年轻人和我们上一代人很不同。他们在面对挑战时更有一种乐观的态度。"
在三段15秒的广告内,BBDO选择了三个不同的人物代表,以此来展示他们是如何笑对挑战的:备受争议的名人郭敬明,面对着来自各个方面的批评;短跑运动员苏炳添,在赛道上试图为国争光;还有一个普通的女孩,有着着日常生活中每个人都会面对的压力。
Helen adds, "We are trying to adopt a more emotional appeal to communicate with our costumers. We noticed that this generation is more willing to accept challenges [and] optimistic when facing them." As such, the individuals showcased in the 15-second spots were chosen to represent different types of challenge: infamous celebrity Guo Jingming, who struggles against negative criticism; track star, Su Bingtian, who competes for his country; and a non-celebrity who faces everyday difficulties.
益达《笑出强大》苏炳添篇|Wrigley Extra Time to Shine: Su Bingtian
郭敬明在广告中的出现引发了不小的争议。这位畅销书作家——四本小说销量超过400万本——而其《梦里花落知多少》却被指抄袭,他也因在《小时代》中所呈现的拜金主义而备受诟病。施健儿将郭敬明描述为"爱他的人很爱他,而恨他的人也很恨他"的人物。她说最初找郭敬明代言时确实很犹豫,然而在与郭本人谈过后,不仅对他的态度大有改观,也认定了他这则广告十分契合:"对于郭敬明的话题一直是两个极端的。找他不仅可以引起一些讨论,也能更好的用郭敬明在本子中的表现反映出"笑出强大"的这样一个态度,也是对广告本身的一种诠释。"
The decision to use Guo has not proven popular with viewers.  The youth adult fiction writer, whose four novels have sold over a million copies each, has become a controversial figure for plagiarizing much of his book, Never Flowers in Never Dreams, and for generally promoting the worship of money in his work.   
Describing Guo as a 'love him or hate him' person, Sze says that despite initial concerns, the author was selected, "because he provokes debate… With the extreme negative comments, he is the one that truly demonstrates how to face up to challenges."
摄制组在西班牙拍摄郭敬明的镜头|The crew  shooting Guo Jingming's scene in Spain
"我们想找一个角度去拍郭敬明,来表现他自信的笑容,"施健儿补充,"最后我们觉得用一个仰视的角度去拍他是最能展示他强大的感觉,去展示他最自信的笑容。"
"We tried to present Guo's self-confidence in the best possible way", Sze adds.  "After a few takes we decided it was best to shoot him from a low angle, so that people could see him not as controversial but a brave, confident person."
益达《笑出强大》郭敬明篇|Wrigley Extra Time to Shine: Guo Jingming
郭敬明面对BBDO的邀请时有过犹豫。甚至在拍摄的前一天,他找到摄制团队希望能够更改剧本——15秒广告中的第一句"这次你又要惹到谁了"甚至有点挑衅的意味。然而在看到初剪后,郭敬明最终同意了BBDO最初的剧本。
片中有一个令人忍俊的小细节:郭敬明在站上演讲台后调高了话筒的高度。1米5不到的郭敬明最初被BBDO的这个提议也逗乐了。"郭敬明告诉我他一般都会调低麦克风的高度才行。然而我们想表现他强大的一面,于是就逆向思维,让他抬高了话筒。"施健儿说。
Guo himself had his reservations.  Before the shoot, he suggested changing the script because the first line of voice over "Who will you piss off this time" risked inciting further annoyance, but eventually accepted the first version after seeing the rough cut.  The film is softened by a comic touch, as the famously short celebrity, standing at 1.4m, raises the microphone before speaking.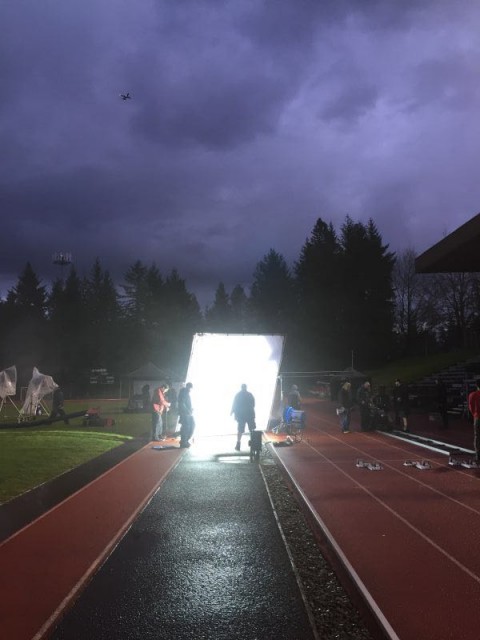 摄制组在波士顿拍摄苏炳添|The crew shooting Su Bingtian's scene at Boston, USA
本片的拍摄在西班牙完成,前后历时两个礼拜。期间剧组还飞到了波士顿去拍摄正在当地参加田径比赛的苏炳添。
施健儿对导演Joachim Black表达了谢意:"他把握了片子最重要的信息。15秒的片子要传达一个有态度的故事难度很大的。再加上要配合BBDO全球的团队拍摄多条片子。最后的结果我们十分满意。"
Filmed in Spain, the entire shoot took almost a week, during which time the crew had to fly to Boston, USA, where Su Bingtian was competing at the time.   
Helen Sze thanks director Joachim Back for his excellent work, "It's very difficult to present a story about how to face challenges in a 15-second spot.  Plus it's a global campaign, meaning he had to work with different BBDO branches."
益达《笑出强大》新娘篇|Wrigley Extra Time to Shine: Bride
这次益达"笑出强大"的活动将会持续一整年。"这只是一个开始,"施健儿说,"所以接下去几个月时间我们不断会有内容性的东西。接下来我们可能会跟一些时事,不断有扩展,我们自己也不知道会是什么。"
The Time to Shine campaign will run for a year.  "This is only a start," says Helen, "there will be more new commercials to expect in the next few months. We will elaborate on the Time to Shine idea. The new ones may be tightly connected with some ongoing events.  At present we have no idea what we'll come up with."

益达《笑出强大》|Wrigley Extra Time to Shine
制作名单:
创意团队:

Kevin Lynch, Helen Sze, Leigh Li, Yulei Zeng, Leo Jin, Fin Hao, Tom Ye, Lily Zeng, Dennis Ding, Dison Dai

制片:

Alice Chu

制片公司:

Anonymous Content (USA) & Twenty Four Seven (Spain)

导演:

Joachim Back

摄影指导:Pavel Edelman

音乐

studio: Adelphoi Music

后期公司:

The MILL Chicago

剪辑:Assembly Room
Credits:
Creative: 

Kevin Lynch, Helen Sze, Leigh Li, Yulei Zeng, Leo Jin, Fin Hao, Tom Ye, Lily Zeng, Dennis Ding, Dison Dai

Producer: Alice Chu

Production Company: 

Anonymous Content (USA) & Twenty Four Seven (Spain)

Director: 

Joachim Back

DOP: Pavel Edelman

Music studio: 

Adelphoi Music

Post production: 

The MILL Chicago

Editing house: Assembly Room