Verawom's dynamic new musical spot for client Bull Electric casts the spotlight onto the humble light switch. Under the tagline "Bring differences to Life", the film transforms Bull's switches into percussion instruments, performing a bubblegum pop song written by musician and spot director Sha Weiqi.
一个小小的开关能玩出什么样的花样?Verawom为公牛电器打造的最新广告就将开关玩出了极致。整个广告的创意出发点十分简单——将开关作为打击乐器,配上音乐人兼本片导演沙维琪写的广告歌,就这样将广告的核心主题"多一点不一样"以一种特别的方式呈现在了观众眼前。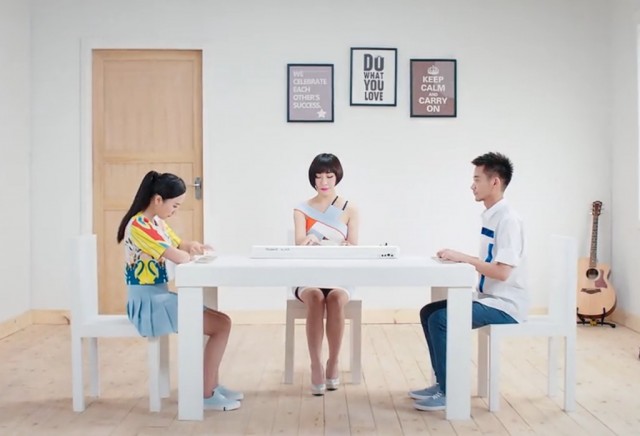 Ni Ranran, Hu Shasha and Liu Heng (from L to R)|从左至右起:倪冉冉,胡莎莎,刘恒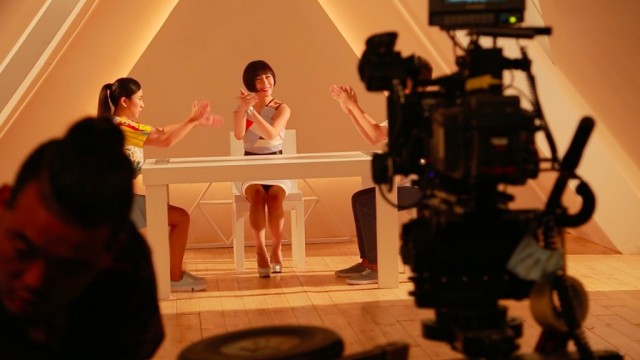 The agency drew inspiration from the array of online films featuring songs made with everyday objects, including a 2013 percussion piece by five US students playing only Starbucks cups. Verawom ECD Cai Meng explains their approach, "We wanted something extreme, something that really stands out. During our brainstorm, we discovered that the switching sounds varied depending on the material and the pressure applied. It called to mind the cup performances we had seen online, so we decided to use switches as percussion."
将一个物件用作打击乐器并非Verawom首创。2013年美国北德州大学5个学生用星巴克的纸杯和塑料杯为观众献上了一场精彩的打击乐演出。但想到将开关作为打击乐器,Verawom独此一家。Verawom的执行创意总监蔡萌说:"我们在头脑风暴过程中,发现开关的开和关声音是不一样的;不同材质的开关,用不同的力度去操控时,发出的声音也是不一样的。结合之前网上流传的杯子歌,我们就想到了以此为突破点,来打造一支与众不同的广告。"
Starbucks' Cup Song|星巴克杯子歌
The Bull spot isn't Verawom's first foray into musical filmmaking.  Last year they created a music video-style commercial using mashed-up footage for the fast-food franchise Dicos, featuring the single Ordinary Dicos, adopted from the similarly named song 'Ordinary Disco'.  The spot received over 700,000 hits and 100 comments on BiliBili, a Chinese online video website.  However, with the music connected directly with Bull's product, Cai considers the commercial to be more 'pure' than their previous work.
这次所作以MV主打的广告也并非Verawom对音乐广告的首次尝试。去年推出的德克士广告《普通Dicos》改编自《普通Disco》,在广告中大打鬼畜风,在B站上掀起了一波弹幕狂潮。不过蔡萌认为这此给公牛所做的广告则更加纯粹:"这次的音乐是跟产品紧密联系在一起的。"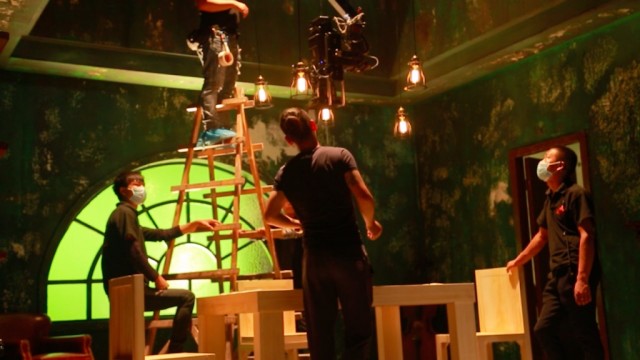 Having worked with celebrities on previous commercials Love Wood (Feng Tang) and Heart and Hands (Jonathan Lee), Verawom once again employed star names for Bull.
Spot director Sha Weiqi is a respected figure for his work producing songs for Chinese pop star Stringer, and previously collaborated with Verawom, directing the New Balance's commercial "Change a place, make a difference". Sha spent a week composing the song before bringing in a trio of musician friends to perform it: jazz singer-songwriter and Song of China contestant Hu Shasha, China's top percussionist Liu Heng (China NCPA Orchestra Assistant Principal Percussionist) and his musician girlfriend Ni Ranran.  Impressively, the track was recorded live on-set and cleaned up in post.
在阵容的打造上,Verawom延续了一贯的豪华风格。从《爱木之心》的冯唐与和李泉,再到《致匠心》的李宗盛,以及本片中出现的这支"乐队"——曾经参加过中国好歌曲的创作型歌手胡莎莎,以及中国打击乐手第一人刘恒,以及刘恒的女朋友倪冉冉。这三位才华横溢的音乐人的加入使本片在创意的落实上更加精彩。所有开关所发出的打击声都是现场直接录音,再经过后期的混音完整的呈现在观众面前。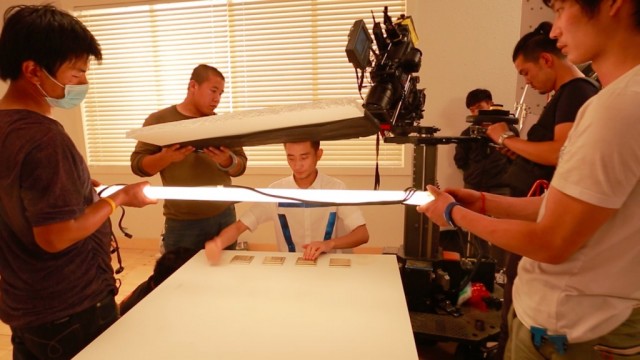 Founded in 2009, Shanghai-based Verawom's began to attract serious attention in 2012 with their campaign for perfumed water brand Liu Shen, before going on to work with big brand names including WangSteak and New Balance. 
The spot marks a significant step in the agency's ambition to break into the international market. Cai is keen to emphasise the importance of concepts capable of transcending cultural barriers, "The commercial we used to make, like Heart and Hands or Love Wood, were targeting mainly Chinese audiences. The influence on foreign market is limited by cultural and language differences. No one knows Jonathan Lee. Without subtitles, no one would even understand what the video is talking about. Whereas an international language like music is much more acceptable to people from different cultures."
成立于2009年的Verawom专注于内容营销,2012年他们通过一系列六神花露水的广告为业内熟知,之后相继为王品台塑牛排和纽百伦等知名企业的推出的品牌广告收到观众与业内的好评。
本片也是Verawom的一个重要尝试。对比之前的作品《爱木之心》和《致匠心》以对话的形式中展开,通过层层剥茧的方式最终展现出产品的本质,这次公牛电器的片子更加直接。蔡萌认为这部片子具有特殊的跨文化能力,即使观众在语言与文化上有差异,也不妨碍他们欣赏与理解这则广告:"以前我们做的广告,不管是《爱木之心》或者《致匠心》,受众群体都是偏国内观众的。如果投放到海外市场,没有人认识李宗盛是谁,不加字幕的话也没有人能明白(片子)在讲什么。而这部公牛的片子主打音乐,音乐是相通的,谁都可以理解的。"