Budweiser's recent three minute sci-fi thriller pulls its audience into a monochromatic future but promises a little bit of fun for those who are willing to step out of line.  In the opening scene, created by a combination of CG landscapes and stock footage, the viewer soars over ominous crevasses, icy grey lakes, and white peaked mountains all leading towards an enormous, sleek Star Wars-esque skyscraper.  Inside the building everyone wears black bracelets and the inevitable outfit of the future, a grey, semi-fitted suit.  A higher ranked grey-suited person monitors everyone with a paper thin tablet.
百威啤酒最近推出了一部三分钟的科幻风格惊悚广告,把观众带到了一个灰色单调的未来世界,想法与众不同的人可能还会从中发现一点小乐趣。片子开头展现的是一个CG技术合成的背景和电影镜头,把观众带到了恐怖的裂缝、冰封的湖泊和白雪皑皑的山峰之中,营造出星球大战式的宏伟摩天大楼。楼里的每一个人都戴着黑色手环,这就是未来的着装 – 灰色宽松的服装。而一个身着灰色服装的小头头手里拿着一个轻薄的平板电脑,监控者每个人的一举一动。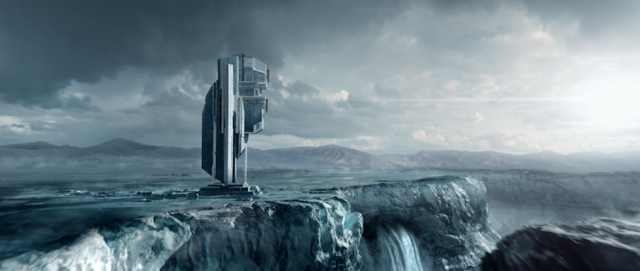 The plot heats up when one deviant, played by the Malaysian actress Fish Liew, slips out of line.  Finding herself in a quiet bar, her black bracelet turns to a bright red as the bartender, the charming Cantopop star Eason Chan, serves her a red bottle of Budweiser.  The red bracelets are part of a larger marketing activation plan Budweiser is testing this summer where the brand passes out bracelets that light up to the beat of music or when a customer holds a bottle of Budweiser.
忽然之间,马来西亚女星廖子妤扮演的角色做出了出格的举动,离开队伍,她发现自己来到了一个安静的酒吧,香港流行天王陈奕迅扮演的酒保递给他一个瓶身是红色的百威啤酒,她的黑色手环突然就变成了亮红色。红色手环正是百威啤酒的一个营销亮点,今年夏季,百威会发出很多红色手环,手里拿着一瓶百威,或者是听到音乐节奏,手环都会亮起来。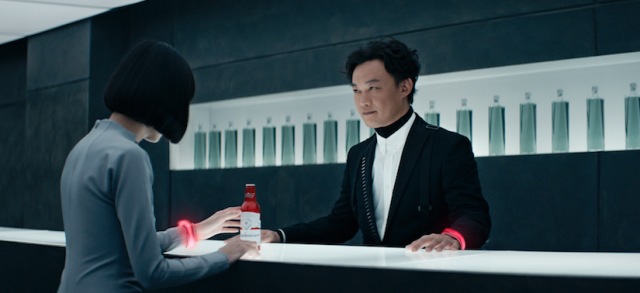 The spot ends with Liew eventually landing at a bumping, EDM blasting party where grey and sterile is traded for red hues and heavy beats.  Budweiser picked up early on the trend of EDM in Asia by sponsoring the Budweiser Storm music festival, which started in Shanghai and has expanded to other cities in China.  It is even looking to hold festivals in Taiwan and Australia this year. 
片子接近尾声时,廖子妤摇身降落在百威电音派对,这个派对就如同风暴电音节一样,没有了灰色和单调,充满了红色和动感节奏。电子音乐在亚洲逐渐风靡,百威也加入潮流,赞助冠名打造了百威STORM风暴电音节。这一活动始于上海,已逐渐拓展到中国其他城市,今年也在筹划在台湾和澳洲举办。
Directed by Brent Bonacorso, the entire mini film, plus 30 and 60 second cuts, was churned out in a two day shoot produced by American production company Dapper Films, with about five weeks added on for post production by Ntropic, LA.  The team filmed in Bangkok, Thailand to accommodate the busy schedules of Eason Chan and Brazilian DJ Alok.  Besides being a convenient spot for the team coming from different locations around the world, Bangkok is also a cost effective choice for TVC production.  It was Bonacorso's first time directing in Bangkok but he mentioned in an interview that he would gladly shoot there again.
这支迷你广告由Brent Bonacorso执导,再加上另外的30秒和60秒的剪辑,拍摄仅仅用了两天的时间,由美国制作公司Dapper Films打造,后期制作则由Ntropic LA操刀,大约五周完成。团队来到了泰国曼谷拍摄,一遍适应陈奕迅和巴西DJ Alok的繁忙日程。之所以选择泰国,不仅仅是地理位置上方便来自世界各个不同地方的制作团队,也是因为泰国的电视广告制作有着很高的性价比。这也是Bonacorso导演第一次来泰国执导片子,他在一次采访中表示以后非常愿意再来泰国拍摄。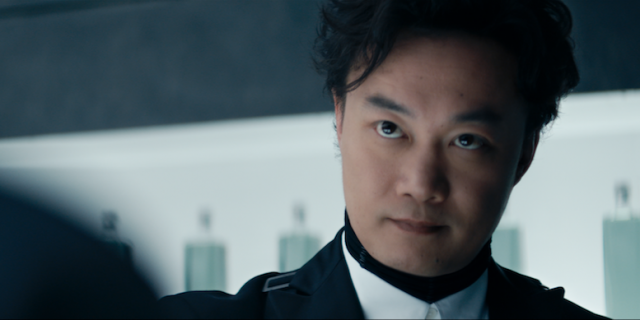 Bonacorso also commented on the positive experience with the celebrities on shoot.  Referencing Eason Chan in particular, he added, "some celebrities can be tricky to work with, but Eason is a natural performer, very patient, and a true gentleman- we had a lot of fun on set. Often people can get too serious with a celebrity on set, but he kept everyone at ease by cracking jokes and doing little impressions between takes".
Bonacorso大大称赞了这一次与明星合作的愉快经历,尤其对陈奕迅赞赏有加,他说,"有些明星挺有架子的,但是陈奕迅的表演却很自然,也很有耐心,非常绅士 — 片场非常愉快。有时候大家看到名人都会比较拘谨,但是陈奕迅时不时就会讲讲段子,小小恶搞一下,让大家都放松"。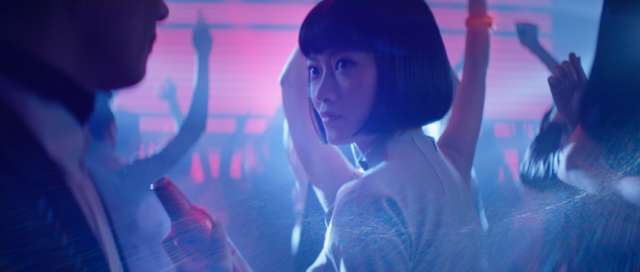 The film was initially released online only but will also be shown in movie theaters attached to select blockbuster films soon; a fitting release platform as the spot plays out like a mini film itself with a full list of rolling credits at the end.  The film's engaging storyline also highlights Budweiser's growing effort to incorporate storytelling into its marketing strategy.  It is the small details, the EDM beats, and other fun additions like the rolling credits that make the spot more than worth the three minutes to watch. 
这支广告最初只在网络播放,但是现在也计划在电影院放送,放在某些大片之前播放,这也恰到好处,因为片子本身就是一个迷你电影。这部片子的故事情节引人入胜,也让人们看到百威也在越来越努力,想要把讲故事融入到更纯正的品牌营销战略之中。这些小细节,加之电音节奏,以及片子的滚动名单,让你的享受绝不会仅仅停留在三分钟。
CREDITS 制作团队
CLIENT 客户: Anheuser-Busch InBev (China) Co., Ltd
VP Marketing, APAC North 亚太地区营销副总裁: Bruno Cosentino
VP Marketing, Budweiser, APAC North 百威亚太地区营销副总裁: Matt Che
AGENCY 广告公司: CAA Marketing
Chief Creative Officer 首席创意官: Jae Goodman
Global Executive Creative Director 全球执行创意总监: Conan Wang
Creative Director 创意总监: Stevie Laux
CAST 演员表
陈奕迅Eason Chan
Alok Petrillo
Kara: 廖子妤Fish Liew
参加演出Co-worker: Olha Petrykkyiv
参加演出Co-worker: Talia Malovana
参加演出Co-worker: Wasuthond Chirawimuthrath
PRODUCTION 制作: Dapper Films
Director 导演: Brent Bonacorso
Executive Producer 监制: David Lyons
DP 摄影指导: Christophe Collette
Producer 制片: Wicha Khokapun
Art Director 艺术指导: Sarayut Nimnate
Gaffer 灯光: Surachet Thongmee
Electrician 电气: Akkadach Jitsopar
Key Grip 场务: Amnuay Bunsinchai
Photographer 摄影: Noah Schutz
Make-up Artist 化妆: Poldech Srisang
VFX & FINISHING 特效: NTropic, LA
Exec. Creative Director 执行创意总监: Nathan Robinson
Creative Director & Lead Flame 创意总监:Simon Mowbray
Producer 制片: Kirsten Collabolletta
CG Lead CG 总监: Simon Mowbray
Title Design 标题设计: James Levy
Lead Colorist 首席调色师: Marshall Plante
MUSIC AND SOUND DESIGN 音乐设计&声音设计
OP 音乐版权: Jerald Ltd // Good Sense Music Service Co., Ltd
SP 音乐授权: Universal Music Publishing Ltd
Original Song Produced and Arranged by Jerald Ltd. 原创音乐由Jerald打造与统筹
REMIX 混音
Remix and Additional Production 混音与制作: Alok Petrillo
Artist Management 人员管理: Felipe Lobo
Artist Management 人员管理: Rafael Eboli
SFX & MIX 特效与混音: Barking Owl , LA
Creative Director/Partner 创意总监/合作伙伴: Kelly Bayett
Producer 制片: Ashley Benton
Sound Designer 声音设计: Morgan Johnson
Mixer 混音: Patrick Navarre