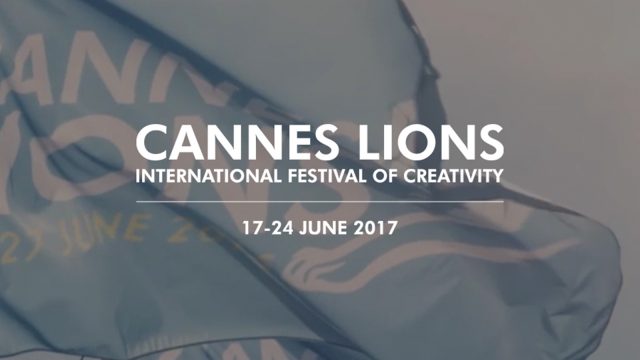 第64届戛纳国际创意节即将在法国南部的碧蓝海岸戛纳拉开帷幕,全球各地的创意人士、制片人、媒体和娱乐业大佬都开始跃跃欲试,整装待发了。上一届创意节吸引了来自100多个国家近15000个团队代表,如果算上粉丝和参与者,总人数达到了70000多,今年的人数将只增不减。
Creatives, producers, media and entertainment guru's are getting ready to schmooze at the 64th iteration of the Cannes Lion Festival of Creativity held on the turquoise coastline of southern France.  Last year the Festival drew a crowd of almost 15,000 delegates from over 100 countries.  The actual number of fans and participants that flock to Cannes is generally over 70,000.  The numbers are only expected to increase this time around.
今年,中国日强势回归,预计中国代表团队将超过去年的250个。中国日于2013年首次登场,今年戛纳又留出整整一天的时间供人们探讨中国广告产业,足见戛纳对中国广告行业在全球地位的认可。
With the reintroduction of a designated China Day this year, the amount of Chinese delegates is also expected to increase from last years' 250 delegates.  First held in 2013, this year the festival will again acknowledge China's growing global presence in the advertising world by hosting a full day's program of talks relating to China.

SHP+趁着戛纳CEO Terry Savage来华期间,与他一起探讨了中国日的重要性及其背后的意图。Savage表示,中国日就是让中国讲者讲述自己对中国市场的洞察见解,有机会让外国团体从中国商业领袖口中了解中国的市场发展。同时,他也强调,"我们想让中国公司来讲讲中国自己的事,不是为了吸引中国团队参加这场活动,而是让全球各地的人们有机会了解中国的创意和创新,让他们更好了解中国市场上有影响力的公司有哪些。中国公司与国际接轨会越来越紧密。"
SHP+ had a chat with Cannes CEO Terry Savage on his last trip to China where we spoke about the significance and motives behind China Day this year.  Savage explained the focus of China Day is to have Chinese speakers give insight about the Chinese market.  It is an opportunity for foreign delegates to learn about the Chinese market from Chinese speakers and business leaders. Savage stressed, "we want to have Chinese companies talking about China.  So it's not necessarily to attract Chinese delegates, it is in fact to give the other delegates who come from all over the world a chance to see some of the innovation and creativity coming from China, and to give these delegates a greater understanding of some of the significant companies that are emerging in the Chinese market.  These are the Chinese companies who are going to interact more with the rest of the world as time goes on".
中国的巨头科技公司和广告公司都会参加此次盛会,阿里是狮子创新中心的赞助商,这也成了头版头条新闻,此外,腾讯是Platinum Lounge的赞助商 – 这是贵宾放松休闲拓展人脉的地方。阿里还负责管理戛纳创意节微信公众号。Savage表示,"无疑,这会让更多人知晓戛纳创意节,同时也会提升中国在戛纳的形象。"
China's biggest tech and advertising names will all be there.  Alibaba makes a huge statement as the headline sponsor for the Lions Innovation Center and Tencent is sponsoring the Platinum Lounge, where the most prestigious guests will be relaxing and networking.  Leading up to the Festival, Alibaba has also started managing the Cannes WeChat account.  Savage commented, "this surely has increased Cannes presence in China and will simultaneously lift the profile of China at Cannes this year".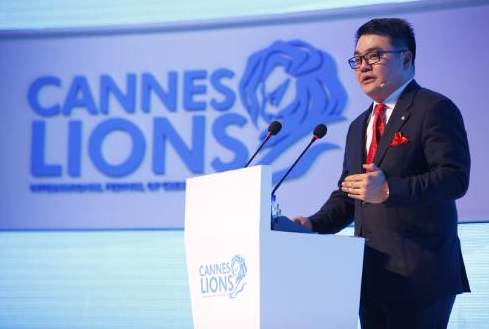 中国日将由刘胜义开场,他是腾讯广告与全球品牌主席,同时,他还荣膺2015戛纳国际创意节"年度媒体人物"大奖。当天活动邀请了拥有强大粉丝群的中国网红papi酱。此外,世界著名钢琴演奏家郎朗将与环球唱片一起探讨中国的创意源泉。
China Day will launch with an introduction by SY Lau, Chairman of Tencent's Group Marketing and Global Branding, who was also named "Media Person of the Year" at Cannes in 2015.  The day will also feature Papi Jiang, the online celebrity vlogger with one of China's largest fan bases and world renown pianist and cultural icon Lang Lang in conversation with Universal Music Group to talk about creative inspiration from China.
6月20日中国日演讲嘉宾如下:
Here is the June 20th China Day speaker lineup: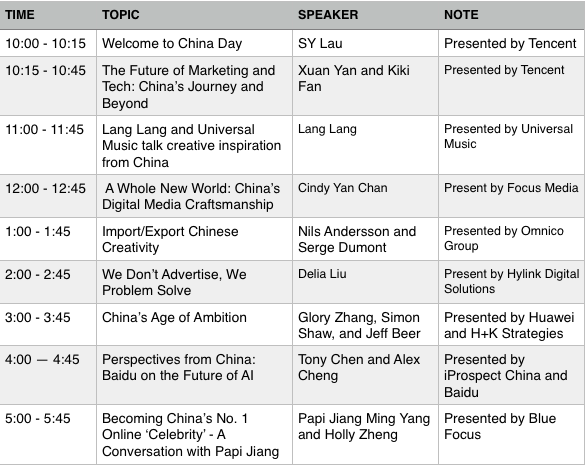 中国日前一天(6月19日)也将有多位中国嘉宾做演讲。
There will also be a few talks by Chinese speakers the day before China Day, on June 19th.

精彩不容错过,一起加入SHP+微信群,跟2017与会者互联互动吧。
Stay tuned for more insights and be sure to join SHP+'s WeChat group we will be creating for China enthusiasts to connect while at Cannes 2017!