第九届金投赏于本周17日至19日在上海召开。
The 9th annual ROI Advertising Festival was held in Shanghai this week from the 17th to the 20th of October.
获奖名单昨日正式公布。本届金投赏共在6大类别72个小类别共3012件参赛作品中搬出了9个全场大奖与94个金奖和百余名银、铜奖。
The winners list was released yesterday after the awards ceremony. There were 6 major categories with 72 subcategories, each with gold, silver and bronze winners.
广告公司与客户们分享了大部分的获奖名单。然而制作公司也在其中占据了一席之地。
As usual, agencies and clients dominated the festival, but production houses were awarded as well.
制作组的全场大奖花落台湾制作公司華苑映創(Innovate Films)的IP品牌《小时光面馆》。该系列在包括戛纳、Spikes等重要广告节中拿到奖项。在本届金投赏上,他们再次捧回了一座分量十足的全场大奖。
The Grand Prix in the production category went to a Taiwanese company Innovate Films' "House of Little Moments – Season II". Already much awarded at international festivals such as Cannes Lions and Spikes, the team was happy to bring back yet another grand prix with their franchise series.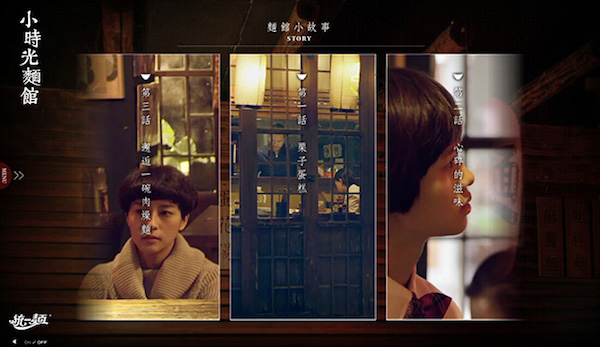 華苑映創作品《小时光面馆》| House of Little Moments, by Innovate Films
在制作公司中,上海制作公司观池(Gwantsi)获得了年度制作公司大奖,同时他们凭借2金2铜2提名成为了制作公司奖项中的最大赢家。皮艾吉中国(PIG China)以1金2银2铜紧随其后。上海千禧传媒(Chin Hei Media),米立制作(Mili Films)分类3、4位。
Gwantsi was the biggest winner in production categories this year with 2 gold, 2 bronze and 2 shorlisted. PIG was just behind with a total of 4 medals (1 gold.) Gwantsi also won the Production House of the Year. Chin Hei Media and Mili Films came in 3rd and 4th.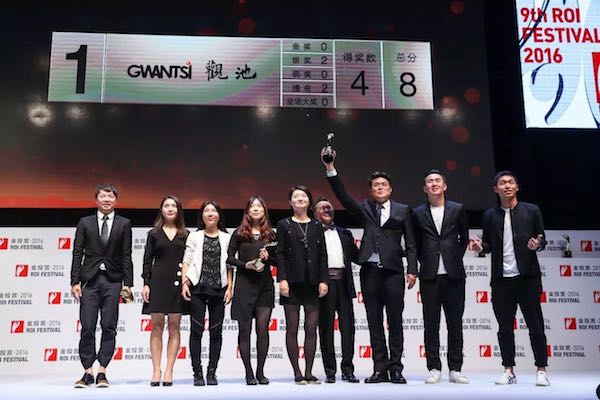 《宝马1系:贪吃蛇篇》为观池拿下一枚前期制作服务金牌。他们将数十辆宝马连成了现实版的"贪吃蛇"。
In the gold-winning The BMW 1 Series spot "Snake", Gwantsi pulled off an impressive choreogrpahy of cars to replicate the retro game Snake, which won them a gold in pre-prodcution category.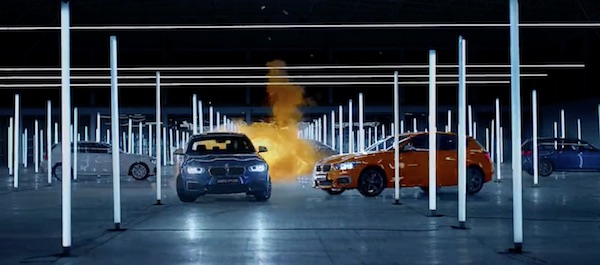 观池作品《宝马1系:贪吃蛇篇》 | BMW 1 Series: Snake, by Gwantsi
另外一个金奖作品《上海拦不住》中,墙面成为了观池发挥的画幕。他们利用城市的平面描绘出跑者的风姿。
In their other gold-awarded work, Nike Running's MOM video, Gwantsi turned Shanghai's streets and walls into digital canvases, bringing runners to streets all over the city.
观池作品《上海拦不住》| Nike Running: MOM Video, by Gwantsi
皮艾吉中国《宝马7系:流光溢彩,引领时代》为他们拿下一座后期制作服务的金奖。他们利用CG点亮了整座天山山脉。
PIG's BMW 7 project "Visionary Lights" won a gold in post production for their realistic CGI lighting of the Xinjiang Mountain landscape.
皮艾吉中国作品《宝马7系:流光溢彩,引领时代》| BMW 7 Series: Visionary Lights, by PIG China
另一项金奖作品引起了我们的注意。合一集团(优酷与土豆合并后的称呼)为中国体育彩票超级大乐透《幸运的一天》采用真人与动画结合的方式,用一个长达3分钟的长镜头一气呵成讲述了体彩迷中奖后的故事。这部片子从故事性到制作、后期的精良程度都无可诟病,然而我们却无法在除了金投赏以外的其他渠道得见。这会不会又是一个近年来广受诟病的"飞机稿"作品?
Another gold-awarded work that caught our eye is Heyi Group's production of the China Sports Lottery spot "A Lucky Day." It is a 3-min-long film that is both creative and intelligently executed and shot, making use of live action and animation. The film tells the story of an ordinary person's life after winning the lottery. The quality of the story, creative, production and post-production is remarkable – however, it seems it was never aired but was simply an award pieced (it did air on the ROI QQ channel.)
合一集团作品《幸运的一天》| A Lucky Day, by Heyi Group