ROI festival was held this year in Shanghai, October 12 -15. It's considered to be one of the largest award festivals in the advertising creative industry of Asia. With agencies and brands being at heart of the festival organizers, it was really never a production-focused award. However, in production category this festival acknowledged video commercials production, post-production, and music-production. Regrettably in their short-video category, ROI traditionally awards more experimental, than commercial films. So, let's look at this year's results where you would surely enjoy seeing the same familiar names…
今年的金投赏国际创意节于10月12日至15日在上海举行。它被认为是亚洲广告创意产业中最大的奖项之一。代理公司和品牌为金投赏组织者的核心获奖群体,因此它从来就不是一个以制作为重点的奖项。但这个奖项在制作行业却有关注不少领域,包括影视前期制作服务、后期制作与音乐制作。在短视频类别中,金投赏通常会青睐更多实验性的视频,而非商业电影。那么就让我们来看看今年的获奖名单,相信您看到那些熟悉的名字肯定会很开心…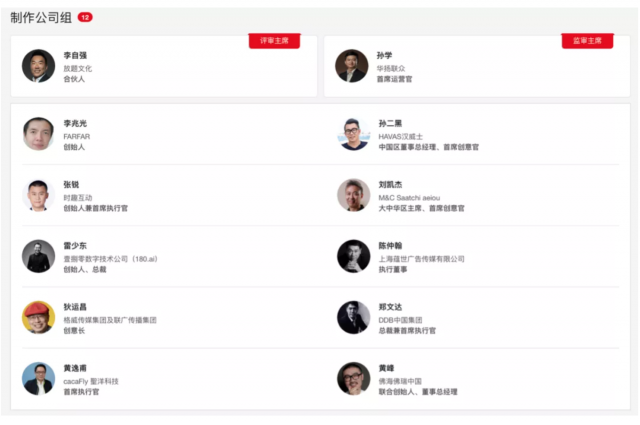 2021 ROI production category judges
Achill production scooped up the Grand Prix for their Chando commercial film. Directed by Ding Yuchen, the ad is set in the pleasantly odd atmosphere of an office, populated by fantasy characters. Jumped to our attention a note of budgets stated by ROI for each commercial and the fact that Chando won with a range of 1-2 million RMB budget, which seems at least twice lower than other highly awarded spots' budgets.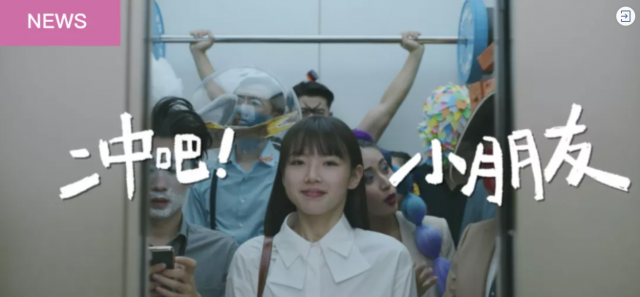 The odder, the better: Gen-Z beauty ads|越奇特越好:Z世代的美妆广告
Achill为自然堂摄制的广告影片获得了全场大奖。该广告由丁雨晨导演执导,背景设在一间充满奇幻人物的办公室里,气氛奇特而愉快。让我们眼前一亮的是,金投赏还揭晓了每个广告的预算,而自然堂以100 – 200万人民币的预算赢得了比赛,而其他斩获大奖的广告预算比自然堂要高出两倍。
Another spot produced by Achill, Tmall's Ancient Vlog, described at lengths in our interview with the production founder Maomao, was also Shortlisted by ROI.
此外,明晰制作的另一部为天猫打造的古代Vlog系列广告也入围了金投赏,关于这一系列广告我们对创始人毛毛,进行过详细的采访。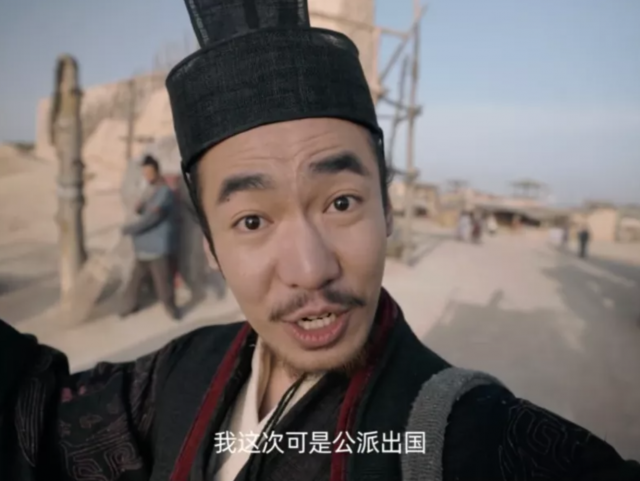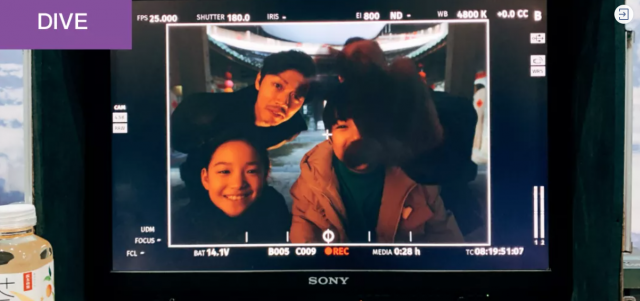 Production Perspectives | Industry disruptor Achill
Apple Watch commercial brought Gold to ShootingGalleryAsia. Directed by JBL, the impeccably choreographed spot required, a 100-members dance troupe rehearsing for two weeks, and a six-days shoot, according to the award-accompanying materials.
Gold-winning Apple Watch commercial
一部Apple Watch的广告为ShootingGalleryAsia工作室赢得了金奖。据颁奖现场的材料显示,该片由JBL执导,这部广告的亮点是精心编排的舞蹈,100位舞者组成的舞蹈团为此排练了两周,拍摄了六天。
START Films once again was named the "The production company of the year", an award this company has won each year, except in 2017, when this ROI category was only introduced. They collected the biggest number of high awards: one silver, two bronze, and one shortlisted.
而启李广告START Films再次被评为年度最佳制作公司,除了金投赏初次引入该奖项的2017年之外,该公司每年都能斩获这个奖项。他们同时也获得了最多的大奖,包括一个银奖,两个铜奖和一个入围奖。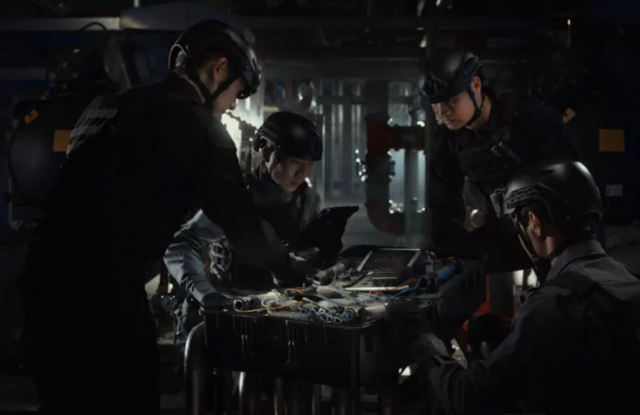 See all START Films winning films here 
Their Tmall Double 11 campaign is the one that scored highest for the company, winning Silver. The "Gameplay" shot by founding-director Zero Lin and "Good Goods" series of short commercials were aiming to present the world's biggest shopping festival as something more than just a shopping spree.
他们的天猫双11广告为该公司赢得了最高分,斩获了银奖。创始人兼导演Zero Lin拍摄的《玩法篇》和《好物篇》系列短片想要表达的是:这场世界最大的购物节,不止是购物与狂欢。
STARTFilms' The "Time Engraver 2" for L'Oreal and "Smart Partner" for Xiaodu, both shot by Ding Yuchen, were recognized with Bronze and the work for UnionPay directed by 猕姒忑柒(Misiteqi) was Shortlisted.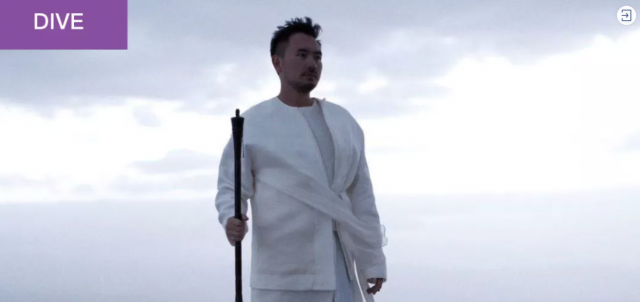 Unbridled creative force: director Ding Yuchen 干一行,爱一行:丁雨晨
此外,启李广告STARTFilms还有三部广告优秀作品,其中丁雨晨导演执导的欧莱雅《时间雕刻师2》与小度《年轻人的智能伙伴》均获得铜奖,而猕姒忑柒导演执导的银联系列广告也有入围。
Second by the amount of works awarded at ROI this year was production company Gwantsi. Their "BaMaWo" Tik-Tok series for BMW received Silver. Another work for BMW, a funny commercial, debunking myth about electric cars, and an action-packed spot for Tencent games brought them two Bronze awards.
Bronze-winning BMW iX3 commercial
今年金投赏获奖作品数量排在第二位的是制作公司观池。他们的宝马《Bà Mā Wǒ》抖音系列广告获得了银奖。而他们的另外两部作品:为宝马摄制的另一部作品,以搞笑有趣的风格,揭秘了关于电动汽车的神话,以及为腾讯游戏制作的血脉喷张的动作大片,为他们带来了两个铜奖。
The mini-film for BMW won Silver for MOD production house. Directed by Xin Shuang, the spot called "The Wedding" makes us travel back and forth between 1995, 2010, and 2021, unveiling the stories behind three wedding ceremonies.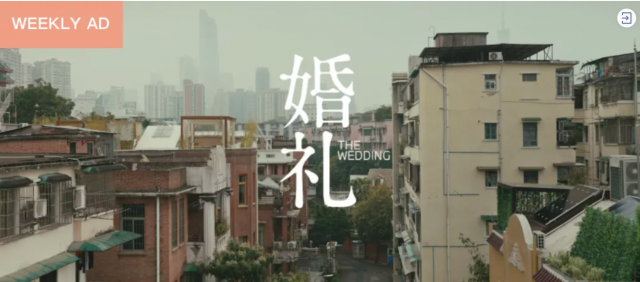 Weekly AD|BMW 宝马 x JUICE NETWORK x MOD茂田
辛爽导演执导,茂田制作公司为宝马制作的广告微电影获得了银奖。这部名为《婚礼》的微电影带领观众穿越往返1995,2010和2021,讲述了三对新人,三场婚礼背后的故事。
Another BMW commercial directed by Adam Liu was also Shortlisted.
而另一部为宝马摄制,导演亚当刘拍摄的电影也有入围。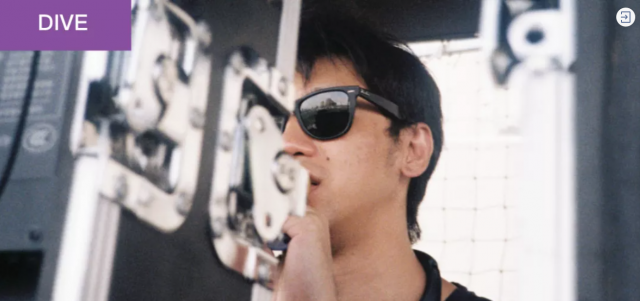 A Director Rising From The Depth|广告也得拍出深意的导演
In the times of closed borders and restricted global shooting, P.I.G China's participation in cross-border global projects fetched them two awards. China Chapter of global spot "The Great Meal" for Coca-Cola, directed remotely by Kim Gehrig, was awarded with Silver. And another remote-shooting project for OPPO Reno5, directed by Ehsan B, was Shortlisted.
在这个边境封闭、全球拍摄受限的时代,P.I.G中国因参与跨国全球拍摄项目而获得了两个奖项。由Kim Gehrig远程执导为可口可乐拍摄的《大餐》(The Great Meal)获银奖。另一部由Ehsan B导演,为OPPO Reno5的远程拍摄项目入围。
Silver-winning Coca-Cola "The Great Meal"
The last Silver winner is not new to ROI, either.  SOMEI DESIGN a post-production house established by director and motion designer Somei Sun, has won Grand Prix in 2019, and Silver awards in 2020, 2017. This year, the post-apocalyptic commercial film for Bilibili directed by Somei, was recognized with Silver award.
最后一位银奖得主不是第一次获得金投赏奖项。SOMEI DESIGN是由导演及动作设计师Somei Sun创立的后期制作工作室,曾在2019年获得评审会大奖,并在2020年和2017年获得银奖。今年,Somei导演为哔哩哔哩摄制的后启示录风格的广告片再度斩获银奖。
Silver-winning Bilibili commercial
ROI does not publish long result lists, but it proudly showcases the statistics of entries and shortlisted works. With 4012 and 801 respectively, this year the award continues the growth trend compare to the last year's 3921 total and 784 shortlisted entries. But ROI does not disclose how the entries are distributed by award categories. So, it's hard to tell if this year reflects a decrease in the production sub-category. Or the familiar same names are just proof that the best local peeps are performing even better, while Chinese borders remain closed to the international competition.
今年金投奖没有发布长长的详细名单,但自豪地展示了参赛作品和入围作品的统计数据。与去年的3921个奖项和784个入围作品相比,今年的奖项分别有4012部作品获奖,801部作品入围,继续保持增长趋势。今年在疫情的影响下,中国的边境还未完全开放,国际竞争也依然有限,因此我们很难判断到底是这些类目的制片减少了,还是我们屡次获奖的老朋友们技艺又精进了。
See all this year's all production winners here.
今年详尽获奖名单请看这里。
RELATED ARTICLES:
"Production wins" at ROI Festival 2019 | 2019金投赏制作类奖项喜报
ROI Award Winners in production categories | 影视前期制作服务
10th ROI Grand Prix List | 十周年金投赏全场大奖