Wearing a five-pointed red star on his hat and t-shirt, and a guitar on his back, Wang Xu walks the wintry streets of Beijing to open the latest Red Star Erguotou commercial There is A Red Star in Everybody. Red Star liquor, popular amongst the working class for its low cost and strong flavor, is now targeting a younger generation of consumers. The crew from the film Golden Era, including award-winning cinematographer Wang Yu, worked with critically-acclaimed director Li Jinpeng to create this new film.
红五星帽子,红五星T恤,背着吉他行走在冬天北京的大街小巷中——这就是旭日阳刚的王旭在今年年初红星二锅头最新推出的广告片《每个人心中都有一颗红星》的形象。红星二锅头一直以其低廉的价格,浓郁的香气和强劲的力道而在劳工阶层中广受欢迎。随着这则广告的推出,红星酒厂明显试图在年轻一代中推广他们的影响力。本片由业内著名导演李锦鹏执导,金马奖获奖摄影师王昱掌镜,同时包含了影片《黄金时代》的摄影班底。这样一支豪华班底为本片增加了筹码。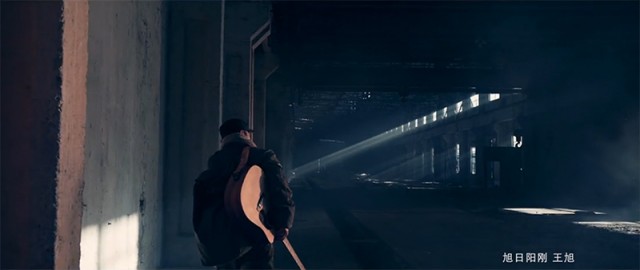 The script was written by Guangzhou-based agency GIMC, and Xu Yulei as the executive producer. "They wanted to make a completely different commercial to their previous ones," said Ju You Producer Xu Yulei. "In order to create such an epic piece GIMC and the client provided the team as much support and space for creative freedom as possible." Li Jinpeng and Wang Yu together brought the commercial a feature-film-like quality. Numbers of people told Xu upon the release of the commercial that "It never occurs to them that a alcohol commercial could be presented in such way."
本片由省广股份完成创意脚本,并由许玉蕾负责监制广告片的制作。许玉蕾说,从接到简报的一刻开始,他们就想做一支从品质上与之前红星二锅头广告完全不同的短片。省广股份和红星二锅头在制片过程中给了制作团队极大的支持与自由度,因此他们才能够做出这样一份视觉效果出众的作品。李锦鹏导演和王昱摄影师的加入为本片带来了电影般的视觉享受。广告推出之后,许多人甚至给许玉蕾留言说,"从来没有想过白酒广告能拍成这样。"

This commercial certainly exceeded GIMC's expectations – and lots of netizens have responded and complimented the piece. Apart from the excellent production crew and supportive and trusting clients, Xu thinks that the positive energy shown in the commercial was a key factor to the success of the commercial, and the reason why it attracted so many millennials.  "Everybody craves light and positivity; it is especially crucial in a society that breeds so much anxiety. As a matter of fact, a lot of our other work also aims to spread this sense of positivity," she says.
本片也确实达到了省广股份最初的诉求,许多人在微博上留言表示对《每个人心中都有一颗红星》的赞赏。除了优秀的制作团队和高度支持信任的广告公司和客户外,许玉蕾认为是片中所传达出的正能量打动了广大的年轻人:"在这个浮躁的社会大家还是需要正能量和阳光的。其实除了本片外,我们接手的许多案例也都一直在强调传播正能量,也很受80后和90后的欢迎。"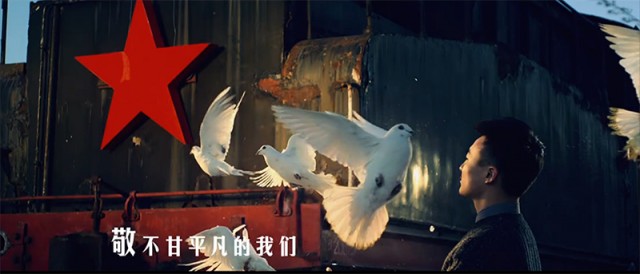 Starting off as a migrant worker, Wang Xu also used to be a street musician in Beijing. Along with his friend Liu Gang, Wang formed a band named Xu Ri Yang Gang, and they went on to perform at CCTV's legendary Chinese New Year Gala the following year for an international audience of over a billion."The first time I tried Red Star Erguotou was in 2000 when I first came to Beijing. I became obsessed with its strong flavors," says Wang.     
广告片主角歌手王旭,农民工出身,在北京打工时兼职做过流浪歌手。2010年他与同伴刘刚组成了旭日阳刚组合并一举成名,甚至登上了第二年春晚的舞台。谈到与红星二锅头的渊源时,王旭说:"我跟红星二锅头认识,是2000年第一次来北京烧锅炉,从那一年开始就正式和这个酒认识了。喝的第一口的时候,就是那股力量,那种劲,吸引了我。"
Director Li Jinpeng and Art Director Shu Xingjia were very impressed when they saw a band performing on a mobile stage while travelling  overseas. "We finally got the opportunity to re-create it for this commercial," says Xu, when asked how this idea came about. However, they of course faced obstacles during the filming process. They originally wanted to shoot on a double-decker bus, but double-decker buses no longer exist in Beijing. Instead they chose to use a semi-truck. It took a lot of effort and hard work for the team to successfully create such a sensational scene. 
在短片的末尾,王旭与乐队在一辆飞驰的卡车车厢中进行演出的场景,五彩聚光灯划破北京的夜空。当问到这个创意是从何而来时,许玉蕾说:"这是导演李锦鹏和美术指导舒兴家在国外旅游时看到的,一直觉得很震撼。这次终于有机会可以运用到拍摄中。"创意执行的过程中还是遇到了困难。原定用双层巴士来进行视觉表达,然而由于北京已经没有双层巴士了,只能选择了集装箱卡车。改装过程中美术和道具组也付出了极大的努力,最终才完成了这样出色的一段戏。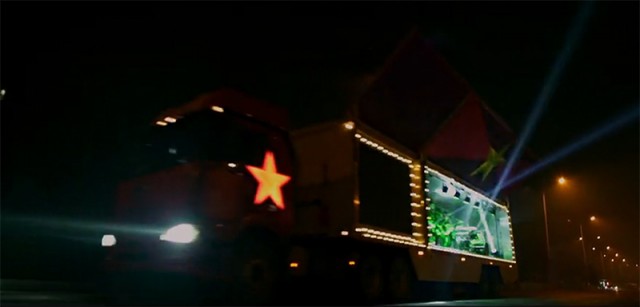 The commercial was entirely filmed in Beijing to capture the authenticity of Red Star Erguotou. The filming locations included various Hutongs, the Huamao Bridge, and Shou Gang Capital Steel's factory. Although the entire pre-production process took about a month, the actual filming was done in only 2 days. Winter in Beijing is cold and brutal, and the film crew didn't wrap until after midnight. In order to stay warm, the production team made ginger soup for everybody—they bought all the ginger available in the farmers market on the first day!
为了体现红星二锅头老北京的特色,整部广告片都在北京完成拍摄。地点包括了极具北京特色的胡同,华贸桥和首钢。前期筹备历时近一个月,然而最终拍摄被压缩到两天内完成。北京的冬天异常寒冷,剧组每天要忙到深夜两点。制片团队为了煮姜汤让团队保暖,第一天就买光了一个市场上所有的生姜。
"We make a great and simple team, and all we want to promote is happy advertising," says Xu. 
许玉蕾说:"我们是简单而默契的一个团队,我们提倡的是快乐广告。"