Following the guidelines of Beijing Reform and Development Commission published on February 22nd, Beijing Film Bureau issued "An Epidemic Preventive Guidelines to Beijing Film Industry on Resuming Work During the Covid-19». There are rules and conditions regulating the permission for production companies to shoot in the city of Beijing, but we think it's a good sign and hopefully soon the same announcement will be made for Shanghai. Below are the details of the document and conditions.
遵从北京市发改委2月22日发布的指导意见,北京市电影局制定了《新冠肺炎流行期间北京市电影行业复工防疫指引》。该指引对需在北京进行拍摄的制作机构设立规定和条件, 但我们认为这是一个乐观现象,并希望上海即将发布同样的通知。以下是指引的详细。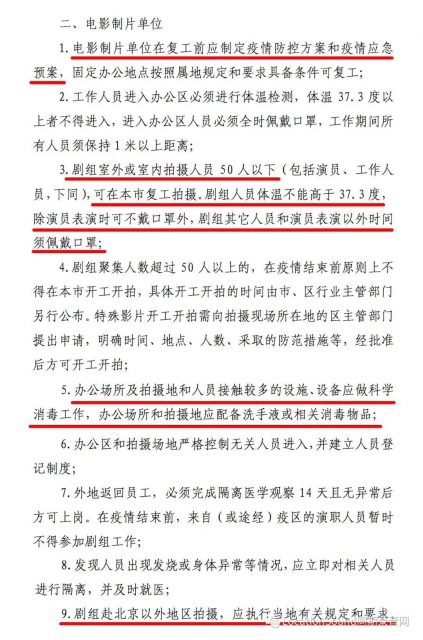 ll. Film production units
Film production unites shall formulate epidemic prevention and control plans and emergency response plans before resuming work, and the fixed office location shall be able to resume work only if conditions permit according to the provisions and requirements of the territory;
Staff must have a temperature check before entering the office area. Those with a temperature above 37.3 degrees are not allowed to enter office area
If there are fewer than 50 outdoor or indoor members (including actors and staff) they can resume filming in this city. The temperature of the cast and crew shall not be higher than 37.3 degrees. The cast and crew do not have to wear masks when performing, but shall wear masks after performance is finished.
In principle, if the number of crew members exceeds 50, they shall not start shooting in this city before the end of the epidemic. The specific time at which shooting shall be allowed shall be separately announced by the municipal and district departments in charge of the industry. To start shooting a special film, an application shall be submitted to the district department in charge of the place where the shooting site is located. The time, place, number of people involved and preventative measures taken shall be taken into account.
Disinfection should be carried out on the facilities and equipment in the office, the shoot site, and the personnel who have more contact with the sites, and hand sanitiser or relevant disinfection articles should be provided at the office and the shoot site.
The office area and shoot site shall strictly control the entry of irrelevant personnel and establish personnel registration system.
Employees returning from other places must be isolated and under medical observation for 14 days and show no abnormality before they can start work. Until the outbreak is over, cast and crew members from (or via) affected areas are temporarily banned from joining cast and crew.
If fever or body abnormality is found, the relevant personnel should be isolated immediately and seek medical advice promptly.
When shooting outside of Beijing, the crew shall abide by / execute relevant local regulations and requirements.
二、电影制片单位
电影制片单位在复工前应制定疫情防控方案和疫情应急预案,固定办公地点按照属地规定和要求具备条件可复工;
工作人员进入办公区必须进行体温检测,体温37.3度以上者不得进入,进入办公区人员必须全时佩戴口罩,工作期间所有人员须保持1米以上距离;
剧组室外或室内拍摄人员50人以下(包括演员、工作人员,下同),可在本市复工拍摄。剧组人员体温不能高于37.3度,除演员表演时可不戴口罩外,剧组其它人员和演员表演以外时间须佩戴口罩;
剧组聚集人数超过50人以上的,在疫情结束前原则上不得在本市开工开拍,具体开工开拍的时间由市、区行业主管部门另行公布。特殊影片开工开拍需向拍摄现场所在地的区主管部门提出申请,明确时间、地点、人数、采取的防范措施等,经批准后方可开工开拍;
办公场所及拍摄地和人员接触较多的设施、设备应做科学消毒工作,办公场所和拍摄地应配备洗手液或相关消毒物品;
办公区和拍摄场地严格控制无关人员进入,并建立人员登记制度;
外地返回员工,必须完成隔离医学观察14天且无异常后方可上岗。在疫情结束前,来自(或途经)疫区的演职人员暂时不得参加剧组工作;
发现人员出现发烧或身体异常等情况,应立即对相关人员进行隔离,并及时就医;
剧组赴北京以外地区拍摄,应执行当地有关规定和要求。