后期制作商业公司Oriental Post(OP)计划于今年4月8日关闭上海工作室。
企业刚刚经历了重组,于上个月宣布OP曼谷总部将和英国后期制作公司幻影镜界(Smoke & Mirrors)合力打造一家合资公司,与此同时,上海OP分支即将关闭。曼谷工作室的运作将放在幻影镜界名下。
Commercial postproduction company Oriental Post (OP) will close its Shanghai branch on April 8th.
The move comes amid a reorganisation of the company which last month announced a joint venture between their Bangkok headquarters and UK postproduction company Smoke & Mirrors.  The Bangkok studio will operate under the Smoke & Mirrors name.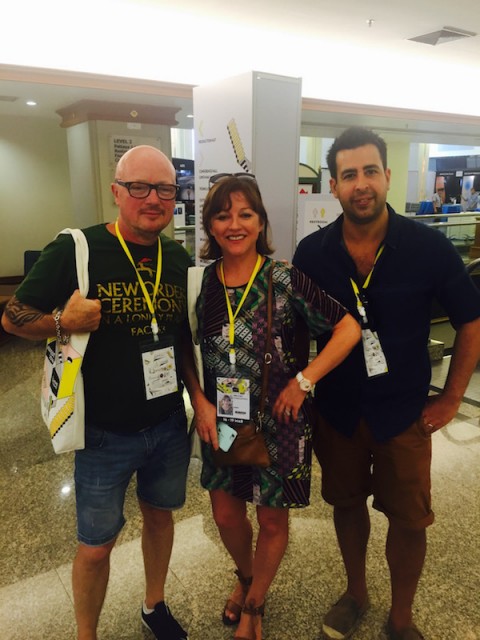 从左至右:Stephen Douglas,OP亚洲总经理;Emma Daines,集团董事经理兼Fin Design+Effects;Steven Marolho,MPC上海总经理
L to R: Stephen Douglas, GM of OP Asia; Emma Daines, group managing director and executive producer of Fin Design +effects; Steven Marolho, General Manager, MPC Shanghai 
2016亚太广告节期间,幻影镜界业务拓展总监John Galvin接受了SHP+的采访,向我们解释了关闭上海工作室的个中缘由:"OP需要重新审视自身所面临的机遇。暂时要把业务集中在泰国,与幻影镜界的强强联手是现在的核心业务。我们会从英国找一些优秀的人力资源来泰国,之后再重新评估中国的情况。"
继2009年幻影镜界上海工作室开幕以来,本次回归泰国也是幻影镜界第二次进军亚洲市场。经过两年的尝试,由于始终无法适应中国市场所面临的独特挑战该工作室不得不停止其创意提供服务并大幅度进行裁员 。
Smoke & Mirrors Business Development Director, John Galvin, speaking to SHP+ at Adfest 2016, explained the Shanghai closure, "Oriental Post is revising its opportunities. This includes focusing on Thailand and the new fusion with Smoke & Mirrors as the core business.  First we'll bring better human resources from the UK to Thailand, then we'll reassess China."
Smoke & Mirrors' return marks their second foray into Asia, having themselves established a studio in Shanghai in 2009.  That branch ceased offering creative services and downsized significantly after two years, having struggled to adapt to the unique challenges of operating in the China market. 
作为泰国娱乐公司Kantana Group的子公司,OP上海工作室于2014年年末开启,他们直接接替了后期制作公司Give Me 5的设备 — 包括剪辑、调色、网上制作套件等。成立之初的一年,OP上海与麦肯世界集团、TBWA、PIG、观池、MIC等公司合作,制作了包括必胜客、肯德基在内的一些广告项目。
关闭上海分支的决定让OP上海的十五人团队非常震惊,上海总经理Stephen Douglas更是如此。Douglas是2016亚太广告界的发言人之一,SHP+和他进行了交谈,我们明显感到了他对此非常难过,"我非常难过。中国的市场很重要,我满怀着种种希望。因为我们已经逐渐打入了中国市场。"
Oriental Post, a subsidiary of Thai entertainment company Kantana Group, opened their Shanghai studio in late 2014, taking over the facility of posthouse Give Me 5, with editing, grading and online suites.  In their first year the company had worked with the likes of McCann, TBWA, PIG, Gwantsi and MIC on commercial projects for clients including Pizza Hut and KFC.
The decision to close came as a shock to the fifteen-person Shanghai team, including general manager Stephen Douglas.  Speaking at Adfest 2016, a visibly upset Douglas told SHP+, "I feel very sad.  It's an important market and I had a lot of hopes for it.   We were making inroads"
Douglas于2015年9月加入OP,而在此之前的一年,他为澳大利亚后期制作公司Fin Design + Effects的搭建了上海工作室。上海OP关闭之后,他仍将继续担任OP雅加达的总经理——这也是唯一得以保留的OP分支。
Douglas joined OP in September 2015, having been instrumental in setting up the Shanghai facility of Australian postproduction company Fin Design + Effects the previous year.  He will continue in his previous role as general manager of Oriental Post Jakarta, the only remaining OP branch.
OP上海在最初的一年取得了一些业绩上的成功,但是中国广告业普遍存在的付款拖延现象,也让OP上海陷入了现金流危机。
OP上海的关闭对中国的商业后期制作产业无疑是一次打击。中国市场的大公司一致认为,高端后期制作公司的存在可以提升中国后期制作的整体质量,这样也会吸引更多的客户,愿意把他们的业务放在本地完成,同时也会吸引更多的顶级人才加入中国市场。
Though the Shanghai studio has enjoyed some successes in its first year, it seems they have fallen victim to the cash flow problems caused by delayed payments that are endemic in the Chinese advertising industry.
The closure is a blow to China's commercial postproduction industry. The market's biggest players agree that the presence of high-end houses raises the quality of the postproduction landscape as a whole, which only attracts more clients to have work executed locally and draws more top talent into the ecosystem.