If you still can't help but smirk at the idea that professional gamers are considered athletes, maybe the newest Nike advert will change your mind. Loaded with visual effects, the 90 seconds commercial film calls attention to esports and a statement on how a greater ambition depends on a stronger body.
职业电竞选手也是运动员,如果你对这句话还是忍俊不禁的话,耐克最新的广告或许能让你对此刮目相看。这部特效出彩,只有90秒的商业影片将镜头对准了电竞,告诉我们强劲的体魄,才能撑得起自己的野心。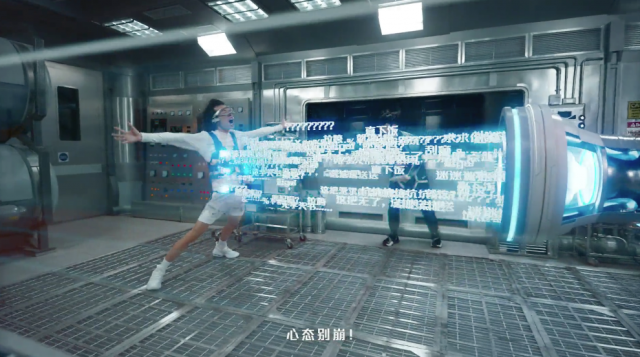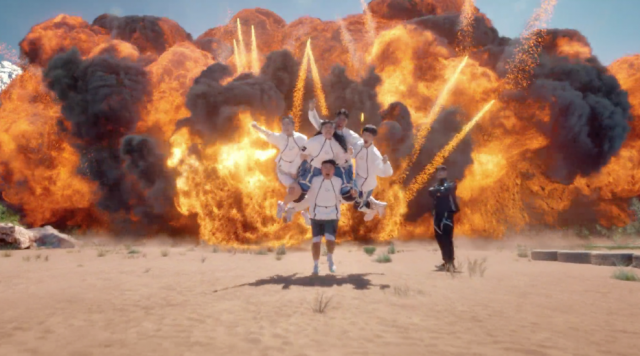 Set in a training camp, the commercial shows e-gamers going through rigorous training scenarios to help them improve their health and vitality. That core idea was in the initial brief of the W+K Shanghai which took 5 days to shoot while being masterfully produced by the Loft. Loaded with special effects, the shoot required  MPC's two vsfx supervisors on set, with a third supervisor joining for the shooting of vfx-loaded scenes. Everything outdoors in this commercial is CG and matte painting, the text laser is CG of course, while the indoor sets are all in-camera just with minor vfx set extensions. The art department did an amazing job building a fully functioning gigantic treadmill and all the other incredible set ups. The prop department also did a great job creating several perfectly functioning Rubik's cubes, then the CG took over from the slow-down moment in order to be able to polish the look and movement as it floated in space, and to help with the final cube "solve". With all the work load to be done, MPC admitted to have had to race against time with a little over 2 weeks from the edit lock, but they brilliantly managed.
这则广告以电竞终极训练营为背景,展示了电竞选手们通过严格的训练来帮助自己提高身心素质和活力。这一核心概念来自于W+K上海最初的项目简报,该片的拍摄花了5天,并由Loft精心制作完成。由于使用了大量的视觉特效,这部广告大片需要MPC的两名特效监制在片场指导,在部分涉及大量视觉特效的场景,还又增加了第三名特效监制。广告中的所有户外场景都由CG和数字绘景完成,文字激光很明显是使用了CG,而室内场景都是机内处理,只有少量的视觉特效设置扩展。而美术部则出色地建造了一个功能完备的巨型跑步机和所有其他令人难以置信的设置。道具部门也毫不逊色,他们打造了那些功能完美的魔方,而魔方的慢镜头则由CG完成,以便能够将魔方漂浮时的外观和动态细节打磨得更精彩,也让魔方最后拼好的一幕更有戏剧性。工作量不少,时间却有限,MPC不得不跟时间赛跑,在初剪确认后的短短2周多的时间内,出色地完成了任务。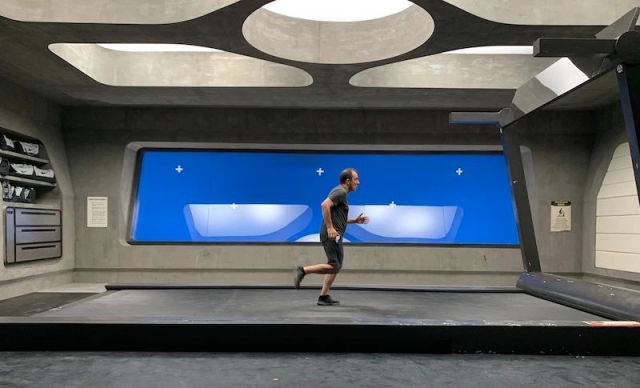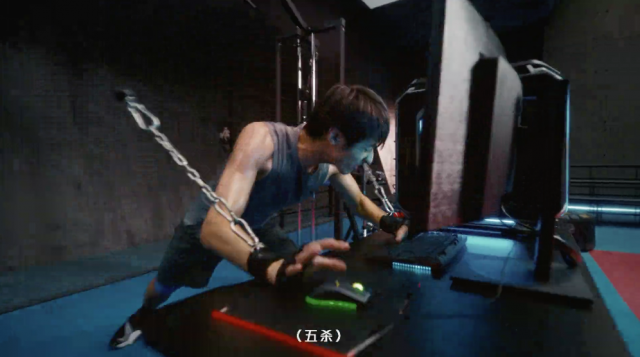 Enhanced with special effects and light, humorous situations, the commercial makes a compelling case for why Nike moved into the esports. Last year, the sports giant has signed a four-year deal with the League of Legends Pro League (LPL) in China. Esports is a fast-growing industry with huge audience, but Nike's deal seem to cover more than just apparel and footwear for the teams. Few months after the partnership announcement, Nike China released a documentary to raise awareness about injuries professional gamers are prone to. The documentary shows what training 10+ hours every day in front of the computer does to the player's body, advocating for the need of better physical training and rehabilitation plans that Nike provides.
精彩的特效,轻松有趣的剧情,这则广告充分地说明了耐克进军电子竞技的原因。去年,这家体育巨头与中国的英雄联盟职业联赛(LPL)签署了为期四年的协议。电子竞技是一个快速发展的行业,它拥有庞大的观众群,但耐克瞄准的似乎不只是运动服和鞋。在宣布合作的几个月后,耐克中国发布了一部纪录片,以提高人们对职业游戏玩家相关职业病的关注。这部纪录片揭示了每天在电脑前10个多小时的训练对电竞运动员身体的影响,呼吁业内需要更好的体育训练和康复计划,而这些正是耐克擅长的。
The ideas and message of "Unlocking a hero" stretches to this Nike commercial, featuring Jian "Uzi" Zihao, a renowned LPL player, who's now retired due to injury. First appearing as "LOL God" hologram pointing finger at new recruits just arriving to the center, Uzi later fiercely throws punches in the boxing ring. He's visually in a better physical form than at the time he appeared in the documentary. While Uzi's gaming career is over, Nike's commitment to esport athletes just started, and commercials like this help raise awareness placing gaming and sport together in the mainstream culture. For both the audience, and professional esport athletes.
而"释放英雄"的这一概念也延伸到了这次的广告片,曾经的LPL顶尖选手,现已因病退役的简自豪(Uzi)也有参演。影片一开始,他便以"LOL之神"的形象,全息投影的形式出现在新入营的选手面前,随后他还在拳击训练中有力地挥拳击出击。他看起来比之前纪录片中的样子状态好了很多。虽然简自豪Uzi的职业生涯已经结束,但耐克对电竞运动员的承诺才刚刚开始,此类广告能帮助主流大众更好地去理解电子游戏与竞技类运动的关系,并帮助观众和职业电竞选手更好地增强对这一特殊运动行业的意识。
---
CREDITS 制片团队
Agency: Wieden+Kennedy Shanghai
Executive Creative Director: Ian Toombs, Vivian Yong
Creative Director: Jeff Fang, Matt Meszaros
Copy Writer: Gem Xu
Art Director: Jing Qui, Josh King
Producer: Raymond Lau
Production Company: The Loft Films
Executive Producer: Geok Lem
Director: Adam Lau
DOP: Allen Lv
Prod design:Tang Zhen
Prop masters :Ah Guan / Asuza
Offline Editor: Song Yang
Colorist: MPC Shanghai-Nikola Stefanović
Mix:Ker Sound
Post sfx/vfx: MPC
Creative Director & VFX Supervisor: Barry Greaves
CG Supervisor: Paolo Gnoni
VFX Producer: Chris Li