近年来兴起的咖啡馆文化极大的推进了咖啡作为一种时尚、小资的生活方式在年轻人群中的传播。对于亚洲人群来说,咖啡馆文化意味着在各类社交媒体上无穷无尽的自拍——手握咖啡杯,沾满咖啡泡的嘴唇……
The rise of café culture in recent years has propelled the social status of coffee so much that it has become a lifestyle accessory associated with sophistication, style and even fashion. And it is even more prominent in Asia where social media is often flooded with endless selfies with their coffee cups and pouty lips.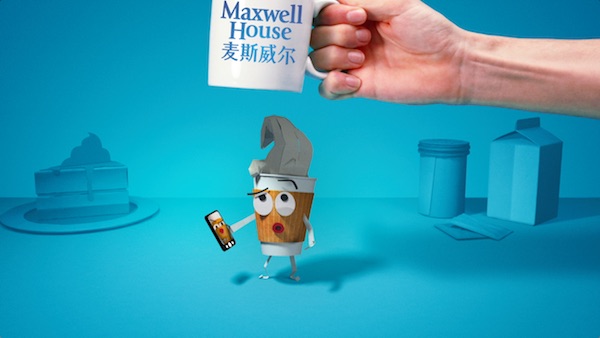 作为麦斯威尔在中国市场的首支宣传广告,该公司在W+K上海的协助下提出了"好咖啡其实很简单"这一大胆的口号,矛头直指咖啡馆自拍这一本末倒置的形式。
W+K上海与伦敦制作公司Shotopop合力为麦斯威尔打造了一支简洁却令人耳目一新的广告。他们用纸片与动画技术打造了两个反英雄的角色:拿铁先生与卡布奇诺小姐。这两个角色代表了如今的咖啡自拍文化,他们的一举一动都反应出了这种文化对于咖啡的本末倒置的态度。
Maxwell House is aiming to break with the perception that over-the-top fancy coffee is the only way to go. In collaboration with its creative partner W+K Shanghai, the brand made a bold move to show that "Good Coffee Can Actually Be Simple" with this very first major brand campaign in the Chinese market.
W+K Shanghai and London based production house Shotopop opted for a simple but fresh and unseen execution of the re-launch. With the help of animation and paper craft a "tangible" world was created. The world of the two protagonist characters and "Anti-Heroes" Mr. Latte and Mrs. Cappuccino. Both characters embody the current state of café culture by pulling off over-the-top mannerisms and attitudes.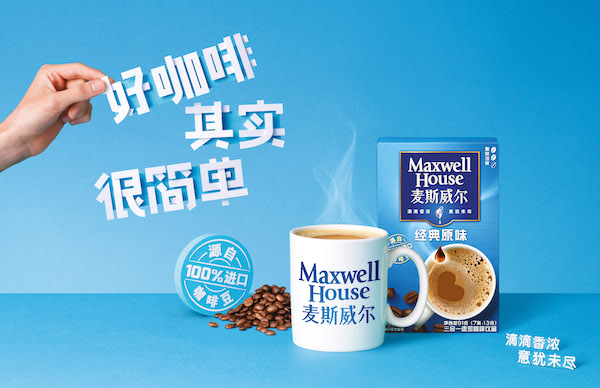 在这部广告片中,梳着猫王发型的自恋男子拿铁先生率先登场,在沉浸于自己的自恋世界时被一杯麦斯威尔的咖啡无情打脸。
麦斯威尔将自己打造成反对如今咖啡自拍的先锋,通过纸片动画这一轻松幽默的形式,大胆的指出了仅仅一杯好的速溶咖啡也可以达到同样在咖啡馆喝咖啡的效果。
第二支15秒广告将会于下周播出,主角将是麦斯威尔与W+K打造的另一个人物:卡布奇诺小姐。
In this commercial Mr. Latte, a rather bold, pretentious and self-obsessed character with Elvis-like hair, takes the lead while combing his foam with a whisk.
Maxwell House joins the stage as the fresh and honest voice by literally smashing the current coffee-microcosm with a cup of Maxwell House coffee. With this rather bold but light-hearted move Maxwell House wants to underline that it is okay to have a good cup of instant coffee once in a while. By making use of paper craft and animation the Maxwell House message could be delivered in a humoristic, cheeky and fun way.
The second 15sec commercial starring character Mrs. Cappuccino will be launched in the coming weeks.
制作人员名单:
客户:麦斯威尔咖啡
广告公司:WIEDEN+KENNEDY上海
执行创意总监:Yang Yeo
创意总监:Vivian Yong / Azsa West
文案:Max Pilwat / Marc Garreta / Aier Xu
美术指导: Max Pilwat / Marc Garreta / Sui Yao
设计师:Juni Hsu / Wendy Yu
产品整合总监:Angie Wong
广告公司剪辑师:Hiro Ikematsu
制片公司:Amanacliq亚洲
执行制片人:Jaslyn Loh
制片人:Edie Zhang / Alvin Tan
动画制作公司:Shotopop Animation
导演:Richard Payne
设计总监:Carin Standford
制片人:Casper Franken
角色设计Michael Crozier
3D动画制作: Beata Ujj
3D建模:Craig Minchington
人物设定:Rafael Jiménez
平明动画设计师:Dipankar Sengupta
合成:Richard Payne
Credits: 
Client Name: Maxwell House
AGENCY: WIEDEN+KENNEDY SHANGHAI
Executive Creative Directors: Yang Yeo
Creative Director: Vivian Yong / Azsa West
Copywriters: Max Pilwat / Marc Garreta / Aier Xu
Art Director: Max Pilwat / Marc Garreta / Sui Yao
Designer: Juni Hsu / Wendy Yu
Director of Integrated Production: Angie Wong
Agency Editor: Hiro Ikematsu
PRODUCTION COMPANY: Amanacliq Asia
Executive Producer: Jaslyn Loh
Producer: Edie Zhang / Alvin Tan
ANIMATION STUDIO: Shotopop Animation
Director: Richard Payne
Design Director: Carin Standford
Producer: Casper Franken
Character Designer: Michael Crozier
3D Animator: Beata Ujj
3D Modelling: Craig Minchington
Character Rigging: Rafael Jiménez
2D Animator: Dipankar Sengupta
Compositing: Richard Payne