Following the impressive "All Originals Represent" campaign in 2012, Adidas Originals was back this September with an even bigger, bolder one.
The campaign, which features the hashtag #thisisme, is a statement of self-expression, individualism and originality. Colourful, vibrant, short and sweet, the TV spot follows recent trends in commercial filmmaking in China, and has a raw, documentary-like feel. The talents are natural, expressive and full of confidence.
SHP+ wanted to find out more about the casting and production behind this unique spot from ad agency TBWA Shanghai, so we reached out to Creative Director Kate McMullen for an exclusive.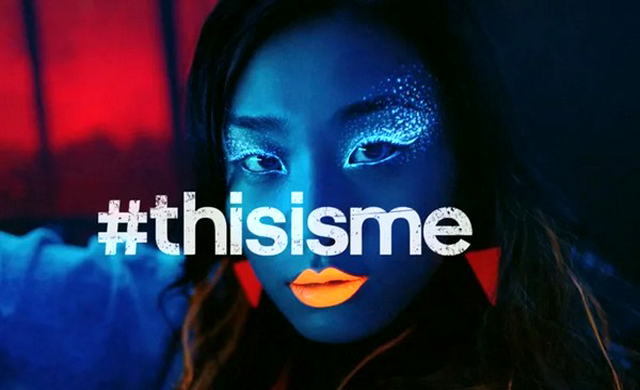 As Kate explained, "The casting brief was simple. We wanted true originals with big personality and unique style. No acting. So the people we chose genuinely suit the lines they deliver." Turns out the guy on the bike is a cycling fanatic, and the guy surrounded by Adidas shoes is a real Adidas collector. Those are even his own shoes.
Although the spot also features two celebrities, actress Fan Bing Bing and Hong Kong singer Eason Chan, the two famous faces are not the focus of the message. Kate explained: "We didn't want this to be a celebrity spot. You don't have to be a celebrity to be original. So it was important to keep the balance right."
Funnily enough, when we asked Kate what the main challenge of this shoot was, she said, "Our biggest challenge was doing as little as possible. In a big production like this the tendency is to go all out on things like lighting, set design and styling. We set out to make a documentary-style film with an Adidas Originals touch, so we really tried to keep things natural. We used existing lighting, real locations and the talents' own style as much as possible."
The spot was shot in Shanghai, Guangzhou and Hengdian World Studio over four days, with an extensive location scout by Production House SixToes, to find all the best nooks and crannies around town.
Dutch Director Paul Geusebroek was an obvious choice for the spot, having worked with Adidas in the past. As Kate explained, "Paul's work is edgy and colourful, and this was exactly what we were looking for. He understands the brand very well and had a hundred ideas to take the script to the next level – crazy things like the butcher's shop with the pork on hooks. He also has endless energy, which I think really comes across in the spot."
So kidult, stay real to stay a chance be the next new face for Adidas.
Ad Name: adidas Originals # This is me #
Advertising company: TBWA \ Shanghai
Client: Adidas China
Executive Creative Director: Colin Lee
Creative Director: Kate McMullen
Agency Art Director: Kenny Huang
Copywriter: Sam San
Producer: Ays Tan
Director: Paul Geusebroek
Production Company: SixToes
Producer: Haydn Evans, Tony Tang, Sariyanti Sannie
Art Director: Ming Ming (Malaysia)

Post Production: Technicolor Shanghai
阿迪达斯2012年 "All Originals Represent"的广告战役至今仍然让人印象深刻,特别重磅请来了Nicki Minaj和大肖恩等很跩的明星参演其广告片。今年九月,阿迪达斯再次回归,推出了一轮更大型和更前卫大胆的广告活动。
活动以以话题性的符号概括了"#这就是我"(#thisisme)的主题。再次打出旗帜鲜明的"个人主义和张扬性格"旗帜。战役的重头戏是色彩缤纷的和充满活力的广告睡。有别于大部分打磨精细的广告,这条片子采用了时下很流行的"纪录片"式的拍摄手法,处处透露出未经打磨的"真实",里面每一个角色近乎彪悍的演出给广告片还了很强的质感。
无疑这次的选角让广告的成功变得事半功倍。为了了解更多有关选角与幕后的故事,SHP+特地向阿迪达斯在中国的创意广告公司TBWA打听了内幕,广告的创意总监Kate McMullen与我们分享了一些有趣的过程。
"当初选解的要求实在很简单:我们需要很有个性和风格的年青人。他们根本不需要演,只需要在镜头前做自己。我们预先定出几个类型,只需要顺着标签去找人就好了。"Kate解释:"所以你在片中看到骑自行车人本身就是一个骑行狂热迷,那个被阿迪达斯运动鞋包围的家伙在生活中就是一个真正的阿迪达斯收藏家。那些鞋子都是他自己宝贝。"
虽然本片沿袭了以往惯例,融进了阿迪达斯两个明星代言脸孔:影星范冰冰和香港歌手陈奕迅,但这张最著名的面孔这次却没有成为片中的焦点。凯特说:"我们不希望看到它(广告片)成为明星代言的广告。你不需要成为一个名人才代表原创。所以重要的是保持(出镜率)适当的平衡。"
有趣的是,当我们问凯特这次拍摄最主要挑战是什么时,她竟然认为最大的挑战是"尽量做得少一点"。在一般在大制作里,一般的做法是会倾尽全力在灯光,布景设计和造型等方面多准备一些。"但这次的拍摄目标是沿用阿迪达斯Originals片里的电影纪录手法,所以我们必须倾力去尽量利用好自然光、实景和演员自己的风格。"
片子是在上海、广州和横店影城共用了四天时间拍摄成的。制作公司SixToes为了找到有真实感的地点,几乎找遍了每个拍摄城市的小巷和角落。
在挑选导演上,荷兰导演保罗Geusebroek是不二之选,除了因为他与阿迪达斯有过合作经验,正如Kate评价的说:"保罗的作品以前卫和多姿多彩而著称,这正是我们看着的特点。而且他对阿迪达斯的品牌非常了解,每次都有一吨古灵精怪的想法, 比如特写猪肉店里的挂在铁钩上的肉块等,把剧本完全提升到另一个层面。他无穷的精力完全渗透进片子的每一个细节里。"
所以,童鞋们,想在阿迪的片子里辄上个角,保持你强大的个性是必须的。