In BBDO's high-rise office towering over Shanghai's Xujiahui District, the agency celebrated the opening of Flare, an in-house video content creation and production branch-off.  Flare, which first launched out of BBDO's London office in 2013, is now in 16 cities and 10 countries.  According to the official press release Flare's task is "to take BBDO successfully into the video content arena; to efficiently deliver BBDO brands' need for constant video content".
坐落在上海徐家汇的BBDO大楼,最近迎来了Flare上海分公司的成立,这是一家视频内容和制作公司。Flare最早成立于2013年,首间办公室坐落于英国伦敦,现如今已经遍布全球10个国家16座城市。据新闻稿公布,Flare的任务是"让BBDO成功进军视频内容创作领域,从而高效地满足BBDO服务的各大品牌的视频内容需求"。
The growth of in-house agency video content creation and production in China follows a global trend, where agencies and brands alike are trying to keep up with consumers' insatiable demand for video content.  While traditional production companies may view this development as a threat to business as usual, current China BBDO CEO Tan The Kiat made clear the creation and formalization of in-house production is more about agencies and brands trying to keep up with the high demand for video content rather than stealing outside production companies work.  
在中国,广告公司设立自己的视频内容和制作公司,可谓是紧随着国际浪潮,这样才能满足客户对于视频内容的巨大需求。传统制作公司可能觉得因此收到了威胁,但其实广告公司的目的并不是要和他们抢饭碗,而是为了满足视频内容创作的高需求,因而才专门设立内部制作公司。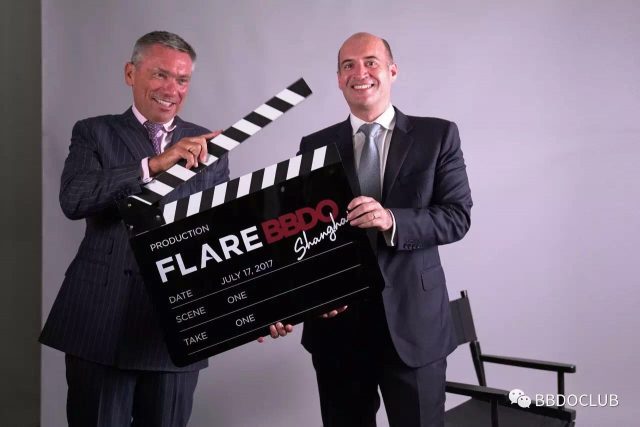 Global Director and CEO Andrew Robertson (L) and BBDO Asia Pacific Chairman and CEO Jean-Paul Burge at Flare's Shanghai opening party | 全球总裁兼CEO Andrew Robertson先生(左)与BBDO亚太区主席兼CEO Jean-Paul Burge先生到场为Flare 揭幕
Last year a report done by Google found that the top global brands upload a video every 18.5 minutes (Campaign Live).  This means not every video produced is a top-grade, million dollar budget TVC.  The need for viral-video type production, rapid turn over, and lower budget video content is in demand.  Creating an 'in-agency' production house only makes sense for big agencies like BBDO to meet these needs of the client.
谷歌去年的一份报告显示,全球各大品牌每18.5分钟就会上传一支视频(Campaign Live)。这样的速度也就意味着并不是所有的视频都是花了数百万美元制作的顶瓜瓜的电视广告。能够快速回本又能广泛传播的低预算视频,需求量是巨大的。所以说,像BBDO这样的大型广告公司成立自己的制作公司可谓是满足客户需求的一条出路。
The expansion of a BBDO production branch-off like Flare is also a way for bigger agencies to stay relevant and compete with smaller and often more nimble digital agencies, which are similarly proliferating to fill this niche need for constant and fresh video content.
如BBDO延伸出Flare制作公司分支,大型代理商才能够跟得上潮流,才能够跟那些小而灵活的制作公司有一拼,细分市场往往需要一些新鲜的视频内容,这也是小公司的优势。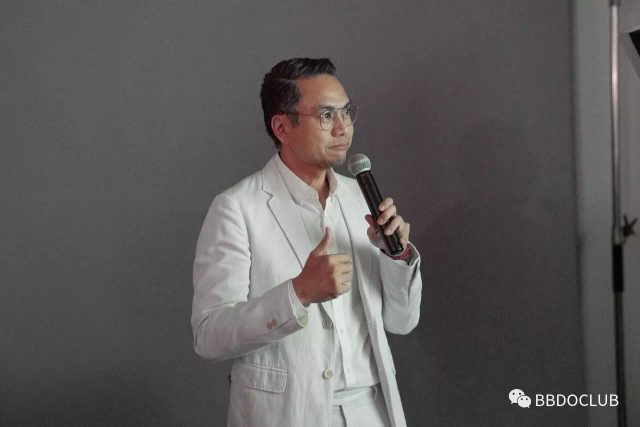 BBDO Shanghai Head of Flare Yeweng Wong | BBDO上海负责人 Yeweng Wong
Flare's current staff of seven are mostly replants from BBDO's Shanghai creative and production team, other than the appointed head of Flare's Shanghai office Yeweng Wong and another new hire.  Wong is Malaysian born and raised, with over twenty years experience working at 4A agencies in New York and most recently held the position as Design Director at Vogue studios in New York.  Flare's initial purpose is to better serve the video content needs of BBDO's existing clients but it will also seek out clients independently, and has already started talking with Neutrogena which is not a BBDO client, Greater China Corporate Communications Manager Poi Yu confirmed.
跟真正意义上的初创制作公司和数字广告公司不同,Flare可以利用BBDO的现有客户,直接就能够得着那些声名显赫的客户,黄耀荣表示,这并不是说Flare就不去挖掘自己的客户。但是Flare的首要任务还是满足BBDO现有客户的视频内容需求。黄耀荣被任命为Flare上海分公司负责人,除了另一名新加入成员,其他五个人都是BBDO上海创意与制作团队调日。他生于马来西亚,并且在马来西亚长大,他在纽约4A广告公司有着20多年的经验,此前曾担任纽约Vogue工作室设计总监。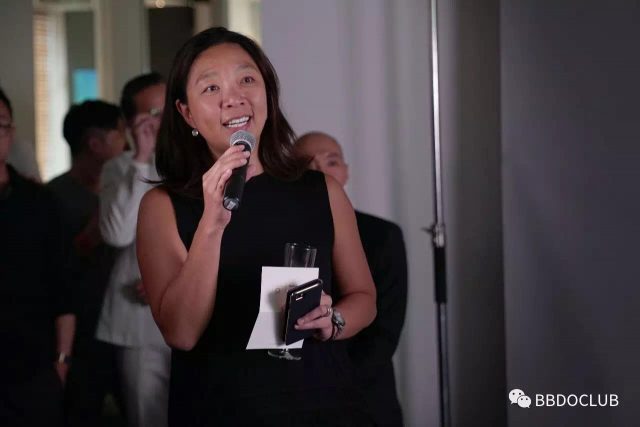 BBDO Greater China CEO Tze Kiat Tan | 洁(BBDO大中华区CEO)
BBDO Greater China CEO Tze Kiat Tan expressed that "Flare will not replace the relationships and work that BBDO does with outside production companies and directors", rather she says "Flare is here to assist and make BBDO's video content creation better and more adaptable to its clients' needs".
BBDO大中华区CEO 陈子洁表示,"Flare不会替代我们跟外部制作公司和导演的合作",相反,"Flare要辅助BBDO的视频内容创作,更好的适应客户的需求"。
In an ever-cluttered and competitive video content market, the Flare team is trying to stay ahead of the game by positioning itself inside the safety net of a global agency while pushing and exploring  the boundaries as an independent video content and production company.   Flare's Shanghai party was brief but the room was filled with youthful, positive energy, a good sign for any start-up trying to win the hearts and minds of Chinese consumers.
视频内容创作市场竞争日趋激烈,鱼龙混杂,Flare团队一方面有着得天独厚的机会,处在BBDO的庇佑之下,一方面又不断独立探索开发视频内容和制作,这样才能处在最前沿。Flare上海开幕式虽然简短,但是却充满生机,满满的正能量, 作为一家初创公司,要想在中国赢得人心,这也是必不可少的。