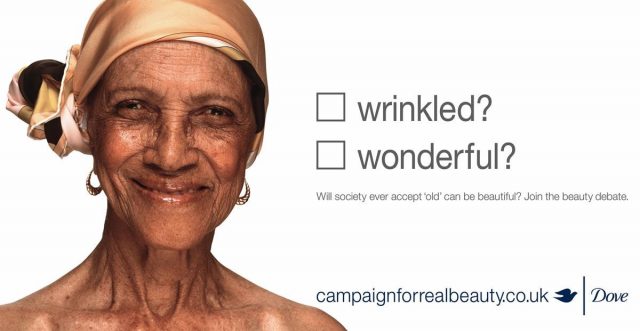 In 2006 Dove ran a series of posters in their campaign for real beauty, one of which put «wrinkled?» «wonderful?» question boxes next to a photo of a smiling older woman. «Will society ever accept that 'old' can be beautiful?»— read the caption, aiming to spark a beauty debate.
多芬在2006年发布了一系列宣传真实美的活动海报,有一张是把写着《皱纹?》和《美好人生?》的问题框放在一张微笑的年长女性的照片旁边。《社会将会接受"老"可以美丽的观点吗?》—配上这样的文字说明,旨在激起一场关于美的讨论。
Fourteen years later, and consumers' responses to the recent L'Oreal ad «Wrinkle, Women, Wonderful?» illustrates the disheartening state of that beauty debate in China.
十四年之后,消费者对于最近欧莱雅的广告《皱纹、女人,美好的人生?》的反应,表明在中国的这场关于美的讨论令人沮丧。
GQ Lab's commercial for L'Oreal is a 4 episode sci-fi/mystery mini film, depicting a dystopian world in which the powerful WWW corporation pushes a single beauty standard – the so-called Dollface. To achieve Dollface, women undergo procedures to add wrinkles, but a scientist played by actor Zhu Yi Long, switches the meds with L'oreal's anti-wrinkle product, wreaking havoc on the experiments.
GQ实验室为欧莱雅拍摄的广告片是科幻/悬疑迷你四集电影,描绘了在一个反乌托邦世界里,实力强大的WWW公司宣扬单一的审美标准—即所谓的木偶脸。为了有一个木偶脸,女性们去做手术增加皱纹,但是由一名科学家(演员朱一龙饰演)将药品调包成欧莱雅抗皱产品,造成增皱手术的失败。
The mini-series delivers dramatic effect through stories of four characters: a woman kidnapped to the clinic by her mother, who worries her daughter won't find a husband without a beautiful face; an underground agent helping the anti-aging scientist; a woman who's been passed over for a promotion because of her looks instead of her skills, and the scientist Zhu Yi Long.
这个迷你剧通过四个角色营造了戏剧化的效果:一个女人被母亲绑架到诊所,母亲担心女儿没有漂亮的脸蛋找不到丈夫;一个为帮助抗衰老方面的科学家而潜伏的卧底;一个因为外貌而不是能力错过了晋升的女人,和科学家朱一龙。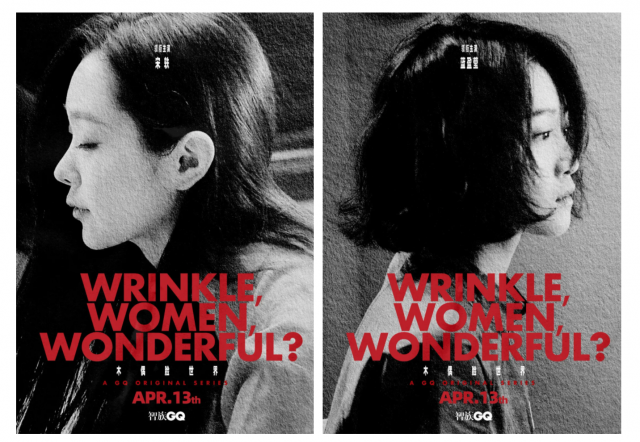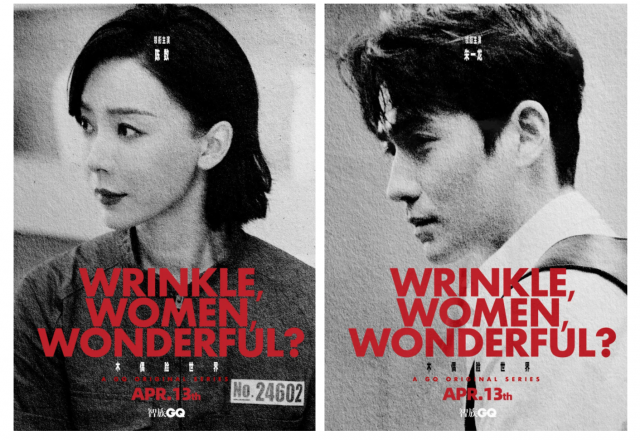 According to GQ Lab's WeChat article, «although the whole story takes place in a fictional world, it reflects reality. WWW corporation is like our social environment: it's a world where beauty and huge profits are tied together». In this world, beauty companies are actually realizing a «destruction plan, copying the same beauty template that finally obliterates [real] beauty». If this was the initial concept of the film, something went wrong during execution. Even though the ad pushes the idea of a singular beauty standard being harmful, the whole setup seems plain offensive. Much of the audience, however, begs to differ.
GQ实验室的微信推文里这么写到:
"尽管整个故事在虚幻世界发生,但它照映了现实。WWW公司就像我们的社交环境:美丽和暴利是绑在一起的。"在这个世界里,美容产品公司都在筹划实现一个"破坏性计划,复制同一个模板消灭【真正的】美丽"。如果这是这部影片的最初概念,那问题就出在执行阶段。即使广告没有大力宣传单一审美标准会有害,整个剧情设置似乎完全违背了这个概念。然而,很多观众却不以为然。
On L'Oreal's official Weibo page, the series cumulatively generated over 4.5 million views, and sifting through 37K comments, you won't see any signs of an outcry about harmful beauty stereotypes.
在欧莱雅官方微博上,这部剧累计有超过450万观看量,如果你仔细阅读3.7万条评论,你不会看到对不良审美刻板印象的强烈不满。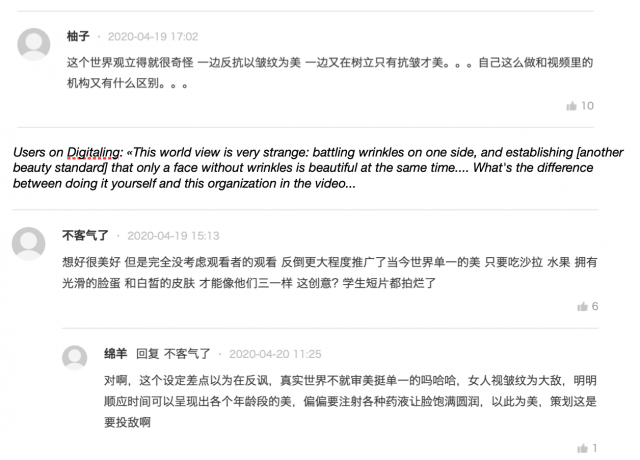 Aside from a handful of critical articles and a few comments on about how the film is «a waste of actor's talent» and «way too long for today's impatient audience», netizen response is overall enthusiastic.
除了少数批评性文章,及广告行业网站上对于这部影片如何"浪费了演员的才华"和"对于今天没耐心的观众来说时间太长"的评论,总的来说网民的回应是热情的。
Audiences were charmed with Zhu Yi Long, and excitedly waited to see how the story would unfold, as the film was released in four installments. There wasn't a wave of objections against the layered message, that women with wrinkles are not beautiful. Nor was there an avalanche of remarks that the whole dystopian world is even scarier than reality.
观众被朱一龙的魅力吸引,因为影片有四集,他们激动地等着看故事是如何发展。没有反对"有皱纹的女人就不美了"这条多种含义的信息的声浪。也没有大批的"整个反乌托邦世界甚至比现实还恐怖"的声音。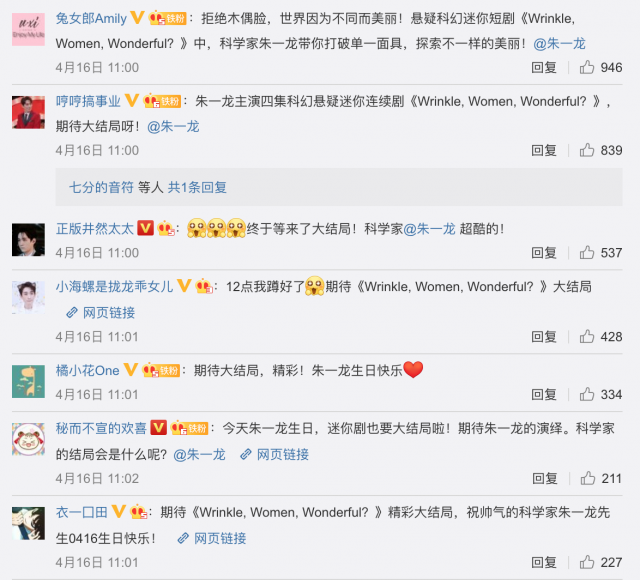 True, in many cases beauty brands attempting to do social good by expanding definitions of beauty standard are often perceived as an illusion of honesty. It's hard to shake off the fact that ultimately their goal is to get women to spend more money on products they don't necessarily need.
确实,在很多时候,美妆品牌想通过延伸审美标准的定义来做社会公益,这经常会被视作一种诚实的假象。(因为)很难去摆脱一个事实,即他们最终目的是让女性花更多的钱购买她们并不需要的产品。
But maybe things really are changing. A deep diving study from media agency Wavemaker predicts that by 2030, outdated 'ideals' will be much less appealing for Chinese women. More personal, diverse and holistic beauty will be "a total result of a face that is tailored to express one's individuality, health, fitness as well as balance of mind."
但或许事情真的在变。媒介代理商蔚迈(Wavemaker)的一份深度研究预测,在2030年之前,中国女性将会对过时的"标准"大大地失去兴趣。更个性化、更多样化、更全面的美将会是"为了表达个性、健康、健美和心智平衡而定制的一张脸的整体结果。"
The data brings hope that in the next decade, women will become more comfortable embracing their age, and the brands that will resonate with this increasing consumer force will be those that help individuals champion their uniqueness .
研究数据给人们带来了希望:下一个十年,女性越来越乐于接受自己的年龄,会和越来越多的消费者产生共鸣的品牌,将会帮助每个人捍卫自己的独特性,而不是咄咄逼人地推动一个专门的美妆议题。