WOULD YOU LIKE TO PRESENT AT ADFEST 2016?
**ADFEST is now accepting session proposals – submissions close 31st December**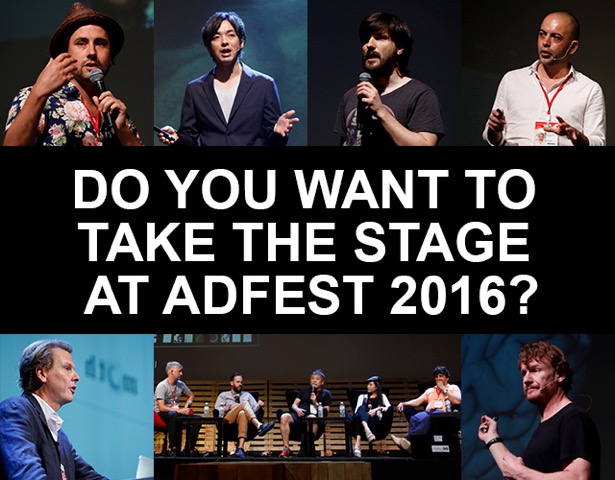 BANGKOK: ADFEST is now inviting creative and innovation experts from across the globe to submit session proposals for consideration to present at ADFEST 2016. The deadline for submissions is 31st December.
"If you are a professional with expertise in advertising, interactive, production, design and communications, we'd love to hear from you," says Kem Suraphongchai, Festival Director at ADFEST.
"The theme of next year's festival is 'Creative Intelligence', so we are particularly keen to hear session ideas that will enable creative professionals to sharpen their creative intellect so that they leave ADFEST 2016 feeling better equipped to think outside the square and deliver smarter solutions."
"As always, we'd like to examine future trends such as artificial intelligence, virtual reality and new digital platforms. And for the first time, ADFEST will be divided into two streams: Craft@ADFEST, which will nurture the talents of production, digital, and technology creators; and Creative@ADFEST, which will delve into the latest trends impacting agencies and brands."
ADFEST 2016 will take place on Wednesday 16th – Saturday 19th March in Pattaya, Thailand. This year, the festival consists of a four-day program featuring 40-minute Speaker Sessions, workshops, networking events, screenings and more.
With the theme 'Creative Intelligence', Speaker Sessions at ADFEST 2016 will be focused on helping creative professionals adapt to a world that is constantly changing through technological innovation.
Sessions are limited so don't miss the chance to pitch your ideas and take centre stage at ADFEST 2016. Founded in 1998, ADFEST attracts an audience of more than 1,000 creative professionals every year, and is the ideal place for creative experts working in the Asia Pacific and Middle East to gather, network and exchange ideas.
To submit your proposal, simply download and fill out the Session Proposal form here and email it to Sessions@ADFEST.com before 31st December 2015. ADFEST will confirm all successful submissions no later than the end of January 2016.
our postings of the previous ADFEST event:
DAY ONE:   http://shpplus.com/news/adfest-day-one-the-opening-party/
DAY TWO:   http://shpplus.com/news/adfest-day-2-the-first-round-of-winners/
DAY THREE:   http://shpplus.com/news/adfest-day-3-awards-special-awards-final-party/
EXCLUSIVE INTERVIEW WITH THE GRAND JURY PRESIDENT  REI INAMOTO, CCO WORLDWIDE AKQA:
http://shpplus.com/insight/rei-inamoto-akqas-worldwide-chief-creative-officer-adfest-grand-jury-president/