Gillette came to BBDO China with a major challenge: men were no longer able to see past the inconvenience of wet shaving – the preparation, razor shave, washing and aftercare – driving 18.3 million men every year to switch to more convenient dry shavers. For Gillette, this meant US$647.2 million in lost earnings from 2006-2012.
BBDO's response was the 'Shave Sexy' campaign. Motivated by the insight that women in China find wet shaving arousing to watch, the agency created a social experiment with the launch of two unbranded online videos featuring famous Beijing-born actress Gao Yuanyuan. In the videos, a half naked Gao acts extremely flirty with her implied boyfriend in what appear to be home videos, shot from the man's point of view.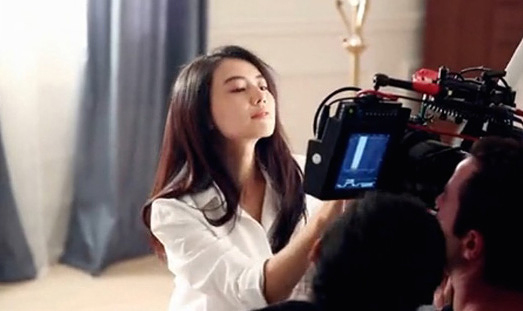 Gao is flirtatiously interacting with the camera
Both films were directed by Italian Marco Gentile. "I was holding a 5d camera and I was asking Gao to flirt with it, to be relaxed and joyful like it was a game she was playing at home," Gentile says. "She was very sexy and spontaneous in front of the camera," he says. "She is a very good actress, entering the role immediately, and she looks great on camera."
Doing such suggestive work in China could be a risky strategy for an actress like Gao Yuanyuan who until now has vigorously preserved her image as an innocent girl. When she first saw the footage, Gao was concerned about how the spots would be perceived and talked about toning down their sexiness, before finally giving her consent.
"I told her to be sexy but also fresh and not overacting, because we wanted to give the image of a woman who is sexy but in a good way," Gentile says. The "Sexy Shave" campaign walked a fine line, seeming real enough to go viral, reaching 230 million viewers, without crossing lines that might incite outrage or sex-negative scolding. It helped the brand reverse the growth of the shift towards dry shavers for the first time in four years, and allowed Gillette to record its highest ever month of sales.
"Wetshave Scandal" Teaser Film
The Gillette Commercial
CREDITS
Title: Scandal Shave
Director: Marco Gentile
Talent: Gao Yuanyuan
Agency: BBDO and Proximity China
Client: P&G China Brand: Gillette
Media Agency: Mediacom Shanghai,
China Pr Agency : @Pr Shanghai, China
Production Company: Key Point Production