5月23日,彩虹糖与DDB中国联手为该品牌推出了一次名为"再也不能正常吃糖了"的品牌营销活动。随着井柏然的加盟,这次活动立刻在中国引起了关注。在微博上,#再也不能正常吃糖了#的微博话题总共吸引了近2000万的关注度与8万余次的讨论。
On May 23rd, With DDB China's help, Skittles launched an interactive campaign in China. Titled #Can't Eat Skittles in a Normal Way Anymore# and starring  Chinese celebrity Jing Boran, the campaign went viral quickly, receiving over 20 million views on Weibo and over 80 thousand discussions under the topic.
这次活动由DDB中国打造的一条15秒短片开始。井柏然在片中号召粉丝们上传自己或者独特或者奇葩的吃彩虹糖的办法。在第一条短片播出后的第十天,DDB中国与彩虹糖又接着在微博上放出了第二条1分钟的短片。他们将这10天来粉丝所上传的彩虹糖新吃法进行了剪辑和加工,以此来像观众们展示这些独特的创意。
It all started with a 15 second video produced by DDB China, in which Jing encourages consumers to film or photograph their unique or bizzarre way of eating skittles. 10 days after the release of the 15 second video, DDB and Skittles released a second 1 minute-long-remix video using the footage submitted by the consumers to showcase the special ways of eating Skittles.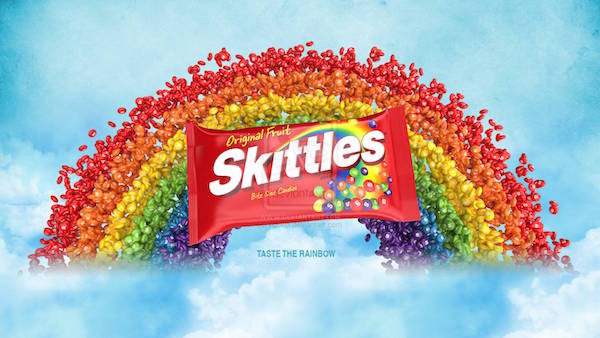 彩虹糖广告一直因其幽默略带无厘头的广告方式而受到西方观众喜爱。其"玩味无限彩虹糖"广告系列也因此成为广告史上播出时间最久的系列之一。但是对于中国市场来说,彩虹糖无论是在广告投播方面还是内容方面都无法与其在西方的流行程度相比。此次的"再也不能正常吃糖了"系列无疑标志着彩虹糖在中国市场上的一次与传统套路分离的大胆尝试。
SHP+为此采访了DDB中国的创意总监Shu Teoh,来了解更多有关此次营销活动的消息。
With its humorous and bizarre-style-storytelling, Skittles' campaign "Taste the Rainbow" has been one of the longest running campaign in advertising history, and was well received in the West. However in China the case was different. Not only was the number of ads incomparable to that in the West, the content was also missing the unique spice that made Skittles so popular in the West. This campaign, "Can't Eat Skittles in a Normal Way Anymore,' marks a change in Skittles' tactic in China and a departure from the traditional Skittles ads.
SHP+ sat down with DDB's creative director Shu Teoh to talk about this campaign.
SHP+:彩虹糖的广告一直都非常独特、略带诡异,但贯彻其中的总有一个在试图"讲故事"的套路。然而跟西方的彩虹糖比,中国的彩虹糖系列却在内容方面缺失了一点那种笑料。这次DDB将宣传重点转向了社交化与互动化的体验方式,这是为什么呢?
Shu:以前的彩虹糖广告通常都是由全球广告战略转变而来的,因此对于本土市场特点缺乏都到的洞察。那些场景和笑点虽然有普世化的特点,但仍然无法在中国引起像在美国那样的共鸣,也就相应的不能达到吸引消费者的目的。
因此我们决定改变战略来实现顾客的需求。由于现下大部分中国人都通过手机或者网络来与朋友沟通、了解品牌资讯,我们首先要做的就是提升我们在社交圈和网络的存在感。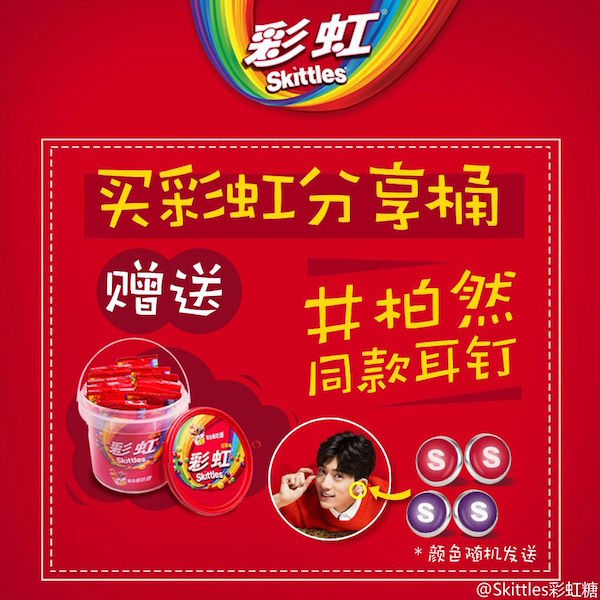 SHP+: The Skittles ads were usually creative and bizarre, often there was a story-telling approach in the ads. But compared to the Western Skittles ads, the Chinese ones seem to lack some spice. This time DDB had changed their strategy to a more socially-involved, interactive way. How did this change happened?
Shu: Previous Skittles ads were usually adapted from global work without any regard to local market insights. Certain scenarios and jokes, though fairly universal, just did not create the same local resonance that it did in America, and thus did not create the same brand love in China.
So we decided to change tactics to solve the client's business problem. It made sense to boost our social and online presence, given that most of China is on mobile and interacts with brands and friends online in an increasingly seamless way.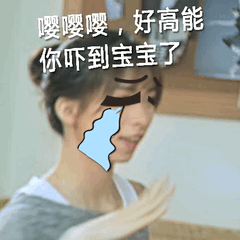 SHP+:你们是如何做到吸引消费者参与到互动中,来上传他们的彩虹糖吃法的呢?
Shu:简化整个概念——通过简化参与方式,趣味化参与体验来使的人们更愿意,也更容易参与到我们的互动中。整个活动没有任何复杂的理念或者要求,只需要我们的消费者有一颗创意的头脑,有一颗爱玩的心和一包在拍摄过程中吃的彩虹糖就行了。
当然井柏然的加盟也帮助我们吸引了更多的消费者以及他的粉丝参与到这个活动中。我们同时还在活动中为参与者准备了一些小礼物比如井柏然的签名物件、和井柏然见面机会等来刺激更多消费者展示他们的独特彩虹糖吃法。
SHP+: How did you manage to get more people to participate and submit their own work?
Shu: We encouraged consumer participation by making the idea simple and fun to take part in. There were no complicated entry criteria, one only needed creativity, a sense of playfulness and a pack of Skittles to shoot their own ways of eating Skittles.
Having our celebrity (Jing Boran) also helped a great deal in mobilizing consumers (and his fans) to take part. We also used incentives such as celebrity giveaways (autographed items, a chance to meet celebrity in person) to further drive consumer participation and consumption.
SHP+:在1分钟的短片里你们对粉丝的作品有一些调整,加入了一点有趣的元素,比如表情包。能解释一下这么做的原因吗?目的是什么?
Shu:这部1分钟的粉丝作品集合实际上是我们内部推出的来启发消费者,同时也给他们看到一个样本,希望能够起到鼓励消费者更多参与到这个活动中的作用。我们使用了大量年轻人时下流行的语言与表情也是为了区分与过去传统的广告,让这次的活动显的更加有趣有活力。
SHP+: You've played around a little bit around with fans work in the 1 min ad, adding some playful elements. Can you explain a little bit about such adjustments? What were you trying to achieve?
Shu: The 1min fan work that you see is actually a piece of seeding content created internally by us to encourage consumers to submit their own works, by giving them an example and inspiration as to what is possible. We intentionally used more youthful language and imagery that allowed us to be more playful than traditional advertising allowed.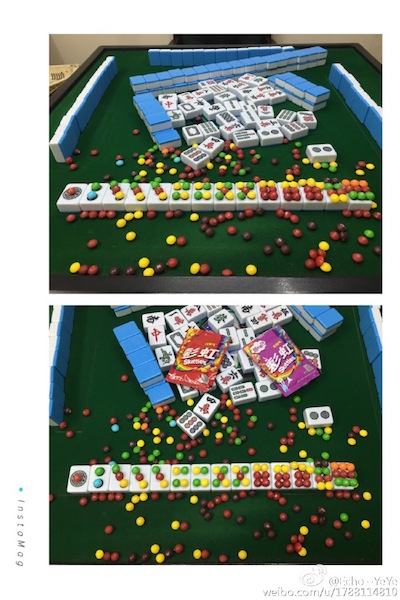 由微博用户Echo—YeYe上传的图|Uploaded by Weibo user Echo–YeYe
SHP+:目前我们只看到了视频作品。但是同时有许多消费者上传了很多有趣的照片。这些照片将来有可能被运用到传播活动中吗?比如说平面的作品?
Shu:考虑到彩虹糖的主体消费者的消费与习惯,我们认为应该尽量避免传统的OOH广告方式(平面、户外、杂志广告等)。未来彩虹糖的营销计划将主要针对社交圈与网络:视频和GIF的形式或者其他流行的网络传播方式。在未来的数周内我们仍在不断推出后续的营销内容,因此我们会讨论研究一下这些图片能如何被运用到此次活动中。
SHP+: For now we only see video works. But there are also some very interesting photos submitted. Will those photos also become part of the campaign, maybe in a print ad?
Shu: Taking into account the primary Skittles consumers and their online behaviours, a conscious decision was made to avoid traditional OOH advertising (print, outdoor, magazine, etc). Future Skittles campaign executions will primarily be social and online focused, either utilising video or gifs or other popular online media formats. We're still running the campaign and rolling out new brand content in the coming weeks. As such, we will probably see how we can use these consumer images in the future.