时隔七年,Cristal奖在3月24日(上星期四)重返中国,国内广告界大腕纷纷亮相上海,参加了为期一天的活动。
The Cristal Awards made its return to China last Thursday 24th following a seven year hiatus, attracting some of the most important figures in the Chinese advertising industry for the one-day event in Shanghai.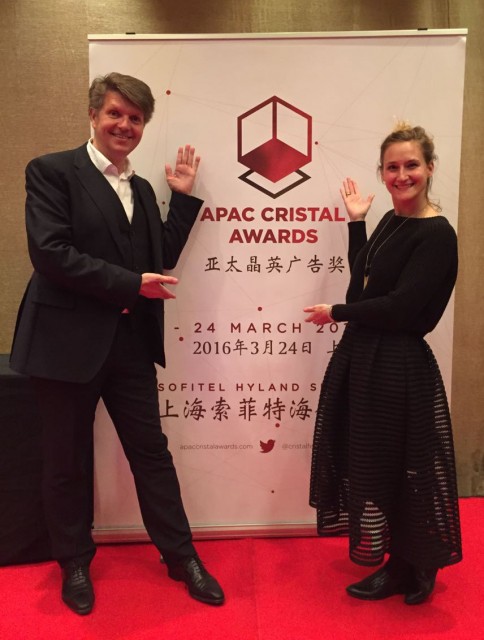 Christian Cappe, Founder & CEO, Cristal Events and Penelope Bouef, Cristal Events
沿 着西外滩走上 几分钟,在索菲特海仑宾馆,大奖评选拉开了帷幕。参选的作品来自于去年冬季在法国滑雪胜地库尔舍维勒举办的2015Cristal国际创意 奖中的亚洲入围作品。Cristal的独特之处在于它不仅注重各个品牌公司,又同时注重广告机构,而且评选委员会由两部分组成 –"广告评审团"(由国内和国际各大品牌的首席营销官组成)和"中国领导委员会"(由国内外广告、媒体、数字领域各大公司的创意领袖和领导层组成)。评委 们的任务是要通过一上午三个小时的评选,选出要在当天晚宴中公布的各个类别的大奖。
奥美广告为 英国国家旅游局打造的《英国等你来命》活动摘得了创意委员会的头等奖,第一企划集团为汉堡王打造的《Morning Like a King》夺得了品牌评委会奖。另外,此前在法国库尔舍维勒获奖但却未能出席的获奖者也来到上海领奖 — TBWA斯里兰卡的首席创意官Subhash Pinnapola就是其中一员。
A few minutes walk west of the Bund at the Sofitel Hyland, proceedings kicked off with the award judging. Entries were taken from the Asian entrants to the 2015 Global Cristal Awards held in French ski resort Courchevel in December last year. Cristal's USP is giving a voice to both brands and agencies, with the judging committee comprising two groups – an 'Advertisers Grand Jury' (CMOs of Chinese and international brands) and 'Chinese Leadership Council' (Creative and executive leaders of Chinese and international advertising, media and digital agencies). The job of both groups, across a three-hour morning session, was to each award a Grand Prix to one campaign to be presented at the winner's dinner that evening.
Ogilvy & Mather's 'Great Chinese Names for Great Britain' for Visit Britain scooped the creative council's top prize, while Cheil Worldwide's 'Breakfast Like a King' for Burger King took home the brand jury's award. The winners from Courchevel that were unable to attend the France event, like TBWA Sri Lanka CCO Subhash Pinnapola, also received their prizes.

奥美上海:《英国等你来命名》|Ogilvy & Mather's 'Great Chinese Names for Great Britain'
Cheil Worldwide's 'Breakfast Like a King' for Burger King
当时,2009年在华举办的Cristal活动针对的是中国市场,但是今年的活动有所不同,更为国际化,面向整个亚太地区。虽然出席人员主要还是本身就在中国的人,但是评委会的成员却来自于新加坡、台湾、香港以及斯里兰卡等地,而且整个活动使用的都是英语。
Unlike Cristal's 2009 China event, which focused on the domestic market, this year's Cristal Awards was a more international affair, dedicated to the entire APAC region. Though the attendees were predominantly China-based figures, juries included guests from Singapore, Taiwan, Hong Kong and Sri Lanka and English was the exclusive language on the day.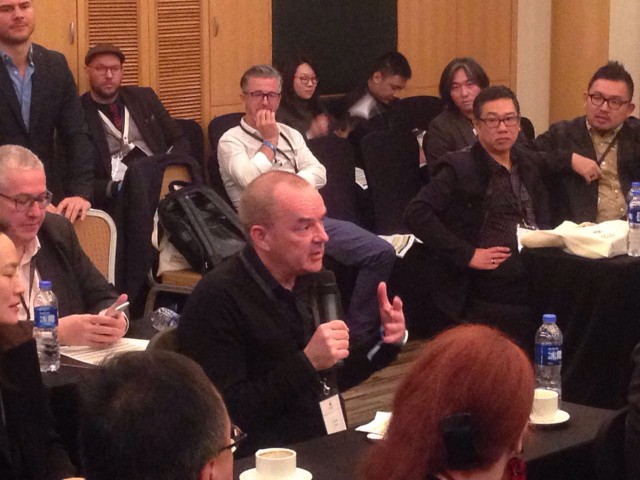 David Miller, Managing Director, AKQA Shanghai speaks in the Chinese Leadership Council jury session
Cristal 奖创始人兼CEO Christian Cappe向我们解释了为什么2016年这一活动会回归中国,"整个世界广告业的平衡现在逐渐转移到亚洲国家来,所以我们不能只是把竞赛放在法国阿尔卑斯 山的滑雪胜地举办,这远远不够。我们有义务要向广告市场和广告人展示出亚太地区的创意和竞争力。鉴于中国以及亚太地区各个国家都充满活力,所以把活动放在 这里举办尤为重要。"
其 实自七年前Cristal奖第一次来到中国以来,Cappe就一直在筹划着它的回归。他们经常会来亚洲,而且还增加了一位中国团队成员,此外还任命在亚 洲广告界人脉颇广的林俊明担任Cristal荣誉主席。林俊明在刚刚结束的在泰国举办的第19届亚太广告节上担任主席,所以来到上海的活动他也是热情洋 溢,在畅谈、主持、演讲之间游刃有余。
下午的环节则展示了各种各样的技术、营销和创意,旨在让外界对亚太地区的广告和传媒 行业有一个更广 泛的认识。此外,Happy Finish公司的虚拟现实倡导者Simon Gosling以及佛海佛瑞的老板Fred Raillard 在音乐制作、奢侈品、电子商务话题的小组讨论上尤为引人注目。
Jimmy Lam, Group Chief Creative Officer, LEO Digital Network & Co-Founder & CEO, Jimmy + Amber ("+A" hot shop) | Serge Dumont, Vice Chairman & Chairman Asia Pacific, Omnicom Group Inc. | Christian Cappe, Founder & CEO, Cristal Events
Cristal Awards founder and CEO, Christian Cappe explained why the festival had returned in 2016, "The balance in the world is moving to Asian countries. We cannot only do a competition in a nice ski resort in the French Alps. That's not enough. We are obliged to show to the market and the advertisers the competitiveness of the creativity in the APAC region. With the dynamism of China and countries in the APAC region, it is very important to be here."
Cappe has been building toward Cristal's return since their first China foray seven years ago. The initiative included frequent sorties to Asia, adding a Chinese team member and appointing Asia ad industry super-connector Jimmy Lam as Honorary President. Fresh from presiding over the 19th edition of Adfest in Thailand, Jimmy was on typically ebullient form at the Sofitel, easing between hobnobbing, hosting and presenting.
The afternoon sessions were a varied array of tech, marketing and general creative musings aimed at providing a broad overview of the region's advertising and communication industries. Happy Finish virtual reality preacher Simon Gosling and Fred & Farid boss Fred Raillard were the standout sessions among panels on music production, luxury products and e-commerce.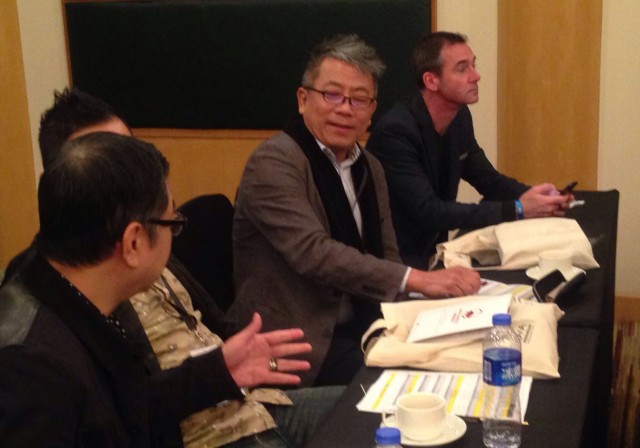 (L-R) Richard Tan, President & CEO China, DDB Group speaks with Norman Tan, North Asia CCO & China Chairman, JWT.  Besides Norman Tan sits Yann Jaussaud, General Manager, Mazarine Asia Pacific
其实奖项本身并没有那么重要,这次活动的意义在于,有机会让更多的人相互分享、庆祝亚洲最具创意的作品,让人们关注中国大陆的广告产业。亚太地区的业界大佬齐聚上海,这不仅得益于Cristal的宣传,也展现出中国广告界领袖们的热情,愿意让中国走向世界的舞台。
对于未来,Cappe明确表示会在中国开设一个专职办公室,但是2017年的活动究竟会采用什么形式尚不确定。但他已经意识到市场的敏感度非常重要,"我们计划每年都要不断壮大。要把我们做的事和广告业关联起来。而且我也要聆听人们的心声,毕竟大家都在拭目以待呢。"
众所周知,在中国举办广告节挑战重重,就连戛纳国际广告节这样的国际化品牌在中国的尝试都已失败告终。而Cristal到底能否取得成功,恐怕只有时间才能够证明。
The awards themselves are less important than the opportunity the event provides to share and celebrate some of the most creative work from Asia, and bring focus to the Chinese mainland industry. The attendance of major local figures in Shanghai last week is testament not just to Cristal's marketing, but also the enthusiasm of China's industry leaders to see their market participate on the international stage.
Looking ahead, Cappe confirmed plans to open a full-time office in China but couldn't yet say what format the 2017 event will take. He is aware that sensitivity to the market is critical, "The plan is to grow every year. We have to do something relevant to the industry. I have to listen to what the people here want. All our friends here will be waiting and watching."

Time will tell whether his festival is able to succeed in the notoriously challenging China advertising festival market where other international companies, including world leader Cannes Lions, have failed.
(Front row L-R) Georg Warga, Founder & Creative Director, Goodstein, China | Subhash Pinnapola, Chief Creative Officer, TBWA, Sri Lanka | Christian Cappe, Founder & CEO, Cristal Events | Julien Morales, Head of Agencies Business, Cristal Events | Jimmy Lam, Group Chief Creative Officer, LEO Digital Network & Co-Founder & CEO, Jimmy + Amber ("+A" hot shop)
(Back row L-R) Aline Siobhan Davies, Communications Director, Curiosity China | Kelvin Leong, Executive Creative Director, ADK | Eric Cruz, ECD, AKQA Shanghai | Silvia Goh, Chief Content Officer, Starcom Mediavest Group | Serge Dumont, Vice Chairman & Chairman Asia Pacific, Omnicom Group Inc. | Tze Kiat Tan, CEO Greater China, BBDO | Jean-Paul Burge, Chairman & CEO, BBDO Asia | Richard Tan, President & CEO China, DDB China Group | Jacques Roizen, CEO, ETAM China | Fred Raillard, Founder, Chairman & CEO, Fred & Farid Group