Oppo R9的最新春节广告将观众带入了传说中的小人国,见证了杨洋与心爱的人在遥远的异国他乡团圆。这则广告由上海意类广告创意策划,赤马影视请来了以色列导演Eli Sverdlov制作。
Oppo's new spot for its R9 phone, created by Goodzilla, produced by Red Horse and directed by Eli Sverdlov, transports us to the tiny kingdom of Lilliput where Yang Yang reunites with his sweetheart for Chinese New Year.
传统的中国春节广告总是离不开家人的团圆与归乡等词眼,而这一次意类广告却颠覆了传统的形式,将团圆的场景放入了一个幻想的国度。"我们不仅仅是想做一个电影般材质的广告,更是想让其能够在所有春节广告中独树一帜。"意类广告如是说。
"We tried to avoid the stereotype Chinese New Year commercials. The idea of going to a fantasy land will surely make this film stand out,"  said Goodzilla ECD Jiang Pan.  Indeed, the agency's film is an original take on the hackneyed, traditional Chinese New Year themes of families reuniting and nostalgic village scenes.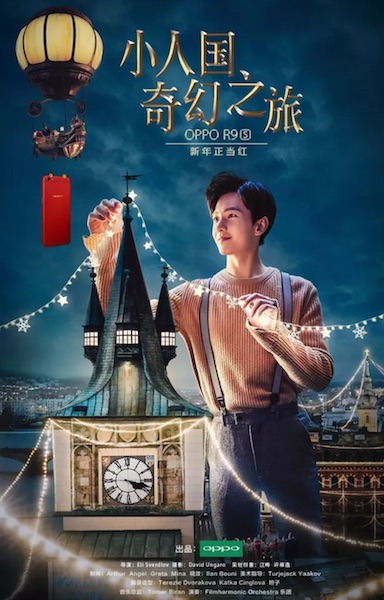 摄制团队再筛选了多达60位导演后才确定了Eli Sverdlov,他在作品中所展现出来的想象力与镜头运用经常使人联想到Wes Anderson乃至Tim Burton。而正是他在之前作品中所展现出的创意与对一个幻想国度的想象力使得Sverdlov最终脱颖而出,成为了本片的导演。
After looking at more than 60 directors, Goodzilla chose Israeli Eli Sverdlov, a director frequently compared to Wes Anderson and Tim Burton for his whimsical fantasy aesthetic.  "His creativity and wild imagination around the fantasy land swung it for us", said Jiang.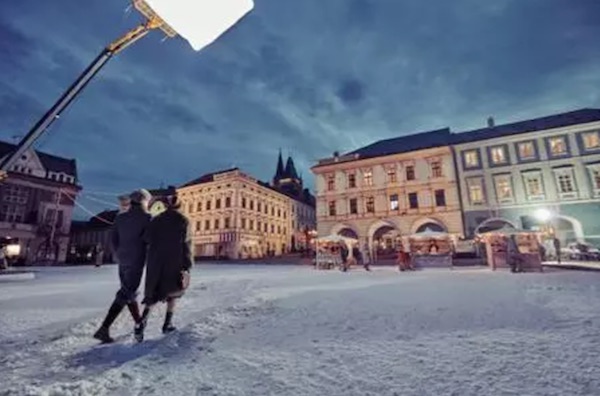 Town Square of Kolin | Kolin小镇广场
影片的拍摄地点位于布拉格50公里外的小镇Kolin。这个保存完好的小镇赋予了本片中的异域色调,也增添了一份思乡之情。所有在片中出现的道具——从巨型钢笔到皇家印章都由当地的工作室设计制作并运送至拍摄现场。
The shoot took place over four days in Kolin, a quaint, well-preserved medieval town about 50km away from Prague. Every prop, including the Lilliputians' giant pen and stamps and Yang Yang's giant atrium, were designed and crafted by a local art department.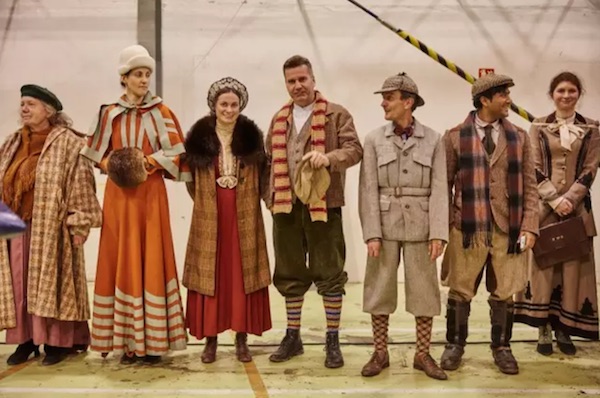 Lilliputians | 小人国居民们
"巨人"杨洋与"小人"们分开在影棚内与实地取景,后期合成的工作则交到了以色列后期工作室Gravity的手中,为这个童话故事画上点睛之笔。而要做到这一点并不容易,必需要在前期把握好光影与精深关系,才能在后期合成时顺利进行。赤马告诉我们,整个后期进行了近两周时间。
Yang Yang was shot in a studio and the Lilliputians on site in Kolin, with Israeli posthouse Gravity charged with combining the shots in post.  "The biggest challenge was to recreate the shadow and depth of views", says Red Horse EP Arthur Ma.  The whole postproduction process took only two weeks.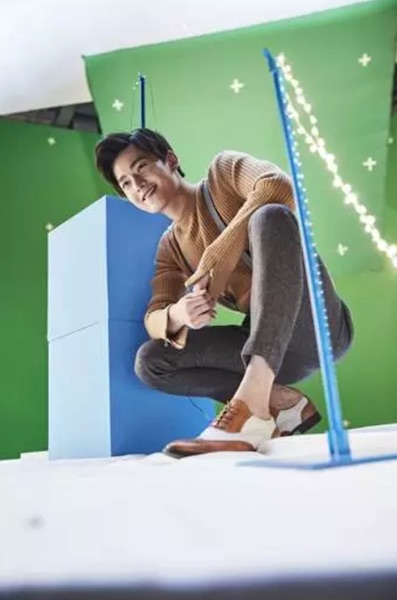 Yang Yang in the studio | 杨洋在影棚内
影片一经推出立刻吸引了众人的目光,并在短短一周内收获了近130万的观看量——其中杨洋的个人影响力也功不可没。这位25岁的演员在微博上有着近300万的粉丝,是中国当前最火热的影视小生之一。他在本片中展现出了出色的演技,即使在简单打造的绿幕前也展现出了十分自然与自信的演技。
The film immediately garnered considerable attention on the Chinese internet, accumulating 1.3million views in less than a week.  The presence of 25-year old Yang Yang, one China's hottest actors with over 280 million followers on Weibo, certainly helped.  "He's very sophisticated," Ma said, "Even shot in front of a green screen with no set, he still acts naturally and with confidence."
《小人国奇遇记》为今年的春节广告大片打响了第一发信号弹,在接下来的一周内会有更多精彩的春节广告蓄势待发。
The film marks a polished forerunner in the flurry of Chinese New Year commercials set to air in the coming fortnight.
制作名单
广告公司:意类广告
创意:江畔,许稼逸
导演:Eli Sverdlov
摄影:David Ungaro
制片公司:赤马影视
制片人:Arthur, Angel, Greta, Mina
美术指导:Turjejack Yaakov
后期制作:Gravity
Credits:
Agency: Goodzilla

Creatives: Jiang Pan, Xu Jiayi

Director: Eli Sverdlov

Cinematographer: David Ungaro

Production: Red Horse

Producers: Arthur, Angel, Greta, Mina

Art Director: Turjejack Yaakov

Post Production: Gravity