The Spikes Asia Festival of Creativity culminated in an awards show to honour the best creative work from Asia Pacific on Friday 28 September.
9月28日星期五,Spikes Asia亚洲创意广告节颁奖典礼如约而至,盛会达到高潮,亚太区最优秀的创意作品纷纷登场。
With a total of 4,056 entries from 26 countries in 21 categories, the Chinese market nabbed 13 awards including one Grand Prix in the Mobile category for Tencent's WeRemit.
来自26个国家的21个类别4056部作品参赛,中国作品共获得13个奖项,其中,腾讯WeRemit港陆汇款摘得移动广告类全场大奖。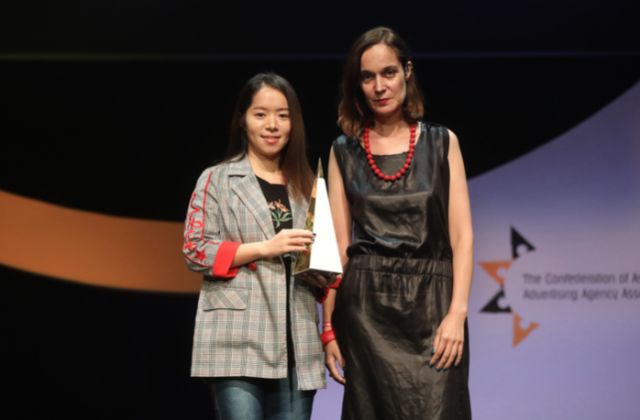 Grand Prix for 'We Remit' for Tencent by Tencent, Shenzhen, China
腾讯WeRemit 港陆汇款广告摘得全场大奖
The project, produced by Hand in Hand Productions in Shenzhen, highlights the tailor-made   online remitting product (part of WeChat pay) that provides an easier way for Filipino maids working in Hong Kong to send money to family. The real stories of Filipino maids in Hong Kong were used for integrated communications online and the number of users of WeRemit increased from 200 to 50,000 in a single month – which means it reached nearly 1/3 of the targeted population.
该作品由深圳Hand in Hand Productions工作室打造,突出了在线收汇产品港陆汇款WeRemit(微信支付的一部分)的定制性,方便香港菲佣向家里汇款。整合营销广告采用了香港菲佣的真实故事,港陆汇款的用户数量在一个月内就从200增加到50000,将近达到了目标人群的1/3。
Among other winners, "Three Minutes," the Apple film from TBWA\MEDIA ARTS LAB Shanghai did exceptionally well, including winning a Gold Spike in Film. The heartwarming  7-minute long spot features a son who is counting down to the three minutes he has with his train conductor mum on the first day of Chinese New Year as she stops on her week long route to help other passengers get home. The film also won awards in the Film Craft and Entertainment categories.
另一部获奖作品《三分钟》,由TBWAMEDIA ARTS LAB上海为苹果打造,表现得异常出色,摘得影视类Gold Spike奖。7分钟的广告片很温馨,一位火车乘务员妈妈春节第一天值班,在帮助其他乘客回家的路上停下来,于是儿子在列车停车的站台上与妈妈见上一面,倒计时3分钟。该片还摘得影视广告制作类和娱乐类奖项。
Additionally, the China market had winners in the Media, Print & Outdoor Craft and Print & Publishing categories, and you can find all of the films below. Overall the Chinese market had great entries and great wins this year.
此外,中国作品还赢得了媒体、印刷&户外制作和印刷出版类奖项,下面列出了各类获奖作品。总的来说,中国市场今年的表现很好,取得了巨大的成功。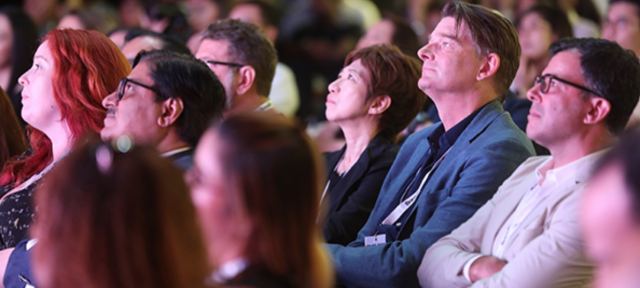 ---
Mobile
移动类
Grand Prix
全场大奖
WE REMIT TENCENT WE REMIT TENCENT, Shenzhen CHINA
港陆汇款WeRemit,腾讯,中国深圳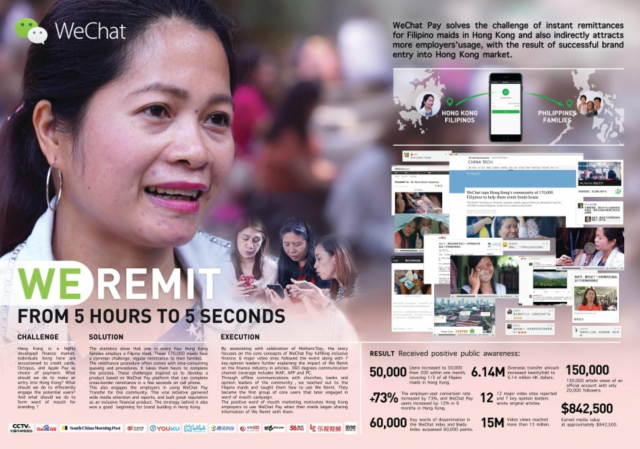 Client | 客户:TENCENT 腾讯
Product/Service | 产品/服务:WE REMIT 港陆汇款
Production |制作:HAND IN HAND PRODUCTIONS Shenzhen, CHINA
Production 2 | 制作2:TENCENT Shenzhen, CHINA腾讯,中国深圳
Company | 公司:Tencent腾讯
General Manager | 总经理:Li Hang
Executive Creative Director | 执行创意总监:Akae Wang
Brand manager | 品牌经理:Wu Rui Ying
Brand manager | 品牌经理:Hu Rong Ping
Art Direct | 艺术指导:Huang Xuan
Art Direct | 艺术指导:Xie Bao Dong
Copy writer | 文案:Zou Yang
Director&Executive Producer | 导演&监制:Tim ZENG
Director | 导演:Campbell MCLEAN
Producer | 制片人:XU Shuang
Producer | 制片人:WU Yang Kun
DESIGN
设计类
Bronze
铜奖
TO ADMIRE/TO DIMINISH (SEEK YOUR WAY CAMPAIGN) THE ONE CLUB GREAT CHINA OFFICE PORTFOLIO NIGHT SERVICEPLAN BEIJING CHINA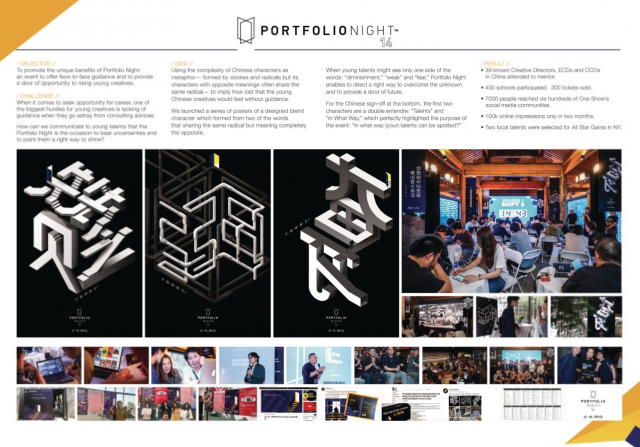 Title | 名称:TO ADMIRE/TO DIMINISH (SEEK YOUR WAY CAMPAIGN)
Client | 客户:THE ONE CLUB GREAT CHINA OFFICE
Product/Service | 产品/服务:PORTFOLIO NIGHT
Category | 类别:G01. Typography
Entrant | 参赛者 | SERVICEPLAN BEIJING, CHINAIdea
Creation | 创意:SERVICEPLAN BEIJING, CHINA
Company | 公司:Serviceplan China
Chief Creative Officer | 首席创意官:Kin Chong
General Managing Director | 总经理:Marcus Ma
Executive Creative Director | 执行创意总监:Adams Ho
Creative Director | 创意总监:Locksin Chong
Creative Director | 创意总监:Cherie Luo
Group Head – Art | 艺术组长:Siew Koon Tong
Senior Art Director | 高级艺术总监:Nan Zhu
Copywriter | 文案:Zoro Zuo
---
ENTERTAINMENT
娱乐类
Gold
金奖
THREE MINUTES APPLE IPHONE X TBWA\MEDIA ARTS LAB, Shanghai CHINA
《三分钟》苹果IPHONE X,TBWA\MEDIA ARTS LAB,中国上海
Title | 名称:THREE MINUTES《三分钟》
Client | 客户:APPLE苹果
Product/Service | 产品/服务:IPHONE X
Category | 类别:A03. Online: Fiction
Entrant |参赛者:TBWA\MEDIA ARTS LAB Shanghai, CHINA
Idea Creation | 创意:TBWA\MEDIA ARTS LAB Shanghai, CHINA
Company | 公司:TBWA\Media Arts Lab
Chief Creative Officer | 首席创意官:Brent Anderson
Group Creative Director | 集团创意总监:Chuck Monn
Creative Director | 创意总监:Stephen Kong
Creative Director | 创意总监:David Seah
Broadcast Producer | 广播制作人:Sidney Lim
Associate Creative Director | 创意副总监:Michael Lu
Associate Creative Director | 创意副总监:Adlin Rosli
Senior Art Director | 高级艺术总监:Mesu Lu
Senior Art Director | 高级艺术总监:Alpher Xian
Copy Writer | 文案:Mingyue Zhang
Creative Director | 创意总监:Melvin Tan
---
FILM CRAFT
影视制作类
Silver
银奖
THREE MINUTES APPLE IPHONE X TBWA\MEDIA ARTS LAB, Shanghai CHINA
《三分钟》,苹果IPHONE X,TBWA\MEDIA ARTS LAB,中国上海
---
FILM 
电影类
Gold
金奖
THREE MINUTES APPLE IPHONE X TBWA\MEDIA ARTS LAB, Shanghai CHINA
《三分钟》,苹果IPHONE X,TBWA\MEDIA ARTS LAB,中国上海
Silver 
银奖
KUNGFU WATER VATTI TRINITY HEALTHY DISHWASHER THE NINE, Shanghai / INSIGHT GROUP, Shanghai CHINA
Title | 名称:KUNGFU WATER
Client | 客户:VATTI
Product/Service | 产品/服务:TRINITY HEALTHY DISHWASHER
Category | 类别:A04. Consumer Durables
Entrant |参赛者:THE NINE Shanghai, CHINA
Idea Creation | 创意:THE NINE Shanghai, CHINA
Idea Creation2 | 创意2:INSIGHT GROUP Shanghai, CHINA
Production | 制作:THE NINE Shanghai, CHINA
Company | 公司:The Nine X Insight Group
Founder and Chief Creative Officer | 创始人&首席创意官:Jody Xiong
Vice President | 副总裁:Cobe Liu
Copywriter | 文案:Candy Chen
Art Director | 艺术总监:Jody Xiong
Animation | 动画:Joo Teoh, Dai bin, Wu beibei, Li shaoxiang, Shang yin, Zhao haisheng, Li xiaoxian, Zheng kesi, Lian zhigao, Wang pan, Wu ming
Director | 导演:Jody Xiong
Account Manager | 客户经理:Huan Dong, Xiao Hua
Designers | 设计师:Jody Xiong, Samson Xing, Haotian Ji, Lingwei Hong, Beili Xue, Ray Pun
---
MEDIA
媒体类
Silver
银奖
HIJACKING THE LARGEST SHOPPING FESTIVAL IN THE WORLD UNIQLO/FAST RETAILING UNIQLO STORES MINDSHARE CHINA, Shanghai CHINA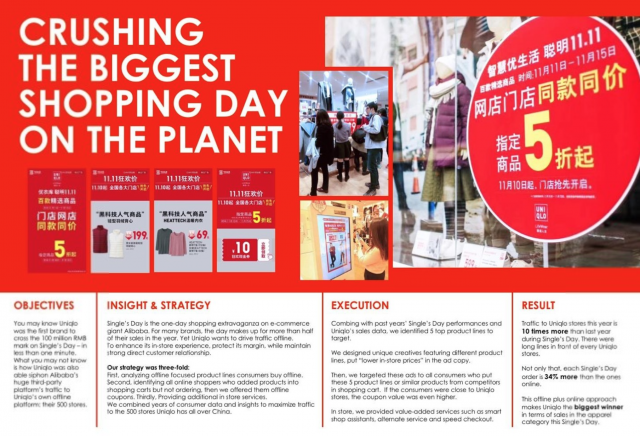 Credits 制片团队
Title | 名称:HIJACKING THE LARGEST SHOPPING FESTIVAL IN THE WORLD
Client | 客户:UNIQLO/FAST RETAILING
Product/Service | 产品/服务:UNIQLO STORES
Category | 类别:A06. Retail
Entrant |参赛者:MINDSHARE CHINA Shanghai, CHINA
Idea Creation | 创意:MINDSHARE CHINA Shanghai, CHINA
Media Placement | 媒体投放:MINDSHARE CHINA Shanghai, CHINA
Production | 制作:MINDSHARE CHINA Shanghai, CHINA
Company | 公司:Mindshare China
General Manager | 总经理:Colin Xu
Partner | 合作方:Angie Chan
Account Director | 客户总监:Ding Yuan
Creative Director | 创意总监:Allen Chow
Director | 导演:Max Ji
Associate Director | 副导演:Grace Shao
Associate Creative Director | 副创意总监:Sunny Zhang
Senior Director | 高级总监:Mengting Yuan
---
Bronze
铜奖
THE FLIXONASE ALLERGY MONITOR GSK FLIXONASE NASAL ALLERGY SPRAY MEDIACOM, Beijing CHINA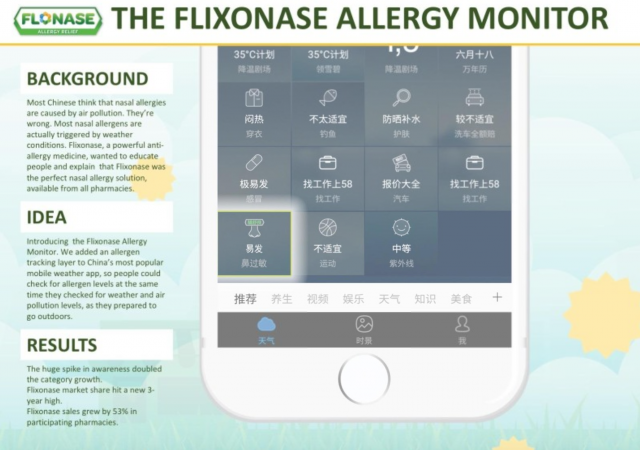 Title | 名称:THE FLIXONASE ALLERGY MONITOR
Client | 客户:GSK
Product/Service | 产品/服务:FLIXONASE NASAL ALLERGY SPRAY
Category | 类别:A03. Healthcare
Entrant |参赛者:MEDIACOM Beijing, CHINA
Idea Creation | 创意:MEDIACOM Beijing, CHINA
Media Placement | 媒体投放:MEDIACOM Beijing, CHINA
Production | 制作:MOJI WEATHER Beijing, CHINA
Company | 公司:MediaCom
General Manager | 总经理:Dan Hui
Media Planning Director | 媒体策划总监:Fiona Jing
Manager | 经理:Viki Chen
Senior Media Planner | 高级媒体策划:Ivan Huang
---
MEDIA

媒体类
Bronze
铜奖
HIJACKING THE LARGEST SHOPPING FESTIVAL IN THE WORLD UNIQLO/FAST RETAILING UNIQLO STORES MINDSHARE CHINA, Shanghai CHINA
《HIJACKING THE LARGEST SHOPPING FESTIVAL IN THE WORLD》优衣库/迅销,UNIQLO STORES MINDSHARE CHINA,中国上海
WIN OVER CHINA GIFTING SEASON UNIQLO/FAST RETAILING UNIQLO SENIOR SERIES MINDSHARE CHINA, Shanghai CHINA
《WIN OVER CHINA GIFTING SEASON》,优衣库/迅销,优衣库UNIQLO SENIOR SERIES MINDSHARE CHINA,中国上海
Title | 名称:WIN OVER CHINA GIFTING SEASON
Client | 客户:UNIQLO/FAST RETAILING优衣库/迅销
Product/Service | 产品/服务:UNIQLO SENIOR SERIES优衣库
Category | 类别:B09. Use of Mobile
Entrant |参赛者:MINDSHARE CHINA Shanghai, CHINA
Idea Creation | 创意:MINDSHARE CHINA Shanghai, CHINA
Media Placement | 媒体投放:MINDSHARE CHINA Shanghai, CHINA
Production | 制作:MINDSHARE CHINA Shanghai, CHINA
Company | 公司:Mindshare China
General Manager | 总经理:Colin Xu
Digital Director | 数字总监:Peter Wang
Manager:经理:Zelene Zhang
---
PRINT & OUTDOOR CRAFT
印刷户外制作
Silver
银奖
TO ADMIRE/TO DIMINISH THE ONE CLUB GREAT CHINA OFFICE PORTFOLIO NIGHT SERVICEPLAN BEIJING CHINA
《TO ADMIRE/TO DIMINISH》,THE ONE CLUB大中华区,PORTFOLIO NIGHT SERVICEPLAN,中国北京
Bronze
铜奖
CHOP-CHOP 2.0 BEEF / PORK / MUTTON AMMELOO HOUSEHOLD PRODUCTS AMBER CHINA, Shanghai CHINA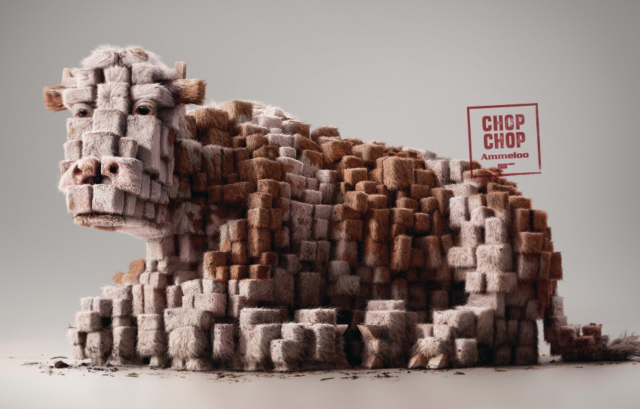 Company | 公司:AMBER CHINA
Chief Creative Officer | 首席创意官:TAN CHEE KEONG
CHIEFEXECUTIVE OFFICER | 首席执行官:AMBE LIU
ART DIRECTOR | 艺术指导:AMBE LIU,BEN GUO,KIDD ZHANG,WILLOW YANG,CONE GONG,CS CHONG
COPYWRITER | 文案:CHERRY WANG,ELISSA AZIZI
AGENCY PRODUCER | 广告公司制片人:ELLA CAO
AGENCY PRODUCER AGENCY PRODUCER | 广告公司制片人:JOY WANG