Imagine waking up in the morning, going to the kitchen and your boyfriend Tom Hiddleton is making a healthy breakfast for you. "Pepper on top, right?", he says with a caring look on his face, then he turns to grab a bottle of Centrum vitamins before he starts speaking Chinese "还有你的善存", which translates as "Here is your Centrum".
想象一下清早醒来走到厨房,你的男朋友Tom Hiddleton正在为你准备健康的早餐。"上面要撒点胡椒吗?"他问道,脸上满显关心,然后他转身拿起一瓶善存维他命,接着用中文说道:"还有你的善存",译成英文则是"Here is your Centrum"。
The newest commercial for the famous vitamin brand is shot from viewer's point of view in a vertical position which creates an intimate moment where it feels like Hiddleston is cooking for the viewer. The commercial created a buzz and turned out to be a complete success, as the users on social media responded positively and reposed it many times. Many users expressed their satisfaction in the comment section saying "I am buying Centrum and no one can stop me" or "I saw the ad last night and I dreamt me and Tom were together". They sold a fan fantasy to Chinese women who often consider their idols to be their imaginary boyfriends or husbands.
这则著名维他命品牌的最新商业广告是从观众的角度拍摄的,以立体的角度营造出亲密的瞬间,仿佛Hiddleston正在为观众做早餐一样。这则广告引起了轰动,并取得了圆满成功,社交媒体上的用户反响都比较积极,转发了很多次。很多用户在评论区评论"我要买善存,没人能阻止我"或"我昨晚看到广告,梦见我和Tom在一起"来表达他们的满意。他们把粉丝的幻想销售给了中国女性,这些女性通常把她们的偶像假想成男友或丈夫。
Tom Hiddleston has a following of more than 650k on Weibo, where he initially posted the commercial which gained more than 2.5 million views. The caption said: "Here's something special for you at breakfast time. Wishing all my friends in China a great start to their day!" It also offered you a direct like to the JD.com e-commerce store.
Tom Hiddleston有65万多的微博粉丝,他最初在微博上发布了这则广告,点击量超过250万。字幕显示着:"这是早餐时间给你的特别礼物。祝我所有的中国朋友们有一个美好的开始!"它还为你提供了一个直通京东电商平台的通道。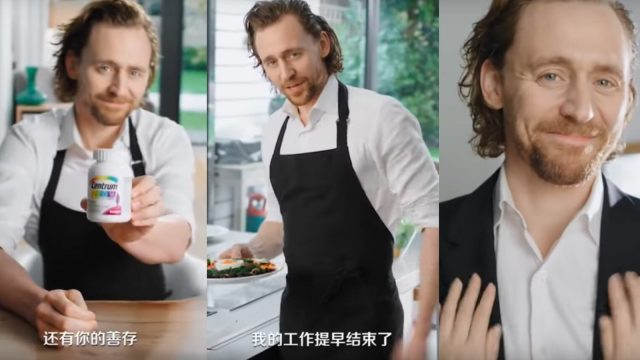 The ad obviously succeeded in its intended market in China as it received many praises online, but the West labeled it "creepy" and "weird". It spiked many hilarious reactions on Twitter, leaving users wondering if Tom will also make them a delicious "Cesar salad" in case they buy Centrum vitamins. The actor was criticized and even called a "sell-out" by the Western media, but the "cringy" and "voyeuristic" aspect of the commercial is exactly what made it a success in its intended market.
这则广告显然在目标市场中国取得了成功,因为它在网上获得了许多好评。但西方国家将其贴上了"诡异"和"荒诞"的标签。它在推特上激起了许多搞笑的反应,这让用户们好奇,如果他们购买了善存,Tom是否也会给他们做一份美味的"凯撒沙拉"。这位演员受到了西方媒体的批评,甚至被戏称为"清仓",但正是这则广告的"尴尬"和"低级"让它在目标市场获得了成功。
The polarity of the two markets is clear with this commercial, as the marketers have undeniably hit the right note with the Chinese customers. The experts contribute many factors for the success of the Centrum commercial, whether it's the growing trend around health in China or the use of celebrities and KOLs as a means to achieve success in advertising. The advertisers clearly made this ad for a very specific market, which they undoubtedly knew very well. Instead of making fun of the commercial, the West should take notes on how to explore new formats of marketing and push boundaries a bit further.
这则广告清楚地表明了两个市场的分化,不可否认的是,营销人员对中国客户投其所好。专家们为善存广告的成功献上很多计策,既有中国日益增长的关注养生的趋势,也有利用名人和KOL作为广告成功的手段。广告商显然是针对这一非常特定的市场创作这个广告,他们无疑非常了解这个市场。西方国家不应该取笑这种广告,而是应该关注如何探索新的营销模式,并进一步开拓未知领域。