2016年戛纳国际创意节的开幕周末与第一天上,来自中国地区的演讲者吸引了许多关注。
SKII的《她最终去了相亲角》在首个颁奖典礼上就捧回了一座戛纳玻璃金狮奖杯(又名戛纳变革金狮)。该广告是一家日本品牌由瑞士广告公司代理制作,从一个困扰中国社会的角度出发,在中国引起了巨大的反响(剩女大片并未打动所有人)。如今玻璃奖杯与营销活动奖杯的获奖者已经公布,而没有中国广告公司荣获任何奖项。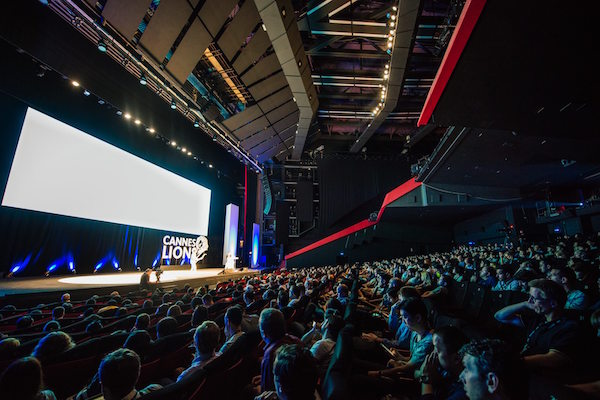 China was in focus for the opening weekend and first day proper of Cannes Lions 2016.
SKII's Marriage Market film took home a Gold in the Glass Lions category, also known as the Lions for Change, in the first award ceremony of the Cannes Lions 2016. Though a Japanese brand and Swedish agency, the film plays on a troubling Chinese social situation and made an enormous splash upon its release (Not Every One Touched By Viral "Sheng Nv" Film). So far the Glass and Promo & Activation winners have been announced but no Chinese agencies have scooped an award as yet.
在开幕的讲演上,人们所关注的重点落在对于中国市场的手机与互联网社交解读上。许多业内人士给出了自己的观点,以帮助市场人员来了解这一知名而又复杂的市场,也为他们将来涉足该市场打了一记预防针。
In the opening set of presentations, the spotlight fell on attempting to demystify China's well-known but complex mobile and internet networks, and exploring the ways in which marketers can understand and tap into them.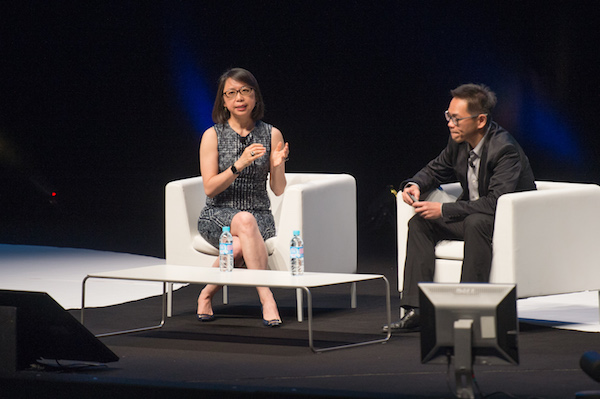 WPP中国区CEO李倩玲与腾讯公司副总裁林璟骅|Bessie Lee, CEO China, WPP and Davis Lin, Corporate Vice President, Tencent
周六在网易传媒举办的一场专题讨论。之前一天WPP中国区CEO李倩玲与腾讯公司副总裁林璟骅发表了名为"好用户体验能改变世界吗?"的讲演。林璟骅在讲演中对于微信大加赞赏,称之为一个"多种服务的集合体"。相比于许多其他国家充斥着手机端的无用软件,微信的服务体验要胜过太多。
NetEase Media hosted a panel session on Saturday, followed on Sunday by a presentation from Bessie Lee (CEO China, WPP) and Davis Lin (Corporate Vice President, Tencent) in which Lin extolled the virtues of WeChat as an aggregator of services, over the plethora of unused apps that litter many smartphones outside of China.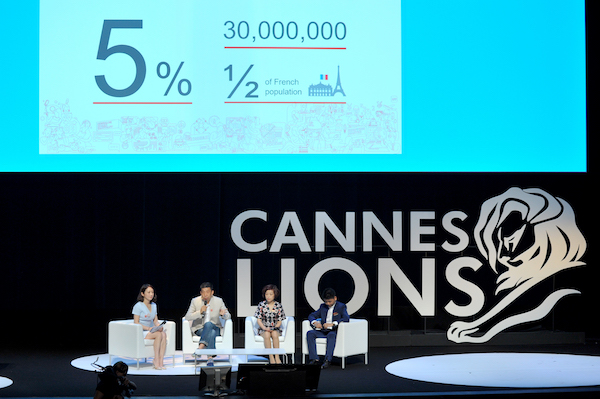 左起:艾诚,艾问创始人兼新闻主播;李安,网易门户市场部总经理; 刘德寰,北京大学教授;郭光宇,三只松鼠首席品牌官|Gloria Ai, Founder & Anchor, IASK MEDIA LLC; An Li, Marketing GM, NetEase Media; Dehuan Liu, Professor, Peking University; Guangyu Guo, Chief Brand Officer, Three Squirrels Inc
周一下午由蓝标主办的"释放社交商务潜力"中,宝洁,腾讯(中国两大社交软件——QQ与腾讯——的母公司,掌握的用户资料超过每个月8亿/人次)与京东(中国最大的B2C直营购物网站,在中国有着超过1.7亿的活跃用户)围绕着SKII#改写命运#的活动展开了一场理念整合的讨论。本次讨论中解释了社交商务作为数据,洞察与创意的集合体,同时勾画出多种工具作为针对相应客户推广广告活动的一部分。
Monday afternoon's 'Unleashing The Power of Social Commerce' seminar, hosted by Blue Focus, saw a convergence and synthesising of many of the ideas discussed elsewhere, drawing on the landmark SKII #changedestiny campaign, in which Procter & Gamble partnered with Tencent, the owners of the two largest social networks in China (WeChat and QQ) giving them access to data from over 800m users per month, and JD.com, the largest B2C direct sale e-commerce in China with around 170m active purchase users.  The panel explained that social commerce is a marriage of data, insight and creative, and outlined the multiple tools available to tailor campaigns to highly specified groups of consumers.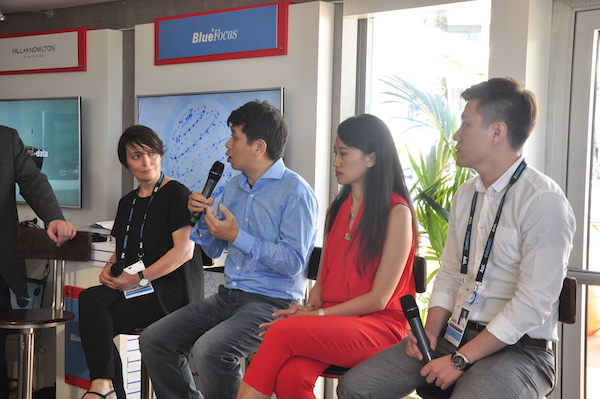 左起:Kelly Vanasse,宝洁公司传播与沟通部全球副总裁;罗征,腾讯效果广告平台部总经理;郑泓,蓝标国际CEO兼主席;卞芊,京东广告战略与创新负责人|L to R: Kelly Vanasse,Vice President of Communications, P&G Global Business Units at Procter & Gamble; Ching Law, General Manager of Social & Performance Ads Department, Tencent; Holly Zheng,CEO & President of BlueFocus International; Joey Bian, Head of Ad Tech Strategy & Innovation, JD.com
在戛纳健康项目的一场演讲中,奥美中国首席创意官Graham Fink根据自己丰富多彩的职业生涯发表了一场关于创意的冒险精神的讲演。
Elsewhere, Graham Fink (CCO, Ogilvy China) recounted tales of creative risk-taking across his expansive career, as part of the Lions Health programme.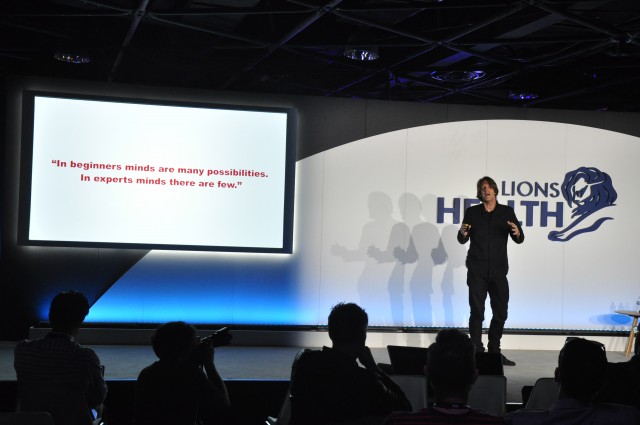 Graham Fink奥美中国首席创意官|Graham Fink, CCO of Ogilvy China
周二来自中国地区的演讲者:
21日周二 | 1400 – 1430 | Inspiration Stage ?
我从首次创业失败中学习到的
主办方:Withinlink
李倩玲(Withinlink创始人兼CEO)
21日周二 | 1530 – 1600 | Discovery Stage
移动中的数据:移动技术与定位技术为社么不可缺少
主办方:个推
方毅(个推创始人兼CEO)
China on Tuesday:
Tues 21st | 1400 – 1430 | Inspiration Stage ?
Lessons I Learnt from my First Start-up Failure

Hosted by: withinlink

Bessie Lee (Founder & CEO, withinlink)
Tues 21st | 1530 – 1600 | Discovery Stage
Data on the Move: Why Mobile and Location Tech Matter

Hosted by: Getui

Yi Fang (Founder & CEO, Getui)