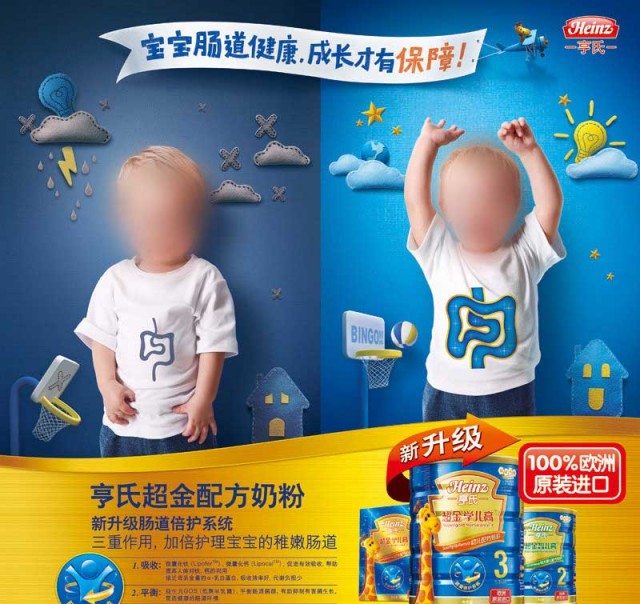 Ads are everywhere in China. Celebrity sponsors appear on snack packaging, ads are projected on the walls of the Metro and every website has a popup that can't be clicked out of. Advertising laws in China have not been updated since 2000. A lot has happened in 15 years!
Starting in September new regulations will take place to protect Chinese people from false advertising. These laws also restrict the use of child sponsors, as well as baby formula and will add further restrictions to tobacco advertisements – a no-brainer in a country where over 1 million people die from smoking each year. But why restrict baby formula?
The baby formula industry is growing rapidly. Between 2013 and 2014 the industry revenue grew almost 18% reaching an all-time high of $21.8 billion according to adage.com. The industry growth is not the problem; it is the lack of exclusive breast-feeding.
While almost 80% of women do at least some breast feeding within the first 4 months, less than 16% of women exclusively breastfeed for 6 months. According to the World Health Organisation, it is recommended that women exclusively breastfeed for a minimum of 6 months. The Peoples Republic of China has set a goal to have at least 80% of women exclusively breastfeeding for 4 months, and to help meet this goal, the new advertising regulations will ban any baby formula from claiming to replace breast milk either fully or partially.
This, of course, will affect the milk powder companies and the way they approach their advertising. According to one agency working on milk powder brands here in Shanghai, the creative will have to bend to be able to accommodate the laws. One thing they mention is working to find creative ways to avoid portraying children as the hero of a milk powder TVC – one of the new regulations will forbid kids from being the spokesperson for the commercial.
While it does not seem as though the advertising will be cut down, they also currently do not seem to be adding to the scope of work, but will try to get around the new laws by using different media platforms and figure out the best solution to pass censorships.
Perhaps these new advertising laws will be a step in the new direction for China. If these new laws go well maybe, just maybe, we can expect to see the next adjustments before we put a man on Mars.
在中国,广告无处不在。零食包装上印着名人赞助,地铁墙上投放各种广告,每一个网站都有一个不能点击关闭的弹窗。自2000年起,中国《广告法》至今未曾修订,而15年来,广告业已经发生很多变化。
从九月份开始,新法规将保护中国人民远离虚假广告。这些法律还将限制儿童赞助商的使用以及公开婴儿配方奶粉,也将进一步限制烟草广告 ——众所周知,在每个国家每年有超过100万人死于吸烟。但为什么要限制婴儿配方奶粉?
婴儿配方奶粉行业增长迅速。在 2013年到2014年间, 根据 adage.com的数据显示,行业收入同比增长近18%,达到了有史以来的高点:218亿美元。行业增长不是关键,关键是缺少纯母乳喂养。
然而,头4个月内至少进行一些母乳喂养的女性接近80%,进行6个月纯母乳喂养的女性低于16%。根据世界卫生组织的建议,女性应至少进行6个月纯母乳喂养。中国已定下目标,让至少80%的女性进行4个月的纯母乳喂养。为了帮助实现这一目标,新的广告法规将禁止任何声称可以部分或全部替代母乳的婴儿配方奶粉。
当然,这将对奶粉公司及其广告方式产生影响。上海一家奶粉品牌代理机构称广告创意将不得不遵守并适应法律。由于新规章之一是禁止将孩子作为商业广告的代言人,他们提到将努力寻找创意方法以避免将孩子描绘成奶粉电视广告的主角。
虽然看起来广告似乎并没有削减的迹象,目前他们也似乎并没有将其列入工作范畴,但他们会尽量通过采用不同的媒体平台来避开新法律,并找到最佳的解决方案来通过审查。
也许这些新广告法将是中国广告业朝新方向的一次进展。如果这些新法律顺利实施,也许,只是也许,在把人类送到火星之前,我们期待看到下一次调整。