A screening of independent Chinese animation introduced by the artists themselves.
Following our full-house screenings in 2014, CAGN presents a fresh bill of independent animation by some of China's most exciting emerging and established talent.
Leading indie filmmakers Lei Lei, Chai Mi, Shen Jie, Chunning Guo and Jiamin Liu will join us on the night to introduce their films, offer their insights and answer questions from the audience.
中国独立动画短片艺术家作品放映
在2014年成功举办了数次座无虚席的CAGN独立动画放映夜,我们于今年再度回归,为您呈现由中国最知名的新生代动画人才出品的独立动画短片。
此次我们又收集到了更多风格各异的原创动画短片作品,展示中国新生代短片制作人和艺术家们的个性风采,充满活力与创造力。我们更在当晚请到了其中几位特别嘉宾亲临现场,亲自介绍他们的作品。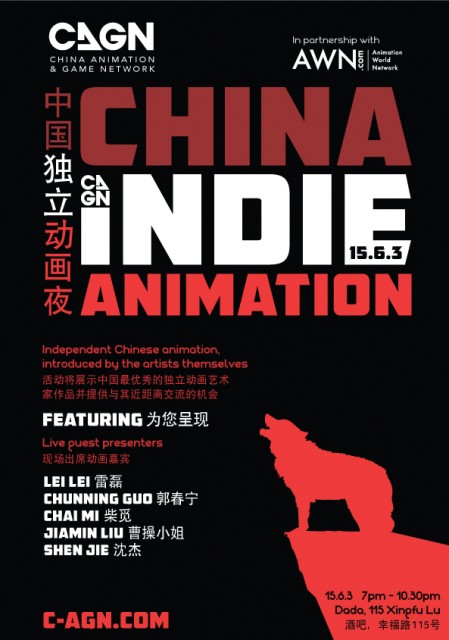 Info
Wednesday 3rd June
7pm – 10pm (1st film program starts at 7.30)
Dada, 115 Xingfu Lu, near Fahuazhen Lu
Entry is free with RSVP.  Email to register at indie@c-agn.com
活动详情:
6月3日,星期三
19:00 -22:00 (短片于19:30开始放映)
Dada酒吧,幸福路115号,近法华镇路
免费入场,需RSVP邮件至indie@c-agn.com
Featured filmmakers 领衔艺术家包括包括:


Sun Xun  孙逊
Huang Tao  黄涛
Yu Shui  於水
Chai Mi  柴觅
Lei Lei  雷磊
Jiamin Liu aka Miss Bowtie  曹操小姐
Chen Xi  陈曦
Ding Shiwei  丁世伟
Shen Jie  沈杰
Guo Chunning & Baishen Yan  郭春宁&闫柏屾
Yukai Du  杜钰凯
Yingqi Wang
An introductory clips of Sparrow & Raven by Chai Mi 柴觅《麻雀与乌鸦》的介绍片
Through the Looking Glass by Ms. Bowtie 曹操小姐的小作品

---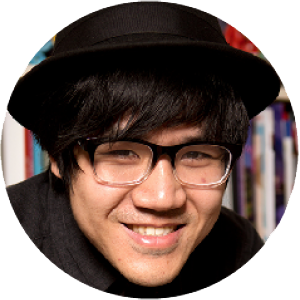 雷磊: 独立动画导演
  Lei Lei: Independent Filmmaker
With his distinctive playful, graphic style, Lei Lei is arguably the best-known Chinese independent animation filmmaker, both within China and internationally.  Fresh from an artist residency in New York and a showcase in Mexico City, Lei Lei joins CAGN to take us back to one of his breakthrough films, the 2011 short 'My…My…'.
创作领域涉及平面设计,短篇漫画和音乐,雷磊已是一名在全球范围内享有一定名气的中国新生代青年艺术家。此次,刚从纽约艺术家驻地项目和墨西哥动画展映回国的雷磊将来到CAGN的独立动画夜当晚,亲自介绍其2011年作品《我的我的》
Chunning Guo & Yan Baishen
Independent Filmmakers
郭春宁&闫柏屾
独立动画导演
Animation Professor and award-winning filmmaker Chunning Guo, and creative partner Baishen Yan, will introduce the first work in their trilogy "Memories of Growing up", a series of documentary-style experimental animations based on the memories of a young boy as he faces the difficulties of youth against a backdrop of social turmoil.
中国人民大学艺术学院设计系讲师,独立动画导演郭春宁及其搭档闫柏山先生将在当晚现场介绍三部曲作品系列《番茄酱》。作品以半记录动画的自传形式,表现了一个年轻男孩残酷的成长记忆。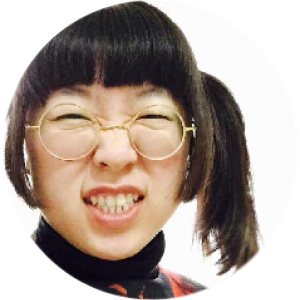 Jiamin Liu aka Miss Bowtie
Independent Filmmaker
刘嘉旻 又名 曹操小姐
独立动画导演

Beijing-based animation director Jiamin Liu has already amassed an impressively large and diverse body of work for such a young artist.  She has recently returned to China following 7 years in Edinburgh and London and joins CAGN to introduce 'Animate!', a surreal mash-up of drawn and cut-out animation and filmed footage.
现居北京的动画导演和艺术家刘嘉旻以令人印象深刻的和多样化的表现形式呈现自己的艺术作品。在近期结束了7年爱丁堡和伦敦的职业生涯,此次CAGN之邀来到独立动画也,介绍影片《Animate》加入CAGN引入的动画!",一部赋予超现实体验和混搭绘制动画的视频拍摄合辑。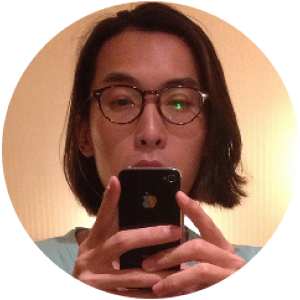 Shen Jie
Independent Filmmaker
沈杰
独立动画导演

Shen Jie came into the public spotlight when his stunning strobe-effect short "RUN!" was one of the first Chinese shorts to be featured on Motiongrapher.com.  The Shanghai-based artist has since been a worldwide festival mainstay and is regarded as one of the leadings lights in Chinese independent animation.
随着当年沈杰以中国第一人的身份在Motiongrapher.com上展示作品《Run》,近几年他已携数部作品参与多个动画界并或若干奖项。作为一名新生代的独立动画人,他也在一步一个脚印,无畏险阻的坚持着对独立动画的创作与追求。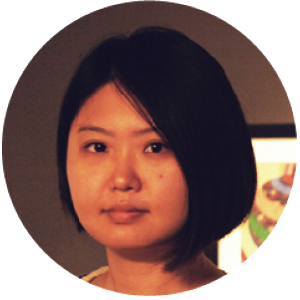 Chai Mi
Independent Filmmaker
柴觅
独立动画导演

Beijing native Chai Mi's fine art practice involves a wide range of media including painting, paper-craft, animation and live performances.  She is increasingly highly regarded both at home and abroad for her innovative approach to combining new and existing animation techniques.
驻扎于北京的柴觅,其艺术实践涉及多种媒介,包括绘画,纸艺,影像,现场表演等。她偏爱手工创作,乐于不断吸收和融合现有方式进行新方式的探索。她的作品也曾在全球范围内的多个美术馆、文化机构、电影节和音乐节展出。
Chris Colman
 Senior China Correspondent, Animation World Network (AWN.com)
资深驻华记者,AWN.com
Curator and compere for the evening, Chris will provide an overview of independent animation in China, discussing the key individuals, how it is developing, where it stands today and how it compares with the Western indie animation scene.
作为主持人和创始人的Chris, 会在当晚为观众们介绍中国独立动画的历史与概述,探讨影响动画史的关键人物及其发展历程,当今的动画产业现状以及相比西方独立动画的不同之处。